Carney considers moving hundreds of inmates out of Delaware
Listen
2:14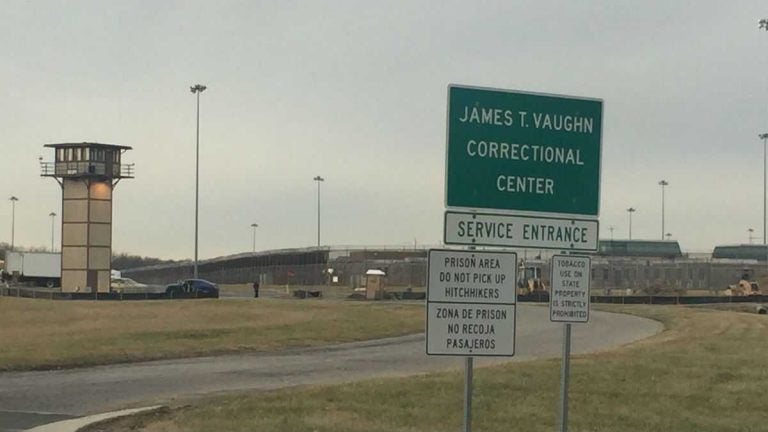 Gov. John Carney's administration is giving serious consideration to moving hundreds of higher-security prison inmates out of Delaware because of a lack of correctional officers.
Carney and state Department of Correction leaders are mulling this last-resort option to reduce mandatory overtime costs as officials contend with the highest number of prison guard vacancies in six years.
The practice known as "freezing" was the main reason the department spent $400,000 a week on overtime last year, according to an auditor's report. The mandatory overtime that keeps an officer in place after a shift ends does boost paychecks, but it also saps energy and morale of the officers responsible for keeping the prisons safe.
Nearly 270 of 1,910 correctional guard positions are vacant, despite a recent increase in starting salary to $43,000. New hires are also eligible for signing and retention bonuses of up to $3,000.
Last month, Carney said he would announce a plan to reduce mandatory overtime this fall.
"Mandatory overtime is a big issue and a big problem," he said then. "It creates fatigue among our officers and makes their job more difficult to do."
Carney made those remarks as the administration released a report that cutting mandatory overtime and filling vacancies were the only unmet recommendations after an independent report views into a Feb. 1, 2017, prison uprising. Sgt. Steven Floyd was killed in the riot at the Vaughn Correctional Center near Smyrna.
With the vacancy rate showing no signs of decreasing substantially, sources told WHYY this month that Carney and prison leaders are looking at moving prisoners out of Delaware under the Interstate Corrections Compact.
Carney and prisons Commissioner Perry Phelps, who is on medical leave, would not agree to be interviewed about the issue, their representatives said.
Carney's office issued a statement that, beyond trying to fill the vacancies, "another avenue for reducing mandatory overtime in our prison system is to reduce our prison population. We are considering all options that will make our facilities safer for officers and inmates."
Prisons spokeswoman Jayme Gravell confirmed in an interview that officials are mulling the mass move of prisoners from Vaughn's second-most secure housing unit — the medium-maximum security block of cells known as MHU, which has a capacity of 600.
There are a total of 5,319 sentenced inmates and people held in lieu of bail in Delaware's four Level V prisons. Another 722 prisoners are in violation of probation and work-release centers.
"Nothing is final, so all of the suggestions that will help relieve those strains on staff are all being considered, and they are all being looked at in detail," Gravell said. "So it hasn't been decided that we're definitely moving anybody, but that is an idea …that is being considered. So it's not set in stone."
The astronomical overtime costs have led to a significant increase in the taxpayer expenses to house prisoners.
Last year, it cost $43,900 per inmate and detentioner in the Level V facilities, amounting to a 8 percent increase. The jump was even bigger — 11 percent — at work release and violation of probation centers, where it cost $46,500 per prisoner.
Geoff Kl0pp, president of the Correctional Officers Association of Delaware, is usually vocal on issues affecting his members. But Klopp would not agree to an interview on the issue, saying in a text that nothing has been confirmed.
State Rep. James "J.J." Johnson, a Democrat whose district encompasses south Wilmington and surrounding areas where many residents are incarcerated, said he learned about the evolving plan earlier this month and contacted Phelps.
Johnson said he heard the number of inmates was 500, but Phelps said it would likely be around 200 if the state moves the prisoners. Johnson also had been told by his prison contacts that the inmates would be transferred to western states, but Phelps assured him it would be to nearby states.
"He said they haven't finalized the plan yet," Johnson said. "He said it would be no more than a couple hundred."
Since Delaware would have to pay to transport the inmates and to house them in another state's prison, Johnson doesn't see the move as a way of saving funds. But he said it should reduce the burden on officers and lessen burnout.
"The good thing, the positive thing, would be giving some relief to the current correctional officers," he said.
Johnson does see potential problems with a large-scale prisoner relocation, though.
"My concern would be if they were to ship them to another state, how would the family be able to keep in touch with the inmates?" he asked.
The Rev. Christopher Bullock, who chairs the Delaware Coalition for Prison Reform and Justice, said he has heard the number of relocated inmates would be about 300.
"I'm reserving my opinion until I get more details," said Bullock, former president of New Castle County Council. "But one thing did come to mind immediately was the impact it would have on families. If these inmate were moved — I heard Pennsylvania —they don't have access to their families in terms of support or in terms of just staying in touch with them. It would have an adverse effect on their re-entry possibilities if they are close to being released.
"What is their reason? Is it dollars and does it make sense?" he said. "On the surface of it all, it concerns me greatly. What are you trying to accomplish here? Is it a short-term move for a long-term problem? What's the priority and what's the mission? Whatever it is, it should be made public."