'We're in this together': Delaware expands initiative pairing nurses with new moms
The state-funded program currently serves about 200 new moms who receive or are eligible for Medicaid benefits. A $4 million infusion should aid even more.
Listen
4:44
Robin Washington boasts to registered nurse Nate' Morris about her 19-month-old daughter Delilah.
"She walks around like she's a little teenager,'' Washington says with pride.
"She's a sweetheart," Morris replies. "So miniature and so cute."
The two women are chatting in the living room of Washington's apartment north of Wilmington while Delilah sleeps in her bedroom. Then Morris pivots to the business at hand, all the while maintaining her friendly and collegial tone.
"So, Robin, thank you for sending me the measurements from her well checkup,'' the nurse says. "You've always been good with that anyway. So her next well-checkup appointment is going to be in February of 2023."
February is when Delilah turns 2, and her mom's alliance with Morris and Children & Families First comes to an end. Washington is a participant in the Nurse-Family Partnership, a nationwide program for first-time mothers with low income that has about 200 clients in Delaware through the Division of Public Health.
The initiative pairs nurses with new moms who receive or are eligible for Medicaid benefits. The nurses visit biweekly or monthly from pregnancy through the child's second birthday.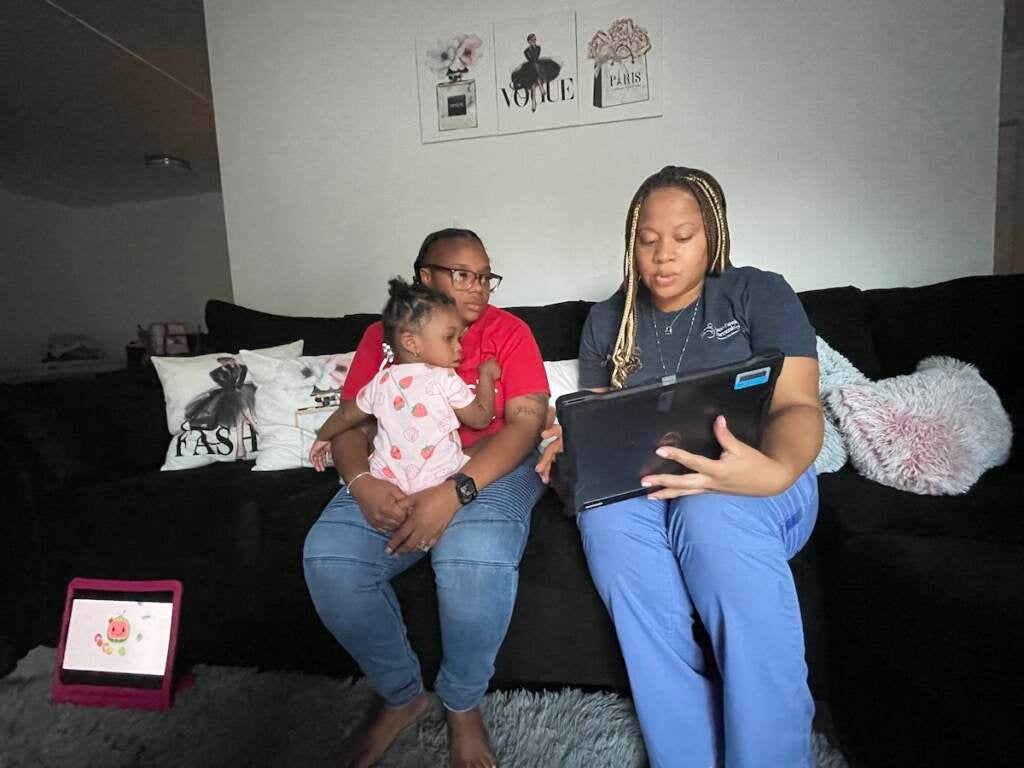 Now it's expanding in Delaware in a big way. That's because of a combined $4 million infusion from the philanthropic Longwood Foundation and New Castle County, which is using pandemic relief dollars.
Kirsten Olsen runs Children and Families First, and said four nurses are being hired to guide the expected wave of new moms.
"There are somewhere between 600 and 700 moms in New Castle County who are eligible for a nurse-family partnership but are not yet receiving it because we don't have the sufficient resources to meet those needs,'' Olsen said. "Now we're going to be able to expand our services to about 120 new moms."
'She's actually why I really don't listen to other parents'
Washington says she's had a fruitful partnership with Morris since enrolling in the program in late 2020, about two-thirds of the way through her pregnancy. Her doctor had urged her to participate.
Washington and Morris met by phone or online for more than a year because of the pandemic, but recent visits have been in person since coronavirus restrictions were lifted.
Washington said Morris has been adviser, coach, friend, and confidant.
"She's good. She's wonderful,'' Washington said. "She's actually why I really don't listen to other parents. I did the opposite of what a lot of people, my friends, did. And I achieved more."
Washington is a warehouse stocker for an online retailer. Delilah spends her days in child care and then gets doted on by Washington and her boyfriend, who lives with them.
Morris documents Delilah's progress with growth and development milestones and ensures medical appointments are made and kept. She checks in with doctors for some of her 25 clients but says she doesn't have to take that step with Washington because she's so responsible.
Morris also provides info on dozens of topics, such as nutrition, home safety, and educational play time.
"We encourage our moms to get down on the floor and play with the babies and read to them, talk to them as much as possible, and to build that language development for them,'' Morris said. "I like to tell them, pretend you get a dollar for every word you speak to your baby.
After Delilah wakes from a nap, the child listens to "Wheels on the Bus" and is mesmerized for a few minutes by the "beep beep beep'' chorus.
Then Washington holds Delilah's hand as the girl toddles to a corner filled with books, toys. stuffed animals and comfy cushions.
Mom picks up the kids' book "My Body."
"Where is his nose?" she asks
Delilah at first points to the character's hair, then gets it right, eliciting approval from her audience.
"Yeah,'' says her mom.
"Good job,'' Morris exclaims.
Washington urges her daughter to rub her own nose, and Delilah does it with a smile.
'Potentially breaking a cycle of intergenerational poverty'
That's the kind of parenting that drew New Castle County and Longwood to join forces to expand the program, County Executive Matt Meyer said.
"There is no greater public investment than investment in neonatal care, prenatal care, in early childhood care, and investments in supports for mothers trying to raise children in poverty,'' Meyer said. "There's tremendous human benefit just in terms of potentially breaking a cycle of intergenerational poverty."
Olsen said officials will be charting and evaluating the program's successes and failures.
"We have an agreed-upon set of benchmarks that we're working toward, around enrolling moms in the program, retaining moms in the program, supporting moms who breastfeed if that's the right choice for them, and making sure that the kiddos get their immunizations, those kinds of metrics,'' she said.
Morris says Robin is a tip-top client with family support, but that many clients face weighty challenges in raising their firstborn, even with nurses making regular visits and being on speed dial.
Some new moms who receive public assistance are wary of intrusion by agents of the government, even health workers, she said. Others haven't developed the skills needed to forge a partnership.
She said there are "moms that I have to chase or track down, they're not answering their phones or their phone is cut off," Morris said. "And I have to reach out to a family member to try to find them. If they don't want to talk to me or be in a program, then they will be standoffish or disengaged."
Morris said still others "don't have any support or very little or they start off with some support. But then you see as time goes on, there's nobody there for them. Also, once they have the baby, they are talking to me about needing breaks, but not having anybody to watch your baby for them. "
Morris stresses that she's there to help, not hinder or intrude.
"There could be financial issues with these moms so that I will give them some resources out in the community, something like Catholic Charities or someone to reach out to, to get help to pay for an electric bill or something like that,'' Morris said.
Despite the obstacles she encounters, Morris says it's all worth it, especially when she sees babies like Delilah thriving.
"I'm a single mom, too, so I try to also be relatable to my clients,'' she said. "Because I'm a nurse, don't think I got it all together. I have single mom struggles just like you guys do. So we're in this together. We're going to figure this out together."
WHYY is your source for fact-based, in-depth journalism and information. As a nonprofit organization, we rely on financial support from readers like you. Please give today.