Defending 205 Race Street plan | Council overrides veto, proposes code updates | OCF v. PRA: vacant lot cleanup | Route 34 trolley returns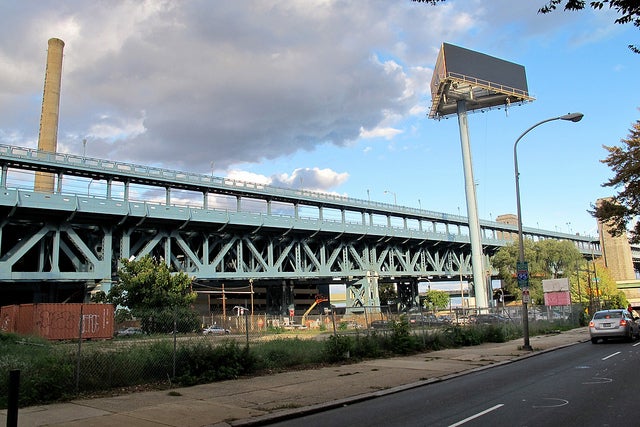 Old City Civic Association is again fighting a tower proposal, this time a 197-foot tall residential building (with ground floor retail) at the corner of 2nd and Race, designed by Peter Gluck and Partners for Brown/Hill. Old City Civic says the plans will overbuild the site, but in her column today Inga Saffron defends Gluck's design for 205 Race St., pushing back on Old City Civic's claim that plans for a 16-story tower (set on a 56-foot tall base) are inappropriate for this location. She points out that this is site is at the nieghborhood's edge, backing up toward other tall structures (bridge abutment, billboard), could be a link to the development hub along the waterfront, and that Gluck has designed an "unusually thoughtful, high-quality building." (Take that Marina View.) Plans for 205 Race Stree will come before the Planning Commission on Tuesday.
On Thursday City Council returned for its fall session. PlanPhilly's Jared Brey reports that Council members proposed overhauling the dated property maintenance code, shrinking the 10-year tax abatement to 5 years, allowing "waterfront setbacks," and voted to override Mayor Nutter's veto of Finnegan's Wake's balcony proposals.
Developer Ori Feibush, owner of OCF Realty, hauled tons of trash, weeds and debris from a vacant city-owned Point Breeze lot at 20th and Annin streets (behind his OCF Coffee Shop) and while some neighbors welcome the change the Redevelopment Authority is ticked off. Feibush doesn't own the lot – though he says he has expressed interest on numerous occasions, brought the lot's condition to the attention of the city, and has even been sent citations for its upkeep – and now he is threatened with legal action for cleaning up the lot and adding cherry trees and benches. He says, "I'm not looking for a thank-you, but I'm not looking for a big F.U." The Daily News recounts the strange, strained tale.
The Route 34 trolley is back on track after a summer of work and shuttle buses between 40th and 61st streets in West Philly, reports PlanPhilly's Christine Fisher. SEPTA replaced 7,500 feet of track, which should make the ride smoother and quieter, and finished the project on time. The Buzz is Eyes on the Street's morning news digest. Have a tip? Send it along.