Dear Gov. Christie: Delaying pension payments is not plan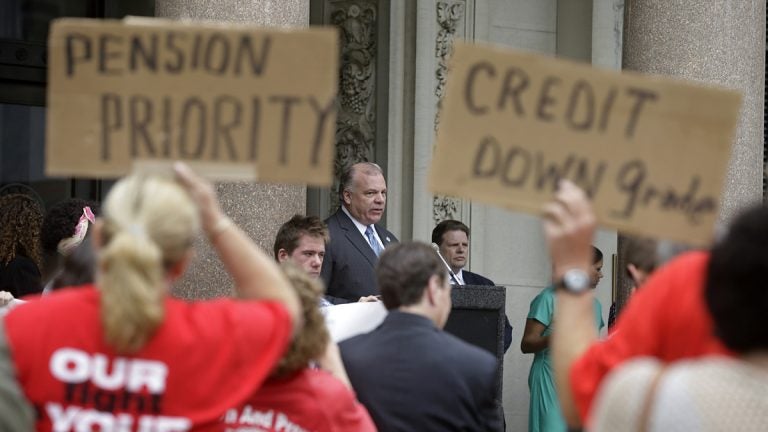 The New Jersey Education Association, N.J.'s primary teacher union, is suing Gov. Chris Christie for reneging on a legally-mandated $2.4 billion pension payment. Over a dozen other unions have joined the suit.
From NJEA et. al. vs. State of NJ:
"This case presents this Court with a fiat by the Governor that he will not spend the money appropriated for the current 2014 fiscal year for the unfunded accrued liability contribution owed to the various retirement funds… [This fiat] is in flagrant disregard for the law that the Governor is duty-bound to uphold."
Certainly, this NJEA lawsuit is justified. In 2010 the State Legislature passed a pension reform bill that requires the state to conform to a payment schedule intended to bulk up NJ's depleted pension system. In 2011 another bill, virulently opposed by labor unions, passed through the Statehouse requiring state workers to increase their contributions to the state's pension fund and make other concessions.
Christie's stance is indefensible, especially in light of the many young teachers and other youthful state employees who can reasonably question the promise of their deferred compensation.
But it's worth recalling how N.J. got into this mess, with a pension system underfunded by $40 billion, a state budget gap of $3 billion over the next two years, and one of the worst credit ratings in the country. As Matt Bai points out in a New York Times Magazine feature, published when Christie was still the GOP's golden boy, "At no time in the last 17 years has New Jersey fully met its annual obligation to the pension fund, and in many of those years, the state paid nothing at all. (That didn't stop one governor, Donald DiFrancesco, a Republican, from increasing payouts by 9 percent and lowering the retirement age before he left office, which would be kind of like Bernie Madoff writing you a $1 million check before heading off to jail.)"
So, a little history.In 1992 during Democratic Governor Jim Florio's tenure, the Legislature unanimously passed the Pension Revaluation Act, which cut state contributions to the pension fund by $1.5 million. This was justified by a rash overestimation of the return on investments.In 1994 Republican Governor Christie Whitman signed another pension reform bill that used some of the fund intended for future retirees to pay current costs. Later in her tenure she authorized the purchase of $2.75 billion in bonds to cover state pension payments instead of using actual money from the budget.
In 2001 Democratic Governor DiFrancesco increased pension payments to retired state workers by over 9 percent. The raises were retroactive; he paid for them for by inflating the actual value of available funds.
Democratic Governors Jim McGreevy and Dick Cody continued this tradition of evading pension payments by raiding the fund to pay for tax cuts.
Democratic Governor Jon Corzine actually made a substantial payment to the pension fund during his first year of office, but then reverted to N.J.'s habit of underfunding the system.
NJEA President Wendell Steinhauer has eloquently communicated the union's dismay at Christie's betrayal. But Steinhauer underestimates the depth of N.J.'s pension crisis with this statement:
"Because of the significant sacrifices made by public employees and retirees the state has a viable path to pension solvency, but only if Gov. Christie lives up to his obligations. If he does not, New Jersey taxpayers will be saddled with even larger obligations once he is out of office. That doesn't serve the interests of anyone who cares about New Jersey's long-term well-being."
Actually, N.J. has no visible path to pension solvency, nor one for financing retirees' medical benefits. (Mark Magyar at NJ Spotlight notes that "the unfunded liability for retiree healthcare costs is actually larger than the pension liability in New Jersey and most states with heavily unionized public employee workforces. ")
The only path to solvency is stronger civil service reform and adherence to state-mandated pension payments. The first will require further concessions from the unions and the second will require a cultural shift in the Governor's Office. Until then, we'll look to the courts.________________________________________
Laura Waters is president of the Lawrence Township School Board in Mercer County. She also writes about New Jersey's public education on her blog NJ Left Behind. Follow her on Twitter @NJLeftbehind.
WHYY is your source for fact-based, in-depth journalism and information. As a nonprofit organization, we rely on financial support from readers like you. Please give today.