Coronavirus update: Wolf orders restaurants, bars to end dine-in service in 5 counties
Restaurants and bars in Bucks, Chester, Delaware, Montgomery and Allegheny counties must end dine-in services after midnight Sunday for 14 days.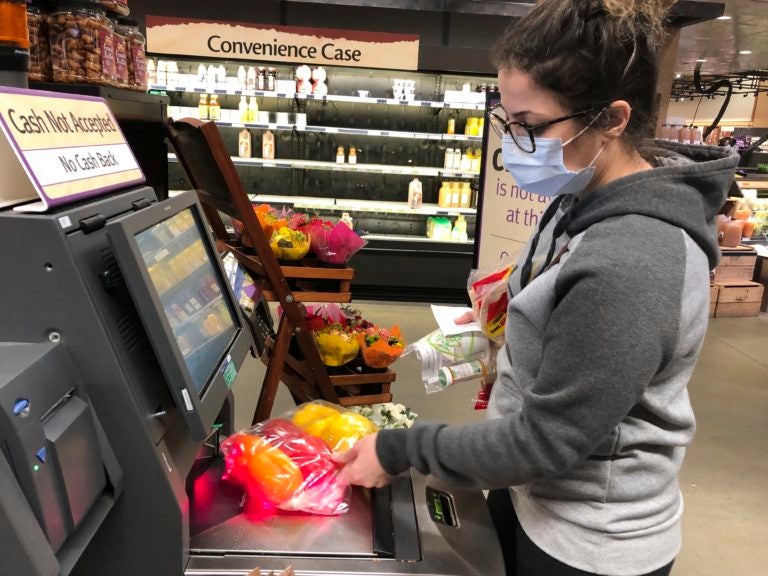 Updated 10:15 p.m.
—
Wolf orders restaurants, bars to end dine-in service in 5 counties
Restaurants and bars in Bucks, Chester, Delaware, Montgomery and Allegheny counties must end dine-in services after midnight Sunday over the course of 14 days — that's an order this time.
Pennsylvania Gov. Tom Wolf had previously urged all nonessential businesses to close in those counties — excluding Allegheny — but made it mandatory Sunday night under the state's disaster declaration powers.
Businesses can still offer take-out, delivery and drive-through services, but failure to stop serving dine-in meals and drinks for the next two weeks could lead to "enforcement actions," Wolf said in a statement, though the consequences were not laid out in the announcement.
"I understand that this is disruptive to businesses as well as patrons who just want to enjoy themselves, but in the best interest of individuals and families in the mitigation counties, we must take this step," the governor said. 
Businesses facing hardship during the forced or recommended closures can apply for financial assistance.
N.J. Motor Vehicle Commission sites close
In New Jersey, people with road tests and inspections planned for the remainder of this month will have to reschedule. The Motor Vehicle Commission is closing until the end of the month.
The MVC had previously extended the deadline for people in need of renewed drivers licenses, vehicle registrations and inspection stickers by two months if they expired anytime between now and May 31. 
Most other transactions can be done online, per the MVC's website.
King of Prussia mall closes
The King of Prussia mall, one of the nation's largest, has closed amid a call from Pennsylvania's governor for nonessential businesses to close to help stem the spread of the coronavirus.
The mall is in Montgomery County, Pennsylvania's hardest hit by the virus, with at least 24 cases out of the state's total of at least 65.
The mall had remained open after Gov. Tom Wolf's call for closure of all nonessential retail facilities in Montgomery County, saying the governor hadn't mandated store closures, nor defined "what non-essential retail is."
But a notice displayed on owner Simon Property Group's site over the weekend noted the governor's clarification that supermarkets, pharmacies and gas stations were defined as essential.
"Accordingly, we expect that all nonessential tenants of King of Prussia adhere to and comply with Gov. Wolf's recommendation effective immediately," the notice said. The security office at King of Prussia mall said Sunday that the mall was closed until further notice.
New case announced in Delaware
The Delaware Division of Public Health announced Sunday that another patient has tested positive for COVID-19, bringing the statewide total of cases to seven.
The woman under 30, who has ties to the University of Delaware, is not "severely ill," according to the department and is in isolation. Several other confirmed cases in the state are tied to the university.
Health officials are currently in the process of contacting anyone who the patient may have come in contact with.
ChristianaCare, the state's largest hospital system, will enforce new visitor guidelines starting Monday at 1 p.m. Visitors will not be allowed to see patients at a ChristianaCare hospital if they exhibit any coronavirus symptoms during a brief screening, which looks at other risk factors, including recent travel. People getting treatment at outpatient services will be limited to one visitor at a time. The hospital system is also asking people "vulnerable to illness" to skip visits to loved ones.
Pa., N.J. cases climb
New Jersey has 31 new COVID-19 cases, bringing the statewide total to 98, Gov. Phil Murphy announced Sunday afternoon. The total number of cases includes two deaths, including a woman in her 50s who died in Monmouth County.
While most patients are in the northern part of the state, one of the new cases is in Ocean County and another is in Burlington County.
The illness has also infiltrated the state's university system.
A biomedical engineering professor at Rutgers University-New Brunswick campus tested positive for the virus and is in self-isolation.
"In a community of nearly 100,000 students, faculty and staff, it is reasonable to expect that this is only the first of several incidents of COVID-19 that will involve members of our community," said Antonio Calcado, executive vice president and chief operating officer at the university.
Calcado said the professor was exposed to the virus off-campus in late February.
Details about the "inevitable" statewide shutdown of public and private schools will come on Monday, Murphy said.
The governor also signed a letter asking the federal government to offer an emergency enrollment period under the Affordable Care Act so underinsured people without health insurance can sign up. Here's how to get a COVID-19 test if you don't have insurance.
During his daily coronavirus briefing Sunday, Murphy continued to encourage everyone to practice social distancing and to avoid gatherings large and small.
"There is too much business as usual," he said. Murphy asked young people who may feel like they're not at risk to think of loved ones they could endanger as potential carriers.
Murphy said he authorized a work-from-home policy for state employees starting Wednesday.
Murphy told a New York City radio station Sunday morning that officials are considering a statewide curfew to help prevent the spread of the coronavirus. He's considering the step after Hoboken implemented the curfew starting Monday. The governor said too many bars are still packed with people.
The weekend has seen school closures and cancellations sweep across the Philadelphia region as the number of COVID-19 cases in Pennsylvania, New Jersey and Delaware all increased.
The number of cases in Pennsylvania has risen to 65, including four new cases announced in Philadelphia Sunday. All of the patients are either in isolation at home or being treated in a hospital.
Philly cases rise to eight
Four more people in Philadelphia have tested positive for COVID-19, bringing the city's total to eight, city health officials said Sunday afternoon.
The cases include a male in his 30s who was exposed internationally and is isolated at home; another male in his 30s who travels frequently and is isolated at home; a female in her 60s who was exposed to travelers and is isolated at home; and a male in his 20s.
Philadelphia Health Commissioner Dr. Thomas Farley said the new cases indicate the coronavirus appears to be spreading even by people who have not yet exhibited symptoms. Farley said he expects the number of cases in the city to "grow rapidly."
Still, unlike its neighboring counties, Philadelphia's nonessential businesses remained open this St. Patrick Day's weekend with bars in the city touting healthy crowds.
Philadelphia Managing Director Brian Abernathy recommended that sick people and people afraid of becoming sick practice social distancing and avoid going out.
Closing nonessential businesses is still being considered, Abernathy said.
"These are not easy decisions and all of these decisions have a significant impact in the poorest big city in the United States," he said.
The city is looking to establish rapid testing sites, according to Farley. The University of Pennsylvania plans to have a drive-through testing site open Monday, he said, though Penn physicians will be the ones recommending testing.
St. Christopher's stops admitting new patients to ICU
St. Christopher's Hospital for Children, operated by Tower Health, stopped admitting new patients to its intensive care unit Friday after a physician tested positive for COVID-19.
The physician had recently returned from international travel and was last at the hospital on Wednesday, according to Tower Health spokesman Richard Wells.
St. Christopher's is working to contact any staff and patients the doctor may have been in contact with, said Wells.
This new case is separate from the case of a physician who performed surgeries at the hospital at the end of February and was possibly exposed to the virus during overseas travel — that first physician has recovered.
As first reported by The Philadelphia Inquirer, the ICU's closure also led to the shuttering of the hospital's Level 1 trauma unit. The rest of the hospital remains open.
Temple student tests positive for COVID-19
A Temple University student has tested positive for COVID-19, according to a university spokesperson. The student traveled to Spain during spring break — one of the countries that has seen a surge in cases since the start of the coronavirus outbreak.
The student is showing mild symptoms and is back home outside Philadelphia, the university said. He hasn't been on campus since Wednesday afternoon.
The school is currently working with local health officials to reach anyone he may have come into contact with.
In a statement, a university spokesperson said more cases could arise based on student travel.
Bucks, Chesco come under Wolf's shutdown order
Starting Sunday, March 15, Bucks and Chester counties are under the same order as Delaware and Montgomery counties recommending that nonessential public spaces and businesses close.
Essential infrastructure and retail, including grocery stories, gas stations and pharmacies, will stay open. 
The state Department of Community and Economic Development issued guidelines Saturday for which types of businesses and spaces fall under the "nonessential" umbrella and are being urged to close. They include community centers, gyms, hair salons, nail salons and spas, casinos, concert venues, theaters, bars, sporting event venues and golf courses, and retail facilities including shopping malls. 
Effective Tuesday, March 17, all Fine Wine & Good Spirits stores in Bucks, Chester, Delaware and Montgomery counties will close indefinitely.
Wolf urged that Pennsylvanians avoid public spaces if they can at this time. 
The governor also applauded businesses and organizations that are stepping up to the challenge to help prevent the spread of the virus. Many grocery stores are cutting their in-person hours while restaurants are offering more takeout options, despite the serious economical impact it will have on them. 
The Department of Community and Economic Development is also offering working-capital loans that can assist businesses affected by COVID-19 restrictions. Resources will be posted on the department website as they become available.
Though public health experts agree green spaces are a safe way to get out and avoid crowds, state parks in Bucks, Chester, Delaware and Montgomery counties are closed for 14 days.
All events scheduled during that time are canceled and parking lots, offices and bathrooms on the sites will be closed to the public.
Still, Pennsylvania Department of Conservation and Natural Resources Secretary Cindy Adams Dunn said park rangers will remain on park sites. 
"There will be no services, and we advise people not to visit state parks that are closed, however trails and roads that pass through parks and forestlands remain open, especially as some are transportation routes or are in neighborhoods that people access them from," she said.
All state park events across the rest of the state are also canceled through April 30.
Pa. senior centers to come up with meal distribution plans
The Pennsylvania Department of Aging is asking the 500 senior centers affiliated with the state to come up with meal distribution plans should they close to prevent the spread of the coronavirus.
Should a center close, it will have the option to pack take-out meals for seniors to pick up, deliver meals to seniors' homes or offer frozen meals for pick up.
If the center can't provide these services, seniors can sign up for alternative home meal services offered by the state.
Older adults and those with underlying health conditions are at the highest risk of getting seriously ill from COVID-19. The risk has led nursing homes across Pennsylvania to take precautions to protect the most vulnerable.
Still, the decision to close state-affiliated senior centers has been left to the discretion of individual sites, unless otherwise ordered by the governor.
According to the Department of Aging, offering meals is a key function of these senior centers.
"We are committed to ensuring that the delivery of services to older adults, particularly in the vital area of meals, continues unabated, while protecting the health and safety of older adults who utilize the centers, and the center staff who interact with them," said department secretary Robert Torres.
The Associated Press and WHYY's Ximena Conde and Emily Scott contributed reporting.
WHYY is your source for fact-based, in-depth journalism and information. As a nonprofit organization, we rely on financial support from readers like you. Please give today.