City to require Philly drivers to move cars for street sweeping pilot 2.0
Philly's seven-month-long experiment with street sweeping proved that regular city cleanings reduced litter on the city's notoriously filthy streets.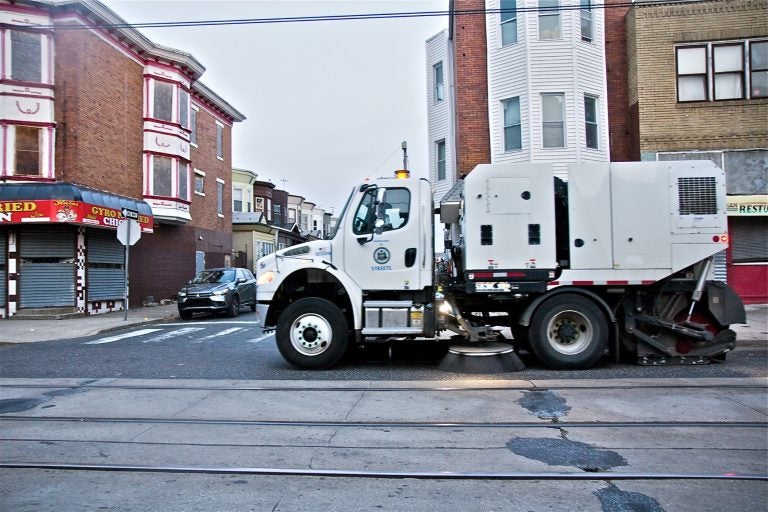 Philly's seven-month-long experiment with street sweeping proved that regular city cleanings reduced litter on the city's notoriously filthy streets. With those findings in mind, the program will expand in 2020, city officials said Thursday.
A  city report released that same day found the strategy was generally effective at reducing litter in six neighborhood testing zones when compared to nearby areas not included in the program.
Philadelphia Streets Commissioner Carlton Williams said that, as a result, the pilot would very likely be expanded in 2020 –– but with less emphasis on a controversial method that involved leaf blowers and more on traditional sweeping methods.
"It took too long. We weren't able to stay on a coordinated schedule," said William of the blower method. "Especially in areas where we had high concentrations of litter."
Six test areas will roughly double in size and, beginning July 1, will start pushing residents to move their cars ahead of morning and midday sweeping hours or face fines.
"We need the cars to move to do a thorough and efficient job to get through an area," Williams said.
Philadelphia is the only major city lacking a major street cleaning program, a product of funding cuts and resident backlash over parking tickets issued on sweeping days of yore.
But, last year, Mayor Jim Kenney's administration announced a $2.3 million Streets Department pilot program designed to experiment with alternative street cleaning strategies. These included a novel strategy of using leaf-blower crews to dislodge trash from beneath parked cars, bypassing parking regulations used in many municipal street sweeping programs.
That will change in the second phase of the pilot, expected to start April 1 and end by December. The city will begin a month-long "warning period" for drivers ahead of ticketing beginning July 1. In August, the city will issue $31 tickets to drivers who do not move their cars before sweeping. By the end of the pilot, all drivers in testing zones will be expected to move cars on sweeping days.
Kenney has said his ultimate objective is to have citywide street-sweeping in place by the end of his term.
"It'll be in every neighborhood and you are going to have to move your car. If you don't want to move your car — tough," Kenney told reporters after his inauguration ceremony in January.
The six original testing zones studied in the new report were chosen for their "relatively high rate of litter" after Mayor Kenney announced a major multi-year funding boost for sanitation services, which had long languished in the city budget. The areas covered sections of West Philadelphia, Southwest Philadelphia, Kensington, Strawberry Mansion, Logan and South Philadelphia.
The department dispatched six-person crews and a sweeper truck to clean each pilot area the day after trash collection in these zones, from April 15 and November 30 of last year. Kensington was later split into two cleaning areas and assigned a second crew because the neighborhood had more litter than anticipated.
Five workers armed with gasoline-powered leaf blowers and hand brooms pushed litter towards the middle of the street, or to adjacent blocks if streets were too narrow to sweep. A mechanical street sweeping truck would then come by and suck it all up. Residents were "encouraged," but not required, to move their cars as crews worked their way through each neighborhood.
Early sweeps found crews gathering an average of 10 tons of litter citywide every day. However, the report found "the amount of trash collected per day decreased" as time went on, even as crews grew more efficient and covered more ground each day –– a sign the efforts were making a dent.
"The initial decrease in tonnage reflected a decreasing amount of litter collected," the report concludes. "This was in line with…expected decreases in tonnage collected over time, because of cleaner streets."
The city collected survey responses from some 2,400 households in the test zones to gauge public reaction to the new service. In general, residents reported that blocks did appear to be cleaner after the program began, and more than 90% recommended expanding the program citywide and approved of the inclusion of blower crews. Ninety-one percent of drivers surveyed indicated they would be willing to occasionally move their cars to make way for cleaning trucks.
However, both findings clashed with the city's own "Litter Index."
This data point, developed by the city's Zero Waste and Litter Cabinet, essentially relies on visual surveys of blocks for cleanliness, with areas ranked on a scale from 1 to 4. While the index was ultimately meant to guide litter abatement efforts, it didn't seem to register tons of garbage being pulled off the streets each day. Only about half the surveyed areas showed improvement on the Litter Index scale, while others recorded even more trash after the program began.
The city considers the program a success nonetheless and wants to continue it for at least another year in the same six target neighborhoods with hopes of bolstering the data it's already collected.
"We want to keep the existing neighborhoods to see if those are results we can be confident in with two years of data as opposed to just one year," said Anjali Chainani, director of policy for the Kenney administration and the report's lead author.
Dr. Louis Brown is a dermatologist who regularly sweeps the sidewalk in front of his dermatology practice in Northeast Philadelphia. He supports the city's efforts to expand the pilot, if only to reinforce to residents that their neighborhoods don't have to be dirty.
"People just have such a negative notion sometimes of the city that when something positive is done, it takes a while to seep in," said Brown.
Both the pilot program and Kenney's funding bump came shortly after a WHYY/PlanPhilly report found the city rarely sent sweepers to a handful of streets still nominally scheduled to receive regular cleaning. City Council also separately passed legislation steering $10 million to bolster cleaning on major commercial arteries late last year.
WHYY is your source for fact-based, in-depth journalism and information. As a nonprofit organization, we rely on financial support from readers like you. Please give today.