PPA makes millions ticketing drivers for blocking street sweepers that rarely show
PPA tickets cars parked in street sweeping zones, despite the fact Philly's Streets Department doesn't show up to clean those streets most of the time.
Listen
2:24
Why is the Philadelphia Parking Authority ticketing cars for blocking street sweepers — on streets the city doesn't actually sweep 75 percent of the time? Ryan Briggs and Aaron Moselle answer this question on WHYY's The Why. Listen now and subscribe wherever you get your podcasts.
—
Outside of Dr. Louis Brown's dermatology clinic in Northeast Philadelphia, a string of "no parking" signs warn drivers to stay off the block on Tuesday mornings. The parking lanes on this stretch of Rising Sun Avenue are supposed to be kept clear so city street sweepers can clean trash out of the curb line between 7 a.m. and 9 a.m.
Brown, a block captain who's had his business on the street for 25 years, says the $31 tickets his unlucky clients receive from the Philadelphia Parking Authority each Tuesday are very real. But the street sweepers themselves? Not so much.
"It's not to say it isn't done," he said. "But I haven't seen them come by in years."
Brown admits he's not always in his clinic by 7 a.m. to watch the mechanical brooms rumble by. But there's plenty of evidence left behind when sweepers don't materialize: namely, litter.
"I sweep the block, especially after trash day on Mondays," he said. "On Tuesdays, when the streets are supposed to be swept, it doesn't appear they have been."
WHYY and PlanPhilly reporters deployed to these business corridors didn't have much more luck spotting the city's cleaning crews. Over the course of one week in December 2018, the reporters did not observe any street sweepers on any of the posted routes before, during, and after the posted "no parking" hours.
But even if sweepers don't show up consistently, The Philadelphia Parking Authority's agents do.
Between 2007 and 2017, the state parking enforcement agency issued over 148,000 tickets to drivers for failing to move their cars on days designated for street sweeping, according to PPA records. Together, these tickets amount to $8.1 million in fees and penalties, of which the agency has collected $5.5 million. Only about a quarter of all PPA revenue goes back to the city and school district.
Thousands more tickets were issued in Center City to drivers who didn't move their cars on neighborhood cleanup days. Even more sweeping tickets were issued on streets that were not on the city's cleaning schedule. A PPA spokesman declined to explain why agents were ticketing these areas.
Philadelphia is the only big city in the U.S. without a comprehensive street cleaning program. But these driver penalties trace back to an eight-route weekday morning sweep that has survived decades of municipal budget cuts without much notice. On these eight routes, which include Brown's section of Rising Sun, as well as commercial stretches of Chester Avenue, and South Broad Street, signs enforce alternate-side-of-the-street parking restrictions.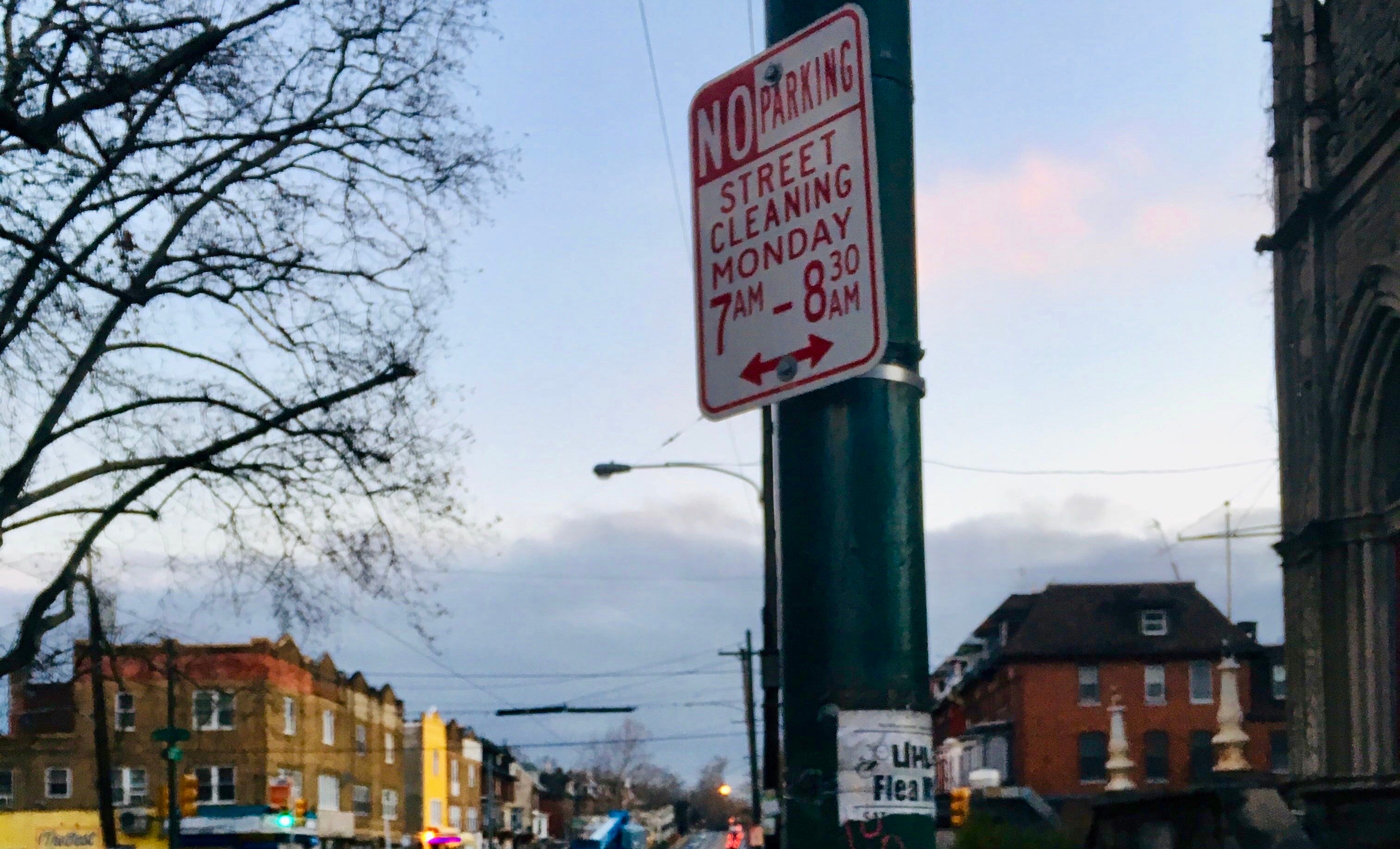 According to officials interviewed for this story, each thoroughfare gets a weekly sweeping with the occasional missed day of service due to crew shortages or maintenance. That's why PPA must be out there — to make sure streets are clear for the sweepers.
"These blocks were part of a larger posted daytime [street sweeping] system that mostly went away when we lost funding. But they continue to be swept because they're commercial corridors with high traffic volume," said Keith Warren, deputy streets commissioner for sanitation. "I don't have a statistic, but they're scheduled to be swept once a week and we try to shoot for that."
Warren implied neighbors like Brown may just have not noticed the early-morning sweeping.
"I don't know why they would say they never see them, but I do know that we send the trucks out," said Warren.
But WHYY and PlanPhilly sent reporters to observe the sweepers for a second week of cleaning in January and found that the inconsistency continued.
Over the two weeks, the Streets Department failed to show up for the scheduled cleaning assignment 75 percent of the time, hitting only one-quarter of the assigned routes. Meanwhile, PPA agents ticketed cars parked in the street sweeping zones on most of the scheduled cleaning days.
Some streets — like Olney Avenue and Allegheny Avenue in North Philadelphia — were not swept either of the two weeks that reporters monitored the city's daytime cleaning routes.
Chevonne Tingle, who has lived on Elmwood Avenue for 12 years, was at a loss to explain the erratic sweeping schedule.
"It's sporadic. I don't know. Maybe somebody called out from work?" she said. "But you see the PPA every week and people still get ticketed whether they come or not."
Fined for a failing service
Until the 1970s, Philadelphia was regarded as one of the cleanest cities in America, employing a robust sweeping program that employed thousands of workers. But federal cuts at a time when the city's tax base was shrinking would set this program on a protracted decline, with the last remaining neighborhood routes being terminated in the 2000s.
Today, just $850,000 of the Sanitation Department's $90 million annual budget is dedicated to street sweeping operations, less than one percent of its overall spending. That $850,000 covers vehicle maintenance and crew costs for the city's 17 street sweeper trucks, which are scheduled to sweep the eight morning routes on Rising Sun, South Broad, and elsewhere –– as well as an additional 33 commercial corridors at night that don't require parking restrictions.
But Warren said he "can't speak to why" the city chose the eight daytime routes it maintains.
"I wasn't there when that coordination was made," he said. "These routes are 20 years old."
The two agencies do not have a system in place for communicating service disruptions and Warren says his department has never actually asked PPA to ticket any streets.
"The ticketing part, you have to discuss with PPA. I'm only responsible for sweeping," the deputy streets commissioner said. "I don't have a preference if people move their cars or not … I live in the city and have to park here, too."
Marty O'Rourke, a PPA spokesman, pointed the finger back at the Streets Department.
"At the direction of the city, the PPA does issue tickets for street cleaning violations on select streets," he said.
O'Rourke declined to comment further.
Interviews with city officials revealed that the inconsistent sweeping is largely the result of a series of confusing and sometimes contradictory sanitation policies handed down from one deputy to another as sanitation operations were slowly eroded by budget cuts. Crew shortages, old technology, a general failure to communicate with the PPA, and political meddling explain much of the rest.
Although Warren said the city hasn't systematically updated its policy regulating daytime sweeping schedules or parking in the 20 years since the original list of eight sweeping routes was made, some areas scheduled for the weekly brooms have been exempted from PPA's directive.
For instance, Chester Avenue is scheduled to be swept from 42nd Street over to Cobbs Creek, yet the section east of 50th Street no longer features sweeping restrictions, leaving residents of the area's stately Victorian homes free to park as they like. The rest of the route, encompassing a working-class section of Southwest Philadelphia, is ticketed.
Sherman Sparks, a construction worker who has lived on the 5400 block of Chester Avenue since 2015, estimates he's paid $300 to $400 dollars' worth of street sweeping tickets over the years. He saw a dark logic in which areas were ticketed and which were not.
"These are lower-income neighborhoods. It kind of just seems like a regressive tax to me," he said. "I think it just functions as a tax for the city. I really don't think it has anything to do with whether the street is clean or not."
The city couldn't explain the exemption on Chester Avenue, but officials admitted that other routes, such as South Broad Street, were modified due to political interference.
"Some years back, a legislative request came asking that the east side of Broad be removed from the requirement to move cars," Warren said. "It was a request from Council."
Former City Councilman Frank DiCicco had notoriously campaigned against street sweeping in his district during the 2000s, fearing neighborhood ire over PPA ticketing would cost him reelection.
Today, the east side of Broad Street, in DiCicco's old district, is free of ticketing. Predictably, drivers now fill the parking lane on that side of the street, while drivers just across Broad are ticketed by the PPA each week.
Notably, the street was never actually removed from the city's sweeping list. That means Warren's department still, at least in theory, dispatches a mechanical broom truck to cruise down Broad Street's car-blocked eastern traffic lane, unable to sweep.
Plans for improvement
For many neighbors, like Sparks, the frustration is not about occasionally receiving a parking ticket. It stems from feeling like government officials are better at doling out fines than providing a desirable service.
"If they're gonna ticket me and then they're not going to clean the street, then how about just not ticketing me?" Sparks said.
Presented with findings from this WHYY/PlanPhilly report, Streets Commissioner Carlton Williams blamed the department's 75 percent failure-to-sweep rate on "mechanical issues."
"That is an issue, that is a concern. We want to make sure that we're providing the service that we tell the public that they should expect, especially if they're cooperating by moving their cars," said Williams. "That's our responsibility and it certainly should be addressed."
He said his department would attempt to communicate with the parking authority, particularly when the city knows a route won't be swept on a given day "so that in these cases, there's not any mistakes or tickets issued when there's a route not being cleaned."
Williams also acknowledged that the city did not currently employ a modern vehicle tracking system, relying instead on paper-and-pencil crew logs. In other words, the city could not confirm when sweepers were actually hitting their assigned routes.
The streets commissioner said the city planned to install GPS devices on mechanical brooms and work to improve its on-time sweeping rate in the new year.
In April, the city is expected to launch a pilot covering six neighborhoods that could, eventually, eliminate the need for residents to move their cars during posted street sweeping times. It's still unclear which streets will be part of the pilot or when they'll be swept.
Williams did admit this new program will not include any of the routes the city currently sweeps during the day, but he is hopeful the pilot will uncover strategies for sweeping the city's streets that do not revolve around parking enforcement.
"The failure of the first program, although it had good intentions, was most people complained about moving their cars," he said. "We think mechanical sweeping does make a big difference when it's done correctly."
Reporters Taylor Allen, Jake Blumgart, Evan Bowen-Gaddy, and Robert Brod contributed to this report.
WHYY is your source for fact-based, in-depth journalism and information. As a nonprofit organization, we rely on financial support from readers like you. Please give today.