Central Bucks at center of school mask debate, amid lawsuit and another board vote Tuesday
A board vote Tuesday comes amid a lawsuit filed by a group of parents upset with the district's intent to start the school year without mandatory masking.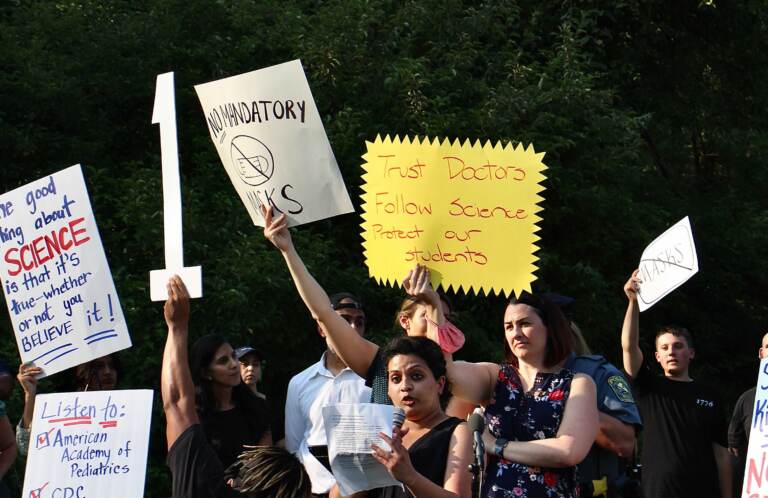 The Central Bucks School Board is expected to vote Tuesday evening on a revised COVID-19 health and safety plan that includes a mask mandate for elementary aged students, triggered if the "Central Bucks school community"reaches 100 cases per 100,000 people, or if the rate of those who get tested reaches 10% positivity.  
The district has not released a current breakdown for its community on those measures. Countywide, according to the Centers for Disease Control and Prevention, there's an average of 161 cases per 100,000 in the past 7 days in Bucks, and a 7.11% positivity rate among those tested.
The plan also says that if a person is symptomatic or tests positive, they can return to school "if symptoms resolve and if fever-free for 24 hours," but they remain masked for seven days.
The second such vote in a week comes amid a lawsuit filed Friday by a group of parents upset with the district's intent to start the school year without mandatory masking or contact tracing.
The parents all have children with special needs, and claim the current COVID-19 plan violates their students' rights under the Americans with Disabilities Act.
The federal lawsuit asks the U.S. District Court in Philadelphia to order the Central Bucks School District to align with guidelines by the Centers for Disease Control and Prevention and the American Academy of Pediatrics for mitigating COVID-19 spread in schools, which include universal indoor masking, as originally proposed by Central Bucks Superintendent Abram Lucabaugh.
The suit follows an emergency school board meeting last Wednesday, where the board voted 5-4 against a health and safety plan that adheres to public health guidance — requiring masks, COVID tracking, and updated isolation requirements if exposed to the virus.
Community members have been raising money to help pay for the special-ed attorneys representing the parents via a GoFundMe, which has so far raised over $38,000 with 302 individual donations.
"Together we have made a phenomenal statement that we need to follow CDC and AAP guidelines to keep the children, teachers and staff in our schools safe, as well as prevent the spread of COVID in our community," said Susan Lipson, a district parent, local family doctor, and one of the GoFundMe organizers.
On Monday afternoon, Central Bucks residents Jamie Walker Cohen and Shannon Harris filed a "motion to intervene," meaning, they have requested to be heard as a third party in the case.
They argue that only the Bucks County Department of Health has the power to mandate masks, not the school district.
The judge will decide in the coming days if he will accept their motion. A tentative court date in the case is set for Wednesday afternoon.
Similar lawsuits across the country are surfacing. As of Monday, the U.S. Department of Education's civil rights office launched investigations in Iowa, Oklahoma, South Carolina, Tennessee, and Utah, to see if attempts to block schools from mandating masks constitutes a civil rights violation for students with disabilities. In Pennsylvania, Gov. Tom Wolf has called on the legislature to pass a statewide mask mandate for schools, but leaders in the GOP-controlled House and Senate have said they want to continue to give districts their own leeway.
Julie Simeone, a Central Bucks parent in support of the lawsuit, is in shock about the board's recent decision to turn down the revised plan, especially with the increasing spread of the delta variant in Bucks County.
According to the Pennsylvania Department of Health, COVID-19 is on the rise in Bucks, with 120 cases as of Aug. 29, compared to four cases on June 20. The Children's Hospital of Philadelphia has also noted an increase in COVID cases amongst children in the region.
"This is just absurdity, I will not shut up about this," said Simeon. "It's just so dangerous. I'm just numb, disgusted, amazed, sad. I'm just blown away at this point, I can't believe this is happening."
Her son is 12, and went to his first day of 7th grade Monday. Simeon has a rare disability that heightens her fears around catching COVID-19. She is worried her son will come in contact with a student with COVID-19, and then spread it to their family.
She said he hates wearing a mask, but she makes sure he wears one, no matter what. "Wearing a mask sucks, but COVID sucks more," said Simeone.
This is not the first time local physicians have taken a public stance against the district's COVID-19 policies. A press conference in July organized by community members was met with fierce opposition by community members who believe COVID mitigation efforts have been overblown.
Tensions over mask mandates have continued to escalate in Bucks County.
Last week, fears surfaced around a group called the Proud American Patriot Network. Some community members have alleged the group has ties to the Three Percenters, a right-wing militia group recently labeled a terrorist entity by the Canadian government. Proud American Patriot Network has denied the connection, despite its website recently selling Three Percenters merchandise. The group intended to join with Re-Open Bucks before the Central Bucks School Board meeting to oppose the idea of a mask mandate, but canceled its protest on school grounds after what it called "mass hysteria."
The Bucks County Health Department has been under fire throughout the summer, facing public scrutiny after emails between Health Commissioner David Damsker and school leaders were leaked on social media. Damsker advised one childcare facility to have parents not report positive COVID-19 cases to the institution, and has said COVID-19 does not seriously impact children.
The health department released updated school advice, calling for universal masking, after local hospitals stressed their concern over pediatric COVID-19 cases causing strain in hospitals.
Other parts of the county's updated guidance still went against CDC standards. It did not suggest contact tracing in schools, and said children with COVID-19 could return to classrooms after being fever-free for 24 hours.
The health department later updated its school guidelines again to address those provisions, after Acting Pennsylvania Department of Health Secretary Alison Beam wrote a letter to the county commissioner's office.
Beam said the original Aug. 15 reopening guidance was "alarming," and that it "[disregarded] evidence-based public health practices."
Tuesday's board meeting is expected to be well attended, with tensions between mask proponents and opponents.
Julie Simeon is hopeful the board opts to err on the side of COVID safety.
"I'm just an optimistic person, so sadly I get my heart broken a lot," said Simeon, "But I feel like the numbers just keep going up, so I can't help but think that they'll do the right thing."
Get more Pennsylvania stories that matter
WHYY is your source for fact-based, in-depth journalism and information. As a nonprofit organization, we rely on financial support from readers like you. Please give today.