Bicycle Diary: Postcard from Amsterdam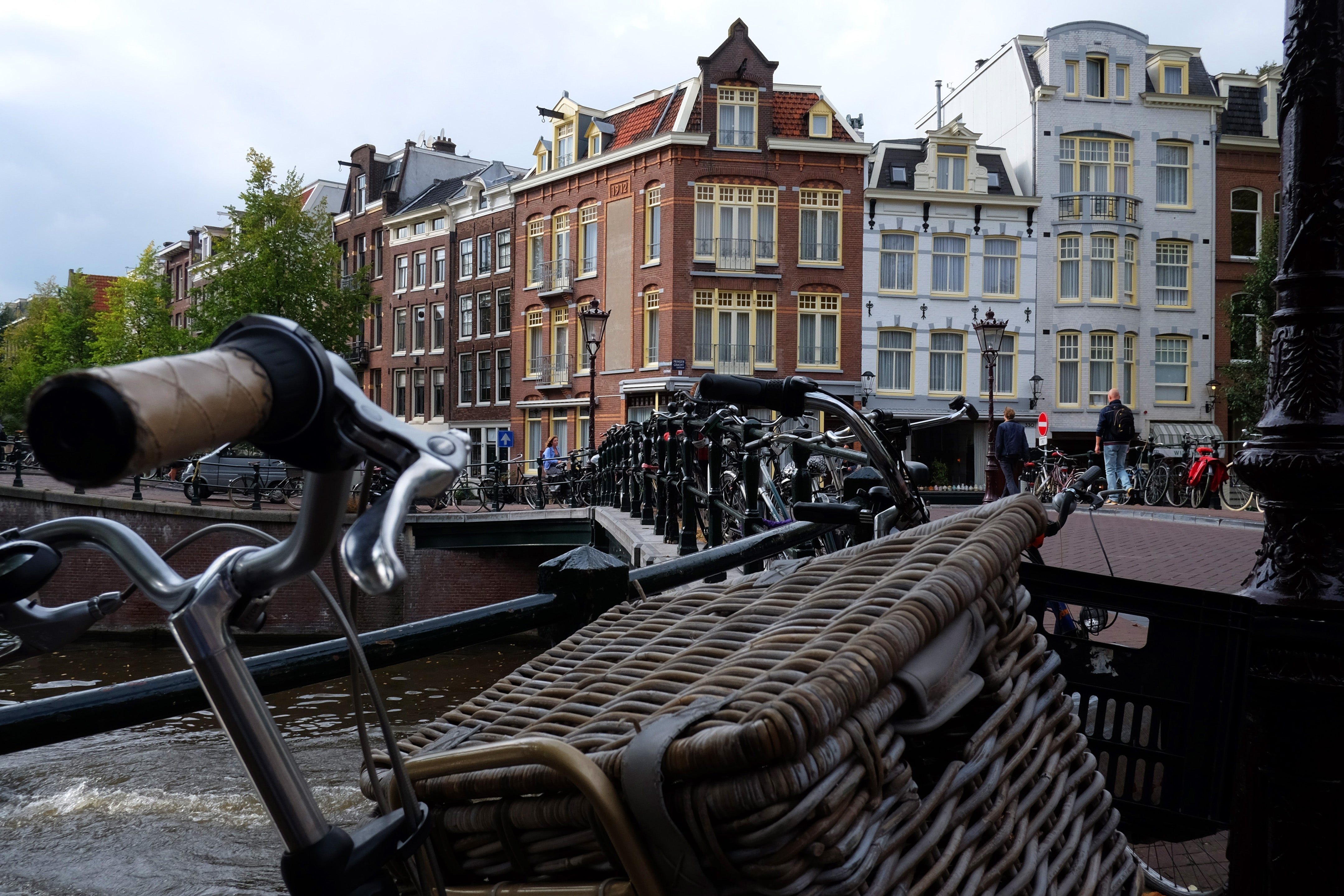 I'm in Amsterdam, in the bike shop equivalent to Pep Boys, picking out a souvenir Dutch bike bag when the "Streets of Philadelphia" comes on the store's radio. It was as though Bruce dropped by to remind me that I don't get to stay in this clean transit Shangri-La. Instead it was back to Philly this week, where we are laboring mightily to become a stronger city for biking. I came home with bikes on the brain (and a nifty rear rack bag), thinking about the links between better cycling infrastructure and robust bike culture.
In Amsterdam the car is not the king of the road. That is by choice. The Dutch were long a bicycling people, but the post-war years brought a car boom. Due to concerns about environmental quality, the expense and politics of oil, and street safety (especially for children), the Dutch made a conscious decision starting in the 1970s to plan for bicycles and transit instead of cars.
Today car traffic exists in Amsterdam's dense, old city center but it's managed well thanks to expensive parking, one-way streets, and streets that prioritize cycling and transit instead of cars. Traffic moves slowly in the city core's narrow streets, rolling along canals punctuated by low humpback bridges. Cars poke along sharing space with zippy scooters, cyclists, pedestrians, and trams. What's striking is just how shared some of these spaces really are.
On small streets there are no bike lanes, with scant differentiation of space. Many of these streets are brick-paved, and sidewalks might have a different paving pattern. Divisions are indicated by subtle stone strips showing what is for traffic, parking, or pedestrians. Width, bumpy pavers, and occasional speed humps help slow the traffic speeds. Higher-speed, wide arterials typically have painted bike lanes that are separated from car traffic. What makes these streets good for bikes are elements like left turn boxes, bike signals, and buffers.
From wee streets to major plazas, all modes of transportation engage in a complex and improvisational street choreography with users anticipating each other's speeds and moves with ease. Flow, common sense, awareness of one's surroundings, and thoughtful infrastructure make this work harmoniously, a street symphony instead of chaos. It is not necessarily something you'd see in a street design manual but it is amazing to behold.
But good bike infrastructure from pro-bike policy isn't why the Dutch bike. Dutch culture is a bike culture. Roughly 30% of Dutch people use cycling as their main mode of transportation, and in Amsterdam that number is even higher. Everyone bikes: Old folks, suits, kids, new parents with toddlers in tow, young people going out for the night. We saw a set of couples dressed to the nines for a wedding, maybe – no helmets, instead the women wore fascinators – and girls pedaling off during a hen party. Any and all situations are bike appropriate.
Cycling there doesn't come with a stigma about class or age or hipsterism. It's practical: The terrain is flat, cities like Amsterdam are small and dense, and cycling is cheap and efficient. And if a bike can't carry you all the way, you can use the excellent tram and train systems.
The Dutch pro-bike culture and pro-bike infrastructure are mutually reinforcing. I came home feeling that Philly needs a healthy boost of both.
Philly may be the number one big city in America for bike commuting, but the percentage is still small – just 2.3%. Biking isn't, and can't be perceived as, just for dudes in spandex or hipsters on fixies. Indeed, bicycling is growing in Philadelphia according to a recent report by the Bicycle Coalition of Greater Philadelphia. For it to seriously take off we need more casual cyclists, and frankly more women, to choose biking. To convince these groups to bike more often, they need to feel welcome and safe. Safety, at least, comes from better bike-specific infrastructure.
Stronger bike infrastructure, from plain old bike lanes to robust cycle tracks (still a dream here), leads to safety in numbers. Cyclists are willing to go out of their way to use dedicated bike lanes (where, by the way, their behavior improves). Streets with protected bike lanes are safer in part because motorists come to expect cyclists and everyone adjusts behavior a bit. Better infrastructure also gets cyclists off of sidewalks, thereby increasing pedestrian safety and comfort.
Ultimately the more people bike, the more political support there will be for improved bike infrastructure. The nicer the infrastructure, the more people will opt to bike. It's a cycle-driven cycle.
As I bike about this fall I'll carry with me that new bag, as well as a bit of Dutch inspiration that something better is possible for our city. Philly may not be Amsterdam but we have solid bones for being a more bike-friendly place. We have a network of small streets woven into an intimate grid, an often gentle geography, about 230 miles of existing bike lanes, and a solid bike plan. The task now is to actually get the city to build better bike infrastructure and take seriously the charge to share our streets. But sharing is a two-way street, which means more people need to choose getting around on two wheels. Build, cycle, repeat.
Ashley biking in Amsterdam

Narrow streets mean shared spaces in Amsterdam's core.

Bikes rule the road in central Amsterdam.

Amsterdam bike zone marking on cobblestone street.

Parking, bike lane, sidewalk, fence in Amsterdam.

In Amsterdam, bike parking and bike traffic.