Say yes to the dress: Ann Lowe's gowns for high society adorn Winterthur
Called "society's best-kept secret," Ann Lowe made gowns for special occasions, including Jackie Kennedy's wedding dress.
If you want to know a woman, understand her dress.
That's what Katya Roelse discovered while recreating Jackie Kennedy's 1953 wedding dress, designed by Ann Lowe and permanently stored at the JFK Presidential Library and Museum. The dress is extremely fragile and never leaves the museum.
Roelse, an instructor of fashion at the University of Delaware, traveled to Boston and spent three days with the gown, carefully measuring and inspecting every seam so she could recreate it for the exhibition "Ann Lowe: American Couturier" at Winterthur Museum, Garden, & Library outside Wilmington.
Roelse said this dress has a powerful story to tell. She was overwhelmed when first encountering the gown, which she describes as a modernization of a classic antebellum Southern belle gown.
"It was very striking because it has a lot of volume. It almost looks like she could have just taken it off and walked into the other room," Roelse said. "I don't follow the Kennedy saga very much, but we all know what happened. And we're all learning what happened to Ann Lowe. It's very powerful to see it and to think about that while you're spending so much time with it."
Forty dresses designed by Ann Lowe from the 1920s through the 1960s are on display at Winterthur Museum. (Emma Lee/WHYY)

An Ann Lowe debutante dress is trimmed with hand-sewn leaves and roses. (Emma Lee/WHYY)

Ann Lowe designed the wedding dress and bridesmaid dresses for the wedding of Elizabeth Mance, a member of a prominent Black family in Washington, D.C. (Emma Lee/WHYY)

Ann Lowe designed this wedding dress for Jane Tanner Trimingham in 1941. The Bermuda lilies that adorn this dress reference Trimingham's family connections to the island. (Emma Lee/WHYY)

Nora Francke Cammann dyed her white Ann Lowe designed debutante dress blue (right), so that she could reuse it. The ensemble on the left, designed in the 1930s was altered to conform to 1950s fashion. (Emma Lee/WHYY)

Ann Lowe designed this gown for the Ak-Sar-Ben coronation ball in Omaha, Nebraska in 1961. The next year, its owner, Lynn Neville Robertson, added an ivory underlayer and wore it as her wedding gown. (Emma Lee/WHYY)

A dress designed for the 1964 wedding of Ann Bellah Copeland reflects the bride's preference for restrained, sophisticated styles. Ann Lowe collaborated with her clients to give them exactly what they wanted. (Emma Lee/WHYY)
Roelse said she spent about 200 hours sewing her recreation of Kennedy's dress. She was not trying to better understand the future First Lady, but rather get into the mind of Ann Lowe.
"This dress does not go together like a regular dress. It's not even put together in a way that made a lot of sense to me," said Roelse. "She had this ingenious corset that she would fit on her clients. Then she would overlay that with all of the surface design and all this fabric manipulation."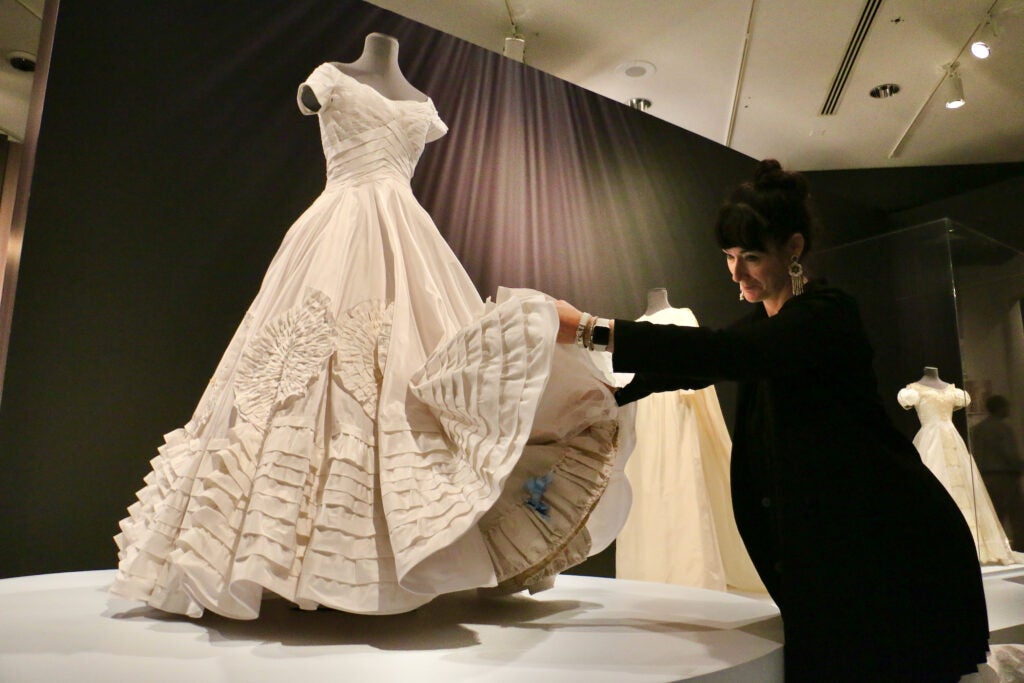 "American Couturier" features nearly 40 original dresses made by Lowe, ranging from gowns made for debutante balls of the 1920s to dresses made with 1960s pop flair, including one adorned with ostrich feathers dyed pink.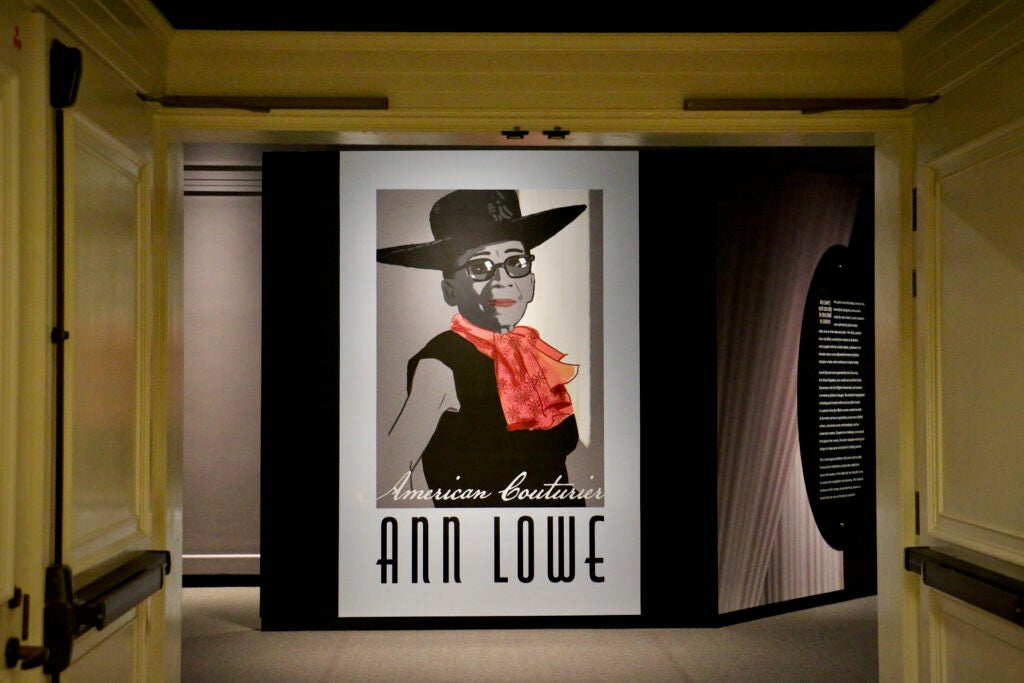 Lowe was one of the first Black dressmakers to custom-design dresses for the women in America's highest social circles. As the daughter and granddaughter of seamstresses, Lowe started making dresses in Alabama at 16 years old to support herself when her mother died. At 18, she moved to Tampa, Florida, to become the live-in seamstress for a wealthy family.
By word of mouth, her reputation spread among elite families who needed original dresses for special occasions. They were typically made with ornate embellishments and hand-sewn decorations.
"She loved fantasy," said Roelse. "She wanted everybody to have a beautiful dress on, and feel really confident about themselves when they put it on."
Lowe never mass-produced her designs, and never repeated a dress. Each was uniquely designed for one person, one event. Many of her clients first asked her to design a gown for their debutante coming out ball, and then stayed with her for generations. Lowe not only made Jackie Kennedy's debutante gown and later her wedding dress, but had also designed dresses for her mother and sisters.
"These were really young women who had to do this enormous social event. To make your debut was nerve wracking," said guest curator Elizabeth Way of the Museum of the Fashion Institute of Technology. "There's so many who talked about how Ann Lowe was so kind to them, put them at ease and gave them a dress that gave them confidence. We can look at the material culture and see her impact in American design, but we can also look at a fuller experience of how she contributed to what we think of as high society."
Lowe had been called "society's best-kept secret." Outside of her clientele her name was little known, which could be attributed to the fact that she was a Black woman making dresses for mostly white women in early 20th century America. But her relative anonymity was also good for business: High society women valued exclusivity. If Ann Lowe's name became popular, it might discourage her clients.
"She did not advertise," said Way. "That was not something that her clientele would have appreciated."
Later in life, glaucoma and cataracts nearly blinded Lowe — one of her eyes had to be removed — and she was not able to make dresses like she used to. It was then she agreed to appear on the Mike Douglas Show.
"So many society women allowed their daughters to come to my shop and feel safe," said Lowe in the 1964 television interview. "Mrs. Dillon, the undersecretary of state's wife, said I should never never change my shop. 'Keep it that way, always.' She had two daughters that came always to my shop: Phyllis and Joan."
One of those girls, Joan Dillon, the daughter of Clarence Douglas Dillon, secretary of treasury during the Kennedy and Johnson administrations, grew up to become an actual princess: She married the Prince of Luxembourg in 1967, the first commoner to marry reigning Luxembourg royalty.
Although keen to her client's interests, Lowe was not a great businesswoman. She went through cycles of working for herself in her own shop, then closing and finding work in larger stores like Saks Fifth Avenue, Madeleine Couture, and A.F. Chantilly. In the 1960s, she declared bankruptcy.
"She really adored making dresses. She loved it," said Roelse. "She didn't care about business. She didn't care about so many other things. She just wanted to make beautiful dresses."
The fact that nearly 40 Lowe dresses in pristine condition could be assembled at Winterthur — the largest exhibition of her work ever — is a testament to the value her clients placed on their gowns: They donated them to museums. Winterthur, itself, does not have any Lowe dresses in its collection; they were borrowed from institutions such as the Smithsonian and the Metropolitan Museum of Art.
During the course of "Ann Lowe: American Couturier," Winterthur is hoping more Lowe dresses will come out of the closet. The museum is asking anyone with a dress, or a photo of a dress made by Ann Lowe to come forward. A symposium about Lowe is scheduled for October 20 and 21. The exhibition will be on view until January 7.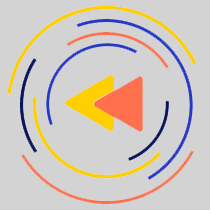 Saturdays just got more interesting.
WHYY is your source for fact-based, in-depth journalism and information. As a nonprofit organization, we rely on financial support from readers like you. Please give today.