An icon returns in 'A Doll's House, Part 2' at Arden Theatre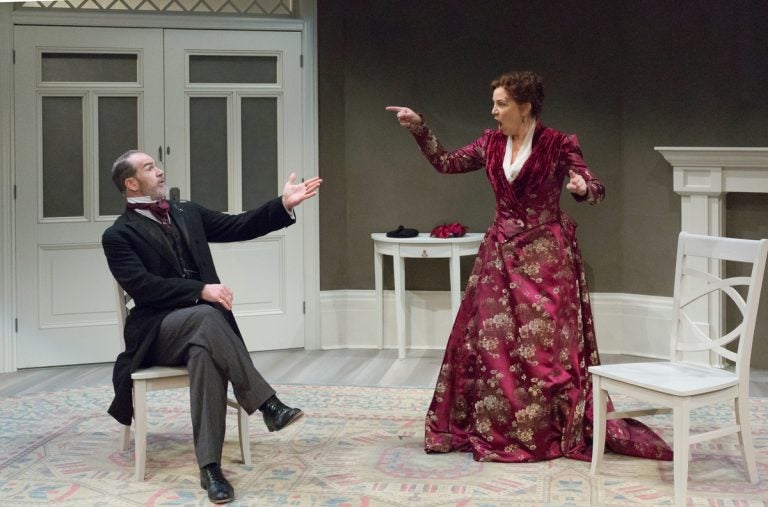 The last we'd heard from Nora, the unhappy repressed wife in Henrik Ibsen's "A Doll's House," she walked out on her patronizing husband and little children. That was unthinkable for a woman in 1879 – and since that time, "A Doll's House" has become one of the theater's most compelling emblems of feminism.
Well, Nora has come back. In Lucas Hnath's wonderfully brassy "A Doll's House, Part 2," she appears at that same door she closed — we thought, for good — and she has an agenda. Her husband, Torvald, has never given her the divorce he'd promised. She needs it now, or she may be in deep trouble with the law.
Earlier this year, Arden Theatre Company produced "A Doll's House" and now it's back, too, in this follow-up production that comes through in every way: The zingy dialogue bounces around the theater and the characters run through a convincing gamut of emotions during a day in their lives that delivers a shock. The play has much to say about equality, sexism, married life and the different ways people define freedom — all themes that come clearly to the fore in Tracy Bridgen's electrifying direction.
The veteran Philadelphia-based actor Grace Gonglewski is a no-nonsense Nora, the opposite of the Nora we had known. Gonglewski shines in the role as she moves around the parlor in a maroon dress as bold as the character she plays. (The lovely period costumes are by Olivera Gajic.) In Gonglewski's sure voice and straight-ahead delivery, Nora speaks mostly without regret — she's now a successful and well-off woman who knows what she's about. She tells this to Torval, conjuring their past: "I always wanted what you want but when I got what I wanted I didn't want it." That included him.
Steven Rishard gives a fine-tuned performance as Torval, dumbstruck at first and slowly warming up to the reality that the woman who stands before him is more than the ghost who's haunted him many times over the years. The excellent Joliet Harris gives a rich performance as the nanny who first raised Nora, then became her children's stand-in mother and is now the general housekeeper. Emmy, played by Grace Tarves, is one of Nora's children. Now in her late teens — she's smart, has a mind of her own and displays her independence when she meets the mother she's only ever heard about.
The Arden is one of 27 theater companies across the nation to produce "A Doll's House, Part 2," making it the most-produced play this season, after a much-heralded Broadway production last year. What attracts artistic directors to choose it? The obvious answer is that the play is a gutsy move, taking a celebrated work to another level. But there are other reasons, and they have to do with arguments that still resonate, 140 years after Nora slammed the door. She walks through it again at the Arden, and the arguments forcefully build.
—
"A Doll's House, Part 2" runs through Dec. 9 at Arden Theatre, on Second Street north of Market Street. 215-922-1122 or ardentheatre.org.