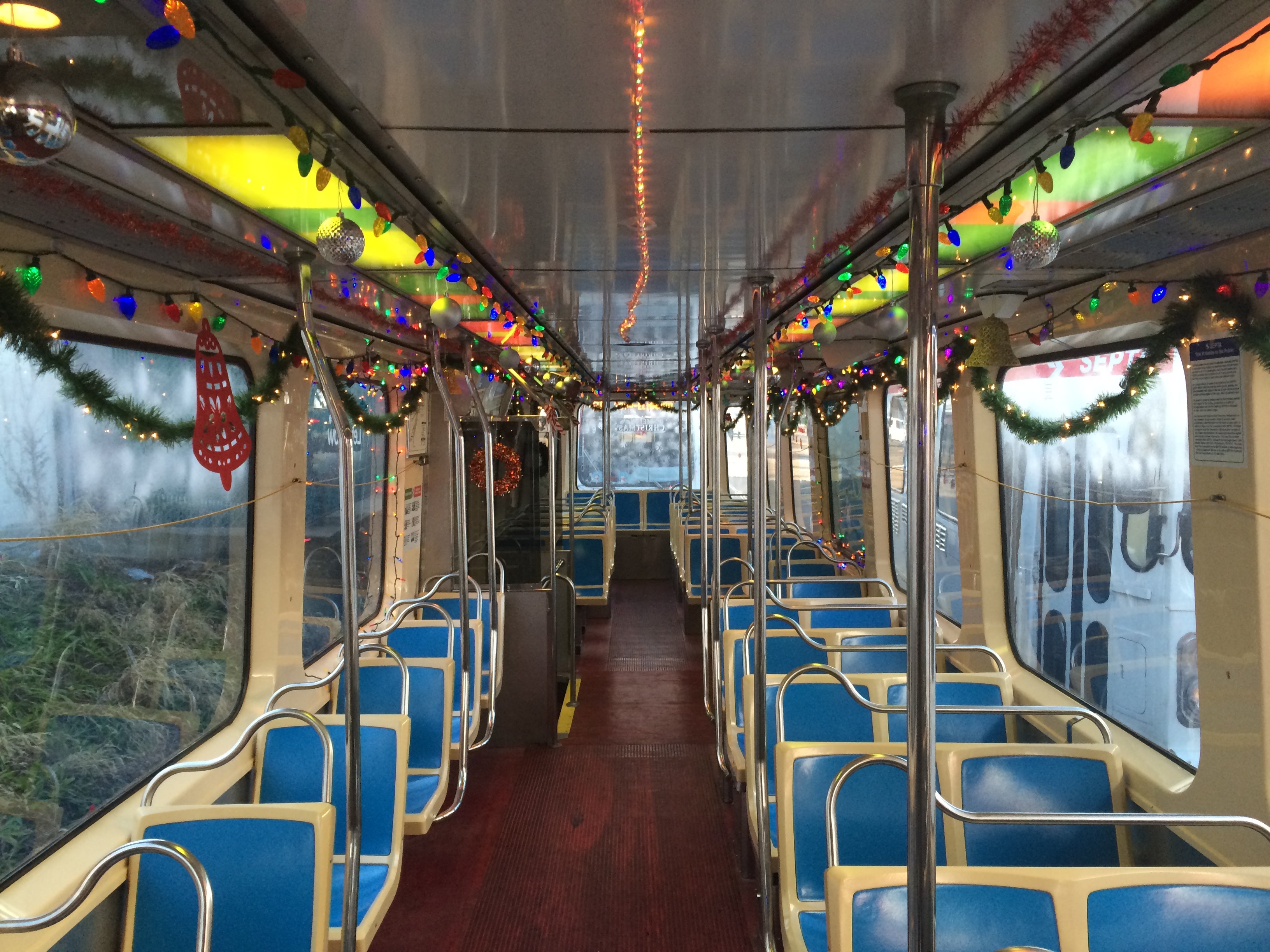 Santa takes a flying reindeer sleigh, but most of us commute to work using something a bit more pedestrian, like SEPTA. But every holiday season, a handful of trolley operators and bus drivers imbue our commutes with a dash of Christmas magic.
Every Yuletide, a workshop's worth of SEPTA employees channel their inner elf to decorate their streetcars. The transportation agency doesn't keep track of exact numbers, but there are about six trolleys. Trolley riders on the Route 10, 11, 13, 15, 34, 36, 101, and 102 lines have a chance of catching a festive ride, as do passengers on the Norristown High Speed Line. There are also about a dozen buses scattered on lines across the city.
These holly, jolly bus drivers and trolley operators aren't merely merry, they are generous too, paying for the decorations themselves, and trimming the trolleys in the wee hours between their usual, ten-hour shifts."I buy the decorations," says Dave Musgrove, a trolley operator on the 11, 13, 34 and 36 lines. "Me and my daughter, we stay up for two days and decorate the trolley."
Interior of trolley

Interior showing the tissue paper lining
The outside lights and garland are easy, says Musgrove, "just up and down the ladder." It's unscrewing each fluorescent light panel to gingerly place tissue paper that takes the longest.
These stockings were hung by the back door with care, in the hopes that the spirit of St. Nicholas soon would be everywhere. And, so far, no Scrooges have bah-humbugged, and even a few Grinches have had their hearts grow three-sizes.
"No, not yet," Musgrove said, when asked if the decorations have upset anyone. "I had someone get on who was real mad, [arguing] with his wife. Then, he rode the trolley and listened to the music, [and] he was happy when he got off. He was fine."
That's right: the tinsel, the lights, the silver bells and boughs of holly are just the tip of this frosty iceberg — there's music, too. "Oh yeah!" Musgove exclaims, about as giddy as a kid before… well, you know. "Gotta have Christmas carols!"
Normally, operators like Musgrove aren't assigned to any particular line or car, but during the holiday season, Trolley #9080 becomes his sleigh. "If anyone wants to drive it once I park it, they have to ask me," says Musgrove, laughing.
While Musgove's easy laugh comes deep, from the belly, it isn't quite a rollicking ho-ho-ho. Still, with his red cap, white beard and neon green reflector vest, he certainly looks the part of a mass transit Santa.
Dave Musgrove

Dave and his trolley
After talking inside for a bit, we stepped outside to see the trolley on this unseasonably warm day ("Not that we mind," says SEPTA spokeswoman Heather Redfern, reminding PlanPhilly that SEPTA doesn't exactly wear their PJ's inside out in the hopes of snow). Before he let me take any photos, Musgrove insisted on turning on the lights he had strung up both inside and out, which are plugged into an outlet controlled by the defroster — turn the defroster on, and the lights turn on, too.
"People ask me, 'How do you do [the lights?]'"
"This is electric," Musgrove says, laughing. "They go, 'Oh yeah!'"
It's clear Musgrove enjoys this, as do his coworkers, who affectionately teased him throughout the interview ("Yo, Santa Dave, you doing autographs, too?"). But, still, two days of decorating after work, using his own money… why do it?
"The people who get on the trolleys – coming from madness to happiness, because of how the trolleys are decorated," says Musgrove. "Bringing the Christmas spirit back into them again."
But most of all, like this season is for so many of us, Musgrove and the others do all this to bring joy to a child's face. "We enjoy doing it. It's a lot of fun, especially to see the kids smiling."
I don't know if there'll be snow (and SEPTA certainly doesn't want any more) but have a cup of cheer and have a holly, jolly, trolley Christmas this year.
WHYY is your source for fact-based, in-depth journalism and information. As a nonprofit organization, we rely on financial support from readers like you. Please give today.