Imagining Philadelphia in Center City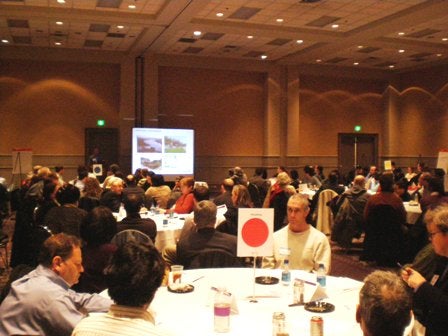 Jan. 23
By Steven Ujifusa
For PlanPhilly
"I'm really hoping to see people become engaged about big ideas for the next 25 to 30 years," said Gary Jastrzab, Acting Director of the City Planning Commission, just before the start of the "Imagine Philadelphia" Center City community meeting.
About two hundred people filed into the Convention Center meeting room and placed dots on two large maps of the city; a blue dot for where they lived, and a red dot for where they worked. Each person was then assigned to a table devoted to a specific policy discussion group: Regionalism, Open Space and Environment, Economy, Neighborhoods, Public Services and Utilities, Housing, Transportation, and Culture and Tourism.
In his opening remarks, Alan Urek, the commission's Director of Strategic Planning, urged the audience to think of "Big Ideas" for what changes they wish they could see in Philadelphia by the year 2035. "We are in the information gathering phase," Urek added, "to lay the foundations for a city-wide plan, the first comprehensive plan since Edmund Bacon's of 1960." He then reminded the gathered of the monumental projects that have changed Philadelphia in the past, namely Fairmount Park, the Navy Yard, and the Benjamin Franklin Parkway. The Center City meeting was the seventh of nine neighborhood forums where the Planning Commission hears community input as part of the first phase of drafting a series of policy white papers, followed by the new comprehensive plan itself. Urek then laid out the goals of these meetings:
• Lay the foundation for city-wide planning
• Inform people about our intent.
• Listen to public and keep people involved.
• Pull together relevant planning work and dates.
• Be positioned to move ahead.
Following introductions by Jastrzab, Urek, Beverly Harper of Portfolio Associates and John Loughran of FX Fowle, the meeting then broke into small groups as each of the tables discussed their respective issues. Each table was assigned a moderator and a notetaker.
One housing table was moderated by Deborah McColloch, Director of Housing and Community Development. The group included residents of South Philadelphia, Germantown, Washington Square West, and suburbanites who worked in Center City. Participants in this particular group especially valued the small, human scale of Philadelphia's historic neighborhoods and the "community feeling" on their smaller streets. They also wished that new developments respected original scale of the historic structures. One group member suggested that one of Philadelphia's strengths was that it had a "much more diverse" middle class than New York, and compared to Manhattan was much more "racially integrated." Because of Philadelphia's relatively inexpensive housing stock, this "diverse" middle class made it more manageable for small business owners and entrepreneurs.
The discussion then turned to the city's housing problems. "The current plan is a hodgepodge," said Becky, who owns and redevelops properties in many different neighborhoods. "It is also impossible to buy delinquent buildings for redevelopment, especially if they are small. I have to compete with the big players. As a result, many lots stay empty and buildings stay abandoned. Why do we have to look like Dresden after the war?" She then added, "I have never lived in a city where its residents live in their own trash. It must be a cultural thing. I've seen educated, middle class people litter openly in the streets." One group member complained that management needs to do a better job taking away trash from Section 8 housing units, as the filth contributes to negative feelings amongst the residents and scares outsiders away from the neighborhood. "I can wander throughout the island of Manhattan for hours and feel safe," said one participant, "but in Philadelphia, the transition between safe and dangerous neighborhoods can happen abruptly, within two blocks."
Andrew, a resident of South Philadelphia, noted certain shortcomings in new, low-income housing development such as the Martin Luther King, Jr. Plaza at 13th and Christian Streets. "I sometimes still feel that this is still a very hostile neighborhood," he said, "as we have re-segregated people, only this time in new, attractive row houses." This comment led to the group concluding that what was needed was a "finer-grained" integration of housing, based on individual units rather than entire blocks. McColloch, although optimistic, did note that such integration was "very hard to achieve and very expensive," and noting that socio-economic tension is often bound up with racial tension.
On the subject of neighborhood safety, another group member noted the importance of bringing new, small businesses to street corners that stay open later, thus providing additional "eyes" on the street. Becky noted that the Italian Market, which used to shut down around 5 p.m., now has stores that are staying open later and that this trend would provide a great boost to neighborhood safety. Randal, a resident of Washington Square West, noted that "neighborhoods are often dangerous because the retail corridors are often bad. These corridors need to be made more welcoming and attractive." Joe, an architect, suggested a strong "transit-oriented" development initiative that also encouraged denser building and mixed use.
After about forty minutes, each table chose a representative to present their group's conclusions in front of the entire assembly. One representative from an Open Space/Environment group called for the improvement of existing amenities such as Fairmount Park, as well as "communities taking ownership of their open spaces … and better coordination between the Park and Recreation commissions." A transportation representative argued for "better integration between SEPTA and PATCO," as well as "a more extensive bike and walking trail network."
"We should not be afraid of big changes," added a representative from a public services and utilities group. "Why can't we have a project such as Boston's Big Dig here?" "Highways should be made invisible," added someone from a transportation group.
Bill Green, recently-elected city councilman-at-large and representative from an economics table, stated that "most of the world does not know about Philadelphia's assets. We need to keep start ups in this city, encourage green building, and encourage a partnership between business and government." He added, "When the CEO of Coca-Cola went to China, he did not just promote Coca-Cola, he also promoted Atlanta."
One representative from a regionalism table echoed Green's points, stating that "we need to stop the avalanche of negativity" that has assaulted the city of Philadelphia. "One way we can improve our image to outsiders is to improve the unattractive, industrial approach from the airport." Another regionalism representative suggested "a regional workforce development program and training for future plumbers in green trade practices."
"There was definitely much more positive energy here," said Deborah McColloch following the meeting. "This was a good discussion and I enjoyed the dialogue."
WHYY is your source for fact-based, in-depth journalism and information. As a nonprofit organization, we rely on financial support from readers like you. Please give today.