Imagine Philadelphia forums continue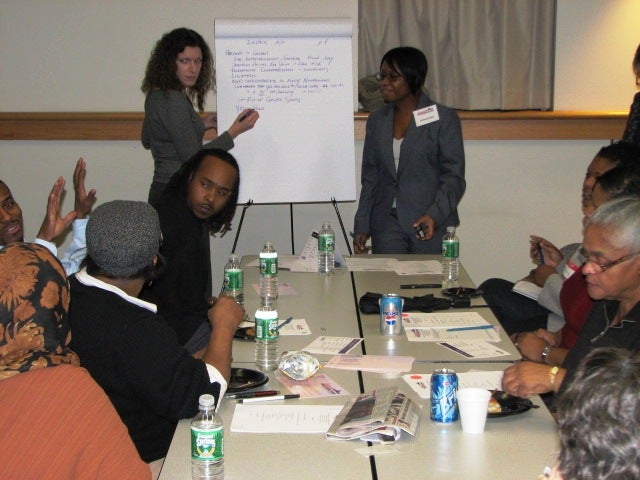 Dec. 5
By Alan Jaffe
For PlanPhilly

Neighborhood pride, neighborhood identity, and neighborhood preservation.

Those were among the recurring themes at the second night of community meetings in the Imagine Philadelphia program, an effort of the City Planning Commission to draw input into how it should revamp the city's comprehensive plan.

Hampered by wintry weather that caused a slow and low turnout, Wednesday night's meeting drew 15 participants to the Braemer Building on the Einstein Medical Center campus on North Broad Street. They were asked to consider how to make Philadelphia more competitive regionally and nationally and what changes could cast a positive light on the city. The first community meeting was held Tuesday night at the Fels Community Center in South Philadelphia.

Mark Strauss, the director of planning at the New York architecture and design firm FXFOWLE, is leading the consulting team for Imagine Philadelphia. "This is a group effort" involving local participants, international experts, public officials and the public "to make Philadelphia great," he said.

"The first step is to go out and talk and listen to various communities," with an approach that is both "bottom up," seeking grassroots opinions, and "top down," utilizing strong leadership that provides ideas and the right questions.

The next step in the process will be the creation of policy papers that meld best practices and community concerns, Strauss said.

"Philadelphia is a city of great neighborhoods," he said. "But we also must think about how we can make a connective environment, where the whole is greater than the sum of individual parts."

The last comprehensive plan for the city was drafted in 1960 by Planning Commission director Edmund Bacon, but it has been updated in recent years with several large projects, explained Alan Urek, director of the CPC's strategic planning and policy division. The Neighborhood Transformation Initiative turned a spotlight on communities. The new GreenPlan offers a blueprint for sustainable open space. ReStore Philadelphia focuses on nurturing commercial corridors. And Mayor Street's New River City program supports the Schuylkill River amenities, the creation of the North Delaware River Greenway, and the Civic Vision for the Central Delaware.

At the conclusion of Urek's presentation on past and current planning accomplishments, the audience was divided into three groups and asked to discuss the city's assets, liabilities, and priorities.

Kelly McShain Tyree, a board member of the Oak Lane Community Action Association, spoke of the need for preservation within neighborhoods of architectural facades. She said incentives were needed for homeowners to restore their properties and for developers to restore older homes as opposed to building new ones.

Philadelphia has "always been a city of neighborhoods," she also said. "They are our greatest assets. We need to maintain their identity and celebrate the resources that each neighborhood has."

Ayana Davis, a Hunting Park resident and recent graduate of Bloomsburg University, agreed that the diversity of the neighborhoods is among the city's greatest strengths.

Germantown resident Najwa Smith said that residents of the neighborhoods, particularly the elderly, must be protected from rising property values and soaring reassessments. "We have to prevent displacement" of those residents, she said.

The group also noted the ill effects of absentee ownership on city blocks. "There is a lack of feeling of ownership because of a large influx of renters in East Oak Lane," McShain Tyree said.

The city's education system — and the need for better schools and job training — was raised in discussions by each group also. College students are leaving the city for more career opportunities and families with children are leaving for better schools elsewhere, Smith said.

Chestnut Hill resident Richard Redding said the city had to turnaround its schools and its crime rate.

Diane James, summing up the discussion of another group, said, "We need to look at youth. We need to make them feel wanted, and we need to help them develop a sense of community."

And the city must provide them with a better education "so they can get jobs and can afford to stay in the city."

Community members can learn more about Imagine Philadelphia and offer their own feedback at the website, www.imaginephiladelphia.org.

WHYY is your source for fact-based, in-depth journalism and information. As a nonprofit organization, we rely on financial support from readers like you. Please give today.