Praxis' year: listening, planning and politics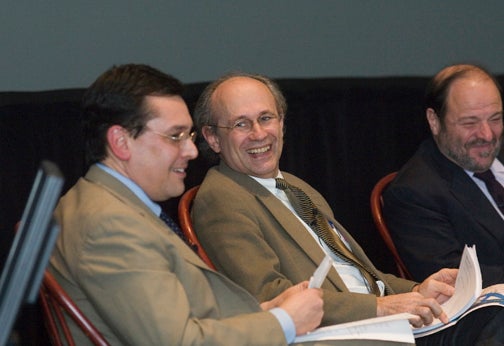 Nov. 12
By Matt Blanchard
For PlanPhilly
When Harris Steinberg takes the convention center stage this evening to unveil a sweeping waterfront vision of homes and shops and parks, more than a few will wonder: Who the heck is this man, and where did all these graphics come from?
Then there's the planning jargon: "Civic engagement" sounds like courthouse wedding, and Steinberg's organization, "Penn Praxis", might be a drug treatment for bad handwriting.
For all who missed it, the city's most ambitious urban vision since Edmund Bacon has a back story about as rich as urban planning can allow: Years of gestation climaxed in a fairly wild 12 months of community planning in a city convulsed by casino controversy and competing agendas.
With 1,100 acres at stake – a development jackpot worth billions – Steinberg and his team tried to forge a democratic process that would have average people, not politicians or developers, designing the city's future for the first time.
With the great unveiling coming up fast, we cornered Steinberg in a luncheonette last week to hear his side of the saga.
Appointment at Wood Street
It starts with a touch of film noir:
Shortly after noon on July 14, 2006, two men rendezvous on a secluded set of stone stairs that carry Wood Street down to the waterfront.
Brian Abernathy, chief of staff to Councilman Frank DiCicco, had a question: If the city launched a public planning effort on the waterfront, would Steinberg lead it?
Steinberg, an architect who'd lately been raising a stink over bad planning in the city, said he'd do it – but only if he got a guarantee.
"In order for us to take this on, it would have to be open and transparent," Steinberg recalled, using a phrase he would soon be chanting like a mantra. "Therein began our saga."
By October, John Street, a mayor whose previous efforts on the waterfront ended with one indictment and no deals done, signed an executive order giving Steinberg's Penn Praxis one year to get a final report on his desk.
A New Way of Planning
A Philadelphia-born architect in private practice, Steinberg had watched with dismay as proposal after proposal for Penn's Landing flopped. And he was becoming more political, scoring a Street-appointed seat on the Philadelphia Historical Commission in 2001.
In 2002, Steinberg was called back to his alma mater, Penn's School of Design, to found a special office called Penn Praxis (a Greek word for practice, as opposed to theory). The Praxis mission was to match student architects at the school with real world projects in places like Grenada and Singapore.
But he soon saw a need for Praxis action here at home. When a massive Penn's Landing proposal dropped dead in August 2002 (an ill-advised entertainment complex by the Simon Property Group), Steinberg sought to fill the vacuum with a public design process.
Working with Philadelphia Inquirer editorial board chief Chris Satullo and Penn meeting facilitation guru Harris Sokoloff, Steinberg hosted public forums on Penn's Landing. Eight hundred citizens turned out, joined by nearly fifty experts in development and design.
By the fall of 2003, City Hall was sunk in the bug scandal, Penn's Landing Corp. official Leonard N. Ross was under investigation for corruption and extortion, and all hopes for the waterfront had come to a halt.
Yet the Philadelphia-focused William Penn Foundation, with a $60 million annual giving budget, had taken an interest in the model of public participation developed at Penn's Landing.
In 2005, when the school district launched a $1.6 billion building campaign, the Penn Foundation called on Steinberg, Satullo and Sokoloff to run five public forums followed by a conference on school design.
The following year Steinberg was at it again, this time with Editorial Page Editor Sandy Shea of the Daily News, running "Slots in the City" a public conversation on casino design. In the audience that day was Councilman DiCicco, who would later arrange the waterfront master plan deal with Mayor Street, and Shawn McCaney of the Penn Foundation, who would later pay for it.
From Touchy-Feely to Casino-Crazy
December 11 was opening night for the civic engagement detail work, held at St. Anne's Social Hall in Kensington. Two hundred people turned out, clamoring to get twice that many ideas built on the waterfront: marinas and schools and parks and benches and trees – there was no shortage of specificity.
Then Harris Sokoloff climbed onto a table and asked them to put it all away. The Praxis process, he explained, would start high above the specifics in the airy realm of "values." Only months later, through an immense boiling-down, would the process arrive at something called "principles." Soon the attendees were penning imaginary letters to an imaginary friend who needed to know what they loved about Philadelphia.
If anyone grumbled, they got over it. In all, 850 people turned out for three nights of the "values", sharing civic ideas in harmony.
But a storm was brewing in Harrisburg. Nine days later the Gambling Control Board announced two casinos, Sugarhouse and Foxwoods, would get the go-ahead to open on the Delaware Riverfront, putting the Praxis process on a collision course with the folks it was designed to serve.
Consider the scene on February 20, when the International Longshoremen's Association sent 300 protesters in to take over a Praxis meeting inside Furness High School in South Philadelphia. The longshoremen had been told Praxis was a front for the city's effort to dump casinos on their port. Steinberg and Sokoloff struggled to keep the meeting on track, alone in a sea of angry residents, accused to scheming to ruin neighborhoods and take peoples' homes.
"This process is a sham!" shouted one man. "What you're seeing today are the people you disrespected when you started this plan," shouted another. "Now you've got them!"
The real target, it turned out, was Gov. Rendell, who'd angered the ILA by promising a coveted piece of the Navy Yard to the Philadelphia Food Distribution Center.
But the pro-casino label stuck fast, especially since Steinberg had refused to take a stance against casinos, arguing that it was beyond his mandate. Support among civic associations on the project's 46-member Advisory Group was waning. Some talked of a walk-out.
Out of the Fire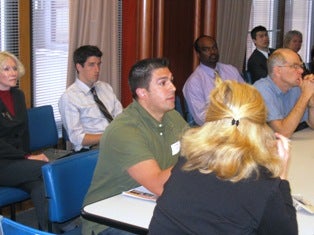 When the Philadelphia Planning Commission speedily approved the Sugarhouse casino on May 22, anger in the neighborhoods boiled over.
"I have defended this process to people in my association to the point where now I almost feel like an idiot," said John Scorsone of the River's Edge Community Association. "We need an honest broker."
But this time Praxis didn't take all the heat. By granting the approval, the city's Planning Commission had joined the target list for anti-casino activists. And by the time the commission signed off on a second casino project, members of the advisory group had sealed a deal with Steinberg: Praxis would produce both a "build" and a "no build" version of their plan, one with casinos, one without.
"We never predicted just how polarizing casinos would be," Steinberg recalls. "From the get-go, they were the land mines we had to dance around."
But after the planning commission vote, Steinberg said, "we were effectively decoupled from the casino issue. In the public eye, people were getting a sense for what our real role was… Everything started to turn around."
Plugging Along

In less than a year, Steinberg had lost his father to illness, and had almost lost his young son to a rare disease. A round-the-clock work schedule had left key staff members (only 5 people work directly for Praxis) suffering a cycle of colds and viruses.
Back in March, the team had pulled off a three-day public design charrette in which world-class architects like Peter Latz and local luminaries such as Denise Scott Brown and Gary Hack tackled design challenges while the press and people looked on.
Based on the "principles" of earlier civic sessions, these sketchy, visionary ideas formed the basis of work assignments farmed out to dozens of consultants, economists, policy analysts, planners, engineers and the architecture firm Wallace Roberts and Todd.
Praxis' star continued to rise as honed presentation documents arrived in July. Key elements of the plan – the waterfront boulevard, the necklace of parks, and the new neighborhoods on a grid of Philly-scaled streets – drew cautious acceptance from residents and strong praise in the press.
Grid is Good?

Developers were a different story. The Praxis grid, after all, was to be laid out across private property – parcels for which developers had long been laying plans.
Starting in the summer of 2005, Steinberg had noticed a slew of condominium towers being proposed for the riverfront. It was these plans that originally spurred him into action.
"They were raised up on parking garage podiums, totally out of character with Philadelphia, totally out of scale," Steinberg recalls. "To me it was like creating Ocean City, Maryland. This was going to be a wall of condominiums, largely privatized, cutting the natural resource of the river off from the city in an anti-urban fashion."
At an August 2007 summit meeting with developers, Steinberg pitched his dream of a Rittenhouse Square on the river. The grid can accomodate anything from row houses to high-rises, but only if properly integrated into an open, public street grid.
It was a tough sell that still hasn't been sold. Steinberg clashed with developer's attorneys at two subsequent meetings over the cost and legality of the plan, and he may well do so again on Wednesday night.
Wednesday Night
More than 1,000 people have already registered for Wednesday night's public presentation.
The massive wooden models of Ed Bacon's day are apparently passé: The Praxis vision will be conveyed with animation, fly-overs, photo-simulations, all designed to distill the project's 240-page report into a half-hour's entertainment.
Afterwards, expect a panel discussion moderated by the Inquirer's Chris Satullo – and in spring 2008, an implementation report on how civic groups and government can accomplish the plan.
"What we're trying to say is that this is not the end, but a critical point in a long process," Steinberg said.
With that – and with his lunch hastily consumed between bouts of speech – the man with the biggest plan hailed a cab to meet one of the city's biggest developers. One more meeting before the big night. One more possible convert.
Matt Blanchard is a former Philadelphia Inquirer reporter. Contact him at blanchard.matt@gmail.com
WHYY is your source for fact-based, in-depth journalism and information. As a nonprofit organization, we rely on financial support from readers like you. Please give today.