September 23rd – 30th: Preview Weekend at the Delaware Art Museum, Twelve Angry Men and Driven Women
From concerts and movies to special events for the whole family, there is always something to see and do in Delaware. Here are some of our picks.
New Castle County
Delaware Symphony Orchestra: Classics Series, September 23rd
The season begins with violinist Jaime Laredo and cellist Sharon Robinson performing the Double Concerto written for them by André Previn, winner of the Delaware Symphony Orchestra's 2016-2017 season A. I. du Pont Composer's Award. This work, co-commissioned by eight world-class orchestras will receive its first performance following those of the co-commissioners in Wilmington. The concert will close with the monumental Symphony No. 5 by Gustav Mahler. The Grand Opera House, Wilmington.
Preview Weekend, September 23rd – 25th
Imaginative Realism combines classical painting techniques with narrative subjects, focusing on the unreal, the unseen, and the impossible. In partnership with IX Arts organizers, the Delaware Art Museum will host the first IX Preview Weekend, celebrating Imaginative Realism and to kick off IX9–the annual groundbreaking art show, symposium, and celebration dedicated solely to the genre. Imaginative Realism is the cutting edge of contemporary painting and illustration and often includes themes related to science fiction and fantasy movies, games, and books. A pop-up exhibition and the weekend of events will feature over 16 contemporary artists internationally recognized for their contributions to Star Wars, The Lord of the Rings, Avatar, Marvel, DC Comics, Blizzard Entertainment, and Wizards of the Coast, among others. The weekend will also include after-hours events, performances, exclusive workshops with artists, talks, film screenings, artist signings, live demos, and games. Delaware Art Museum, Wilmington.
Kent County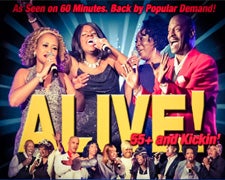 ALIVE! 55+ and Kickin', September 24th
The New York hit musical ALIVE! 55+ and Kickin' is a moving musical testament to overcoming adversity and living victoriously at any age. It is about healing and the transformative power of story and song! "Real people telling real stories!" The cast of ALIVE! features amazingly talented, solid gold singers 55 years and older. ALIVE! features a unique blend of Gospel, Jazz, R&B, and Pop music that served as a soundtrack for this generation. Through the music, authentic stories, and testimonies, the ALIVE! cast tells how it used to be and how life could be going forward at any age. They are ALIVE!…and Kickin'. Schwartz Center for the Arts, Dover.
Kent County Theatre Guild presents: Twelve Angry Men, September 23rd – 25th
A 19-year-old man has just stood trial for the fatal stabbing of his father. "He doesn't stand a chance," mutters the guard as the 12 jurors are taken into the bleak jury room. It looks like an open-and-shut case—until one of the jurors begins opening the others' eyes to the facts. "This is a remarkable thing about democracy," says the foreign-born juror, "that we are notified by mail to come down to this place—and decide on the guilt or innocence of a man; of a man we have not known before. We have nothing to gain or lose by our verdict. We should not make it a personal thing. The jurors' final verdict and how they reach it—in tense scenes that will electrify any audience and keep them on the edge of their seats—add up to a fine, mature piece of dramatic literature. Kent County Theatre Guild, Dover.
Sussex County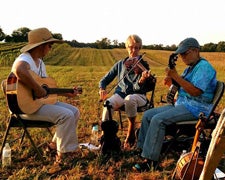 Driven Women, September 24th
Appalachian Mountain Music brought to life with discussion of lifestyle and background stories. Fiddle, banjo, and guitar featured throughout. Milton Theatre.