2015 Predictions: You call it
If you believe Back to the Future II, 2015 is the future. So let's use our hoverboards to zip through the mists of a new year to make a few predictions. Every day this week we're putting up a poll question asking you to be the odds makers for changes we expect to see in 2015. Vote below and check back tomorrow for another question.
FRIDAY: Which shockingly vacant lot will finally see development this year?
The pace of development has picked back up and several of Philly's high-profile vacant parcels are poised for redevelopment. So which one of these projects is most likely to move forward in the coming year?
15th and Chestnut (W Hotel/Element Hotel): This long-rumored hotel project – now maybe a two-hotel tower – can be built by-right and City Council threw in a cushy $33 million tax increment financing (TIF) package to sweeten the deal. Is 2015 the year this thing moves ahead?
43rd and Baltimore (4224 Baltimore): The mid-rise mixed-use development planned for 4224 Baltimore Avenue was shaped by robust community outreach and seemed poised to sail ahead. But Councilwoman Jannie Blackwell has declined to introduce legislation to rezone the property across from Clark Park, and sent the development team to the Zoning Board of Adjustment for variances. After years of work refining and engaging with neighbors, will 2015 be the year this project breaks ground?
Broad and Washington: Failed plans and rumors have swirled like litter around the northeast corner of Broad and Washington. Now, Bart Blatstein's Tower Investments is floating the idea of a huge development – two 32 story towers with some 1,700 apartments above three floors of retail, hugging Broad and Washington. Neighbors have met with the developer already, Civic Design Review is on the horizon, and Blatstein is no longer distracted by the possibility of building a casino up Broad Street. Will this project have legs this year?
23rd between JFK and Cherry (River Walk): Two surface parking lots that overlook the Schuylkill River Trail could become River Walk – a 42-story tower and two 21-story buildings that would include a hotel, condos, apartments, and retail. The development team has met with Logan Square neighbors, gone before the Planning Commission, and worked with City Council to rezone the properties. Will it happen?
THURSDAY: Will Council President Darrell Clarke run for mayor?
There has been so much speculation that Darrell Clarke, 5th District Councilman and Council President, will run for mayor. Clark has been fêted and fundraising, but won't say if he'll run. Clarke has hemmed and hawed to the point that handicappers are betting against his run. Some say his hesitation could send voters the message that he doesn't want the job. Or he has too much to lose given the power he's afforded as Council President. Or he's just dragging this out until the last second so he doesn't have to resign from his current seat to run. Still, through initiatives in his role as Council President, Clarke could just be laying out his platform: A data-driven budget process to strengthen neighborhoods, a reorganized government, and an affordable housing initiative.
When Clarke was on WHYY's Radio Times last month he indicated his decision would be made by the New Year. We're still waiting. The deadline to file campaign petitions is March 10th. So today's question is simple: Is Clarke in?
WEDNESDAY: Which megaproject will find funding first – the Penn's Landing Park or Frank Gehry's expansion of the Art Museum?
In the land of transformative multi-million dollar projects there are two with a huge fundraising hill ahead: the Frank Gehry designed expansion of the Philadelphia Museum of Art and a new Penn's Landing.
Penn's Landing is such an epic public space fail, but there are big dreams to cap I-95 with new parkland, and eventually surround the park with privately developed buildings with apartments, retail, and restaurants. A feasibility study completed last year for the Delaware River Waterfront Corporation by Hargreaves estimates the public cost for the project at $250 million, including the highway cap and park sloping down toward the river, floating swimming pool, concert venue, and trail. That project could be completed in five to seven years.
Years ago the Art Museum hired Frank Gehry to rationalize the museum's tangled spaces and find new gallery space without radically altering the landmark building's exterior appearance. The result is an unclogging of the museum's existing building and a large underground expansion. The museum calls Gehry's master-plan-sleight-of-hand "making a classic modern." Phase 1 alone is estimated to clock in at $150-$160 million and the grand total is now estimated at $350 million.
So will one these projects prompt deep pocketed-donors crack their checkbooks or make public funds fall from the sky first? Click on your pick below to vote.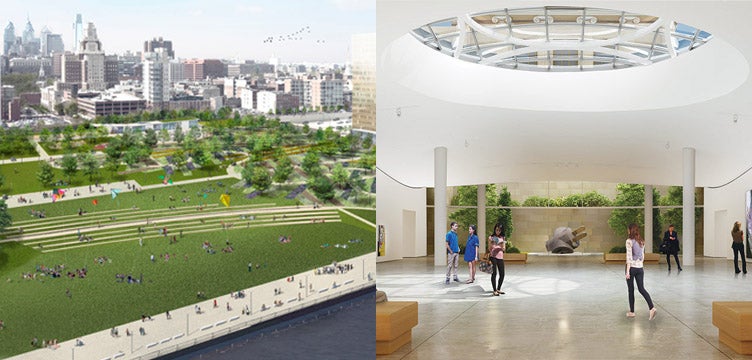 TUESDAY: Which historic theater building will still be standing in December 2015? The Boyd or The Royal
The Boyd Theatre on Chestnut, Philly's last movie palace, and the Royal Theater on South Street, a black entertainment landmark, both are set to meet the same fate: facadectomy. Developers plan to raze everything but their facades, using the historic shard as dressing for a new building constructed behind.
Universal Companies has owned the Royal since 2000, and recently partnered with developer Carl Dranoff to build a new mixed use building on the site. Dranoff's plan was granted a legislative rezoning by City Council in December, but it still needs to clear several preservation hurdles – a façade easement, a hardship review before the Philadelphia Historical Commission, and approval by the Pennsylvania Historical and Museum Commission – for construction to proceed. As for the Boyd, plans to gut the Art Deco interior and build an eight-screen luxury movie house in its stead advanced with approval from the Historical Commission and a demolition permit posted. But months of inaction and a change in ownership cast doubt on the Boyd's redevelopment as a movie theater. Pearl Properties bought the Boyd in and is apparently negotiating with iPic to build the theater. It is unclear if that will happen or if Pearl is simply consolidating its holdings on the block to build big.
So which of these vacant theaters will live to see another year? Click on your pick below to vote.
MONDAY: Which will hit the streets first: SEPTA Key or Philly Bike Share?
Philly Bike Share and SEPTA's smart card system – SEPTA Key – are expected to hit the street in Spring 2015. Bike share will kick off with 600 bikes at 60 stations across the city, while SEPTA Key will launch on city transit modes with new fare cards, turnstiles, kiosks, and card validators. Both programs, beset by delays, are now moving through final testing stages. So in the great transportation race of the year, which will launch first?
Click on your pick below to vote.