Council President Clarke calls for Vision Zero implementation plan, despite existence of city's Vision Zero Action Plan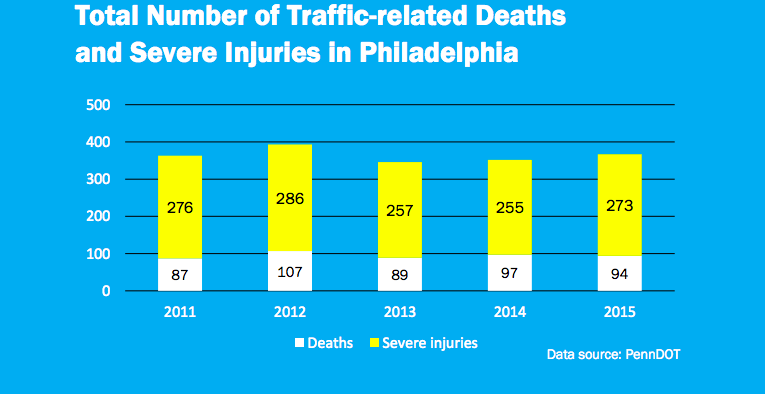 In response to the death of Peter Javsicas, a multimodal transportation advocate who was hit by a driver on Tuesday while walking on the sidewalk near 16th Street and John F. Kennedy Boulevard, City Council President Darrell Clarke introduced a resolution Thursday calling for hearings on Vision Zero, the traffic safety strategy that aims to reduce traffic crash deaths to zero through a mix of improved street design, public education and traffic law enforcement.
In an interview with WHYY's Katie Colaneri after the Council session, Clarke, who represents the area of the crash, said that his office received "a lot" of phone calls and emails in the wake of Javiscas' passing Tuesday evening.
"We thought it would be prudent to have a series of hearings to discuss the Vision Zero that has been adopted by other municipalities," said Clarke. "And to ultimately come up with some sort of implementation plan—it may not be called Vision Zero—but it's clear we have to come up with something."
The Mayor's Office of Transportation and Infrastructure Systems (OTIS) released a draft Vision Zero implementation plan—called the "Vision Zero Action Plan"—in March. The plan came after OTIS assembled a Vision Zero task force last fall after Kenney issued an executive order to come up with a plan to reduce traffic deaths to zero by 2030.
In response to the call for hearings, Mike Dunn, a spokesperson for Mayor Jim Kenney, said the mayor welcomed them, and touted the administration's traffic safety accomplishments so far. "The Mayor is extremely proud of all that the Vision Zero team has accomplished in the last 18 months to reduce severe and fatal traffic crashes, working with partners in the Streets Department and OTIS." Dunn went on to list recent improvements, including "the installation of anti-skid pavement surfaces in South Philadelphia and East Falls, new speed cushions throughout the City, new traffic signals on Castor, between Cottman and Bustleton, new pedestrian signals with countdowns, 17 miles of new bike lanes, restriping and refreshing existing bike lanes."
Many of the phone calls and emails directed at Clarke's office came courtesy of efforts by the Bicycle Coalition of Greater Philadelphia, which on Wednesday launched a petition campaign demanding that Clarke make JFK Boulevard safer by building a long-proposed bike lane there. In 2011, city transportation planners piloted a bike lane running westbound on JFK, as well as a sister bike lane eastbound on Market Street. Even though the pilots showed no significant, adverse impact on traffic flow, the project was shelved.
Bicycle Coalition Executive Director Sarah Clark Stuart called Council's Vision Zero hearings "an important step forward."
"We're glad council wants to have hearings to learn more about what Vision Zero is and what the city is doing to implement Mayor Kenney's Vision Zero executive order."
Stuart noted that the resolution did not, however, address the crux of the Coalition's demands: Construction of the protected bike lanes on JFK Boulevard and Market Street. "That's what the emails and calls are asking for."
The bike lanes would "narrow the streets and make crossing shorter for pedestrians," Stuart said, making for "a safer, more inviting place for pedestrians and bicyclists—and for motorists, by providing more order to the street."
Stuart said she would welcome future conversations with the council president's office on the proposed bike lanes.
Clarke was unavailable to speak with PlanPhilly before publication, as last-minute negotiations over Mayor Kenney's Rebuild initiative were ongoing.
The resolution passed after Clarke suspended council rules that normally require consideration at multiple council sessions before a resolution may pass. Today was city council's penultimate session before the summer recess.