Where local lawmakers stand on fight over SCOTUS pick
The lines are drawn in the fight over President Trump's nominee for the U.S. Supreme Court and the conflict is adding drama to Congressional races in our region this fall.
Listen
5:35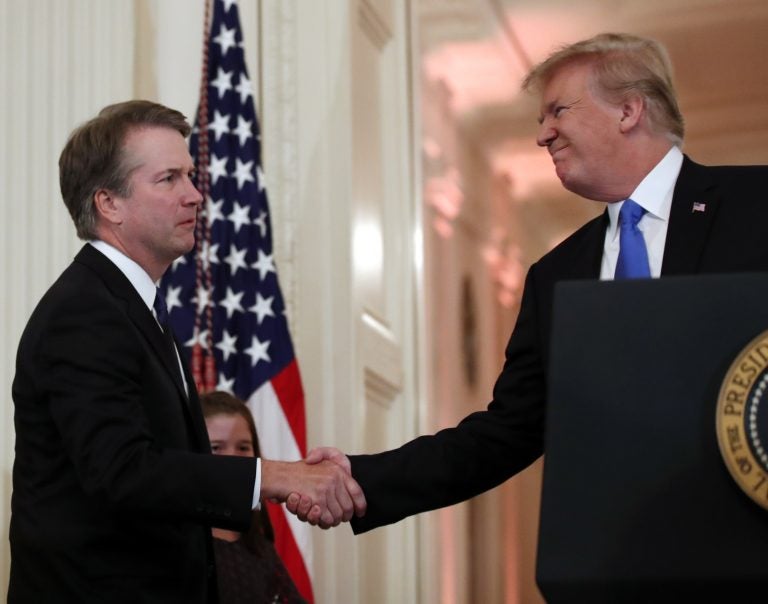 The lines are drawn in the fight over President Trump's nominee for the U.S. Supreme Court and the conflict is adding drama to Congressional races in our region this fall.
Delaware Democrat Tom Carper has served in the Senate since 2001. Even then the Senate was a much more collegial body. Sure, lawmakers had partisan divergences then, but it wasn't all out partisan warfare like it is now. That's why Carper remains angry that the GOP blocked former President Obama's final Supreme Court nominee from ever getting a hearing, let alone a vote. And he says that's still on his mind as the GOP rushes to get Brett Kavanaugh confirmed.
Picking a nominee to fill a vacancy on our nation's highest court isn't a reality show. It shouldn't be a choice outsourced to ideologues like those at the Heritage Foundation or the Federalist Society. It should be a deliberative process, especially when the stakes are this high

— Senator Tom Carper (@SenatorCarper) July 10, 2018

"I think the idea that 10 months wasn't long enough for the consideration for Merrick Garland, but yet we need to ram this one through in four months — that is just outrageous," Carper said. "Outrageous. I think Merrick Garland was treated shamefully and he may get over that, I never will."
But Carper and Kavanaugh have history together. That's why Delaware's senior senator, who is seen as a moderate in Washington, is now getting hit from the left for being the only sitting Democrat to have voted to confirm Kavanaugh to the federal bench. A New York-based union group called the Working Families Party announced it's going to hit Carper with Facebook ads supporting Carper's primary opponent, Kerri Harris, over that vote Carper cast more than a decade ago. The Delaware primary will not be held until September. Carper maintains he was basically duped by Kavanaugh.
"If I had known how he would rule on a wide range of issues over the last 12 years, if I had known that 12 years ago, I would not have supported him," Carper said.
Carper says he remembers spending time with Kavanaugh when he was going through the confirmation process back then. He says he has some pointed questions for the nominee when they meet in the coming weeks.
"What I'm trying to figure out is how could a person who seems as nice and decent as he seems 12 years ago be involved in so many, I think, wrongheaded and wrong-hearted decisions since then," Carper said. "But I think it's highly unlikely that I'm gonna vote for him but I wanna meet with him — meet with him and hear him out."
On the other side of the aisle, most Republicans are itching to replace former Justice Kennedy — the Court's most notorious swing vote — with a reliable conservative. To Pennsylvania Republican Senate candidate and current U.S. Rep. Lou Barletta, this is a big opportunity.  From overturning Roe v. Wade to helping the GOP unwind regulations — or even throwing out Obamacare entirely — Barletta says this appointment will cast a long shadow.
My statement on @realDonaldTrump's #SCOTUSNomination of Judge Brett Kavanaugh: pic.twitter.com/p1xjrK4BtA

— Rep. Lou Barletta (@RepLouBarletta) July 10, 2018

"There are so many issues that could come forward and that's why this Senate race is so important," Barletta said. "Because if I were there instead of Bob Casey, Obamacare would be gone today and with what we're seeing with the Supreme Court, one vote could be the difference on the Supreme Court."
For his part, Sen. Casey is proud that he announced his opposition to any Trump nominee early. He even claims that he was on the record before any other senator that he would oppose anyone Trump nominated because he had poured over the list of potential nominees that Trump unveiled during the presidential election. To Barletta, that puts Casey at odds with the American people.
"The way President Trump put the names out when he was a candidate, it couldn't be any more transparent," Barletta said. "He let the American people see who he would pick if he were elected, the people elected him and Bob Casey says 'It doesn't matter I'm voting no, no matter who he picks."
Casey contends that the GOP has pivoted in a radical direction and that the open Court seat gives them the chance to dramatically remake the Judiciary in Donald Trump's image.
In a nation with over 700 sitting federal judges, many of whom were appointed by Republican presidents, it is outrageous that President Trump will nominate from a list of just 25 dictated to him by the Heritage Foundation.

— Senator Bob Casey (@SenBobCasey) July 9, 2018

"We've got two branches of government now controlled by the hard right and we're getting close to having a third branch controlled by the hard right," Casey said. "We've never had that in this country and it's not good for the people of our state. It's not good for workers, not good for healthcare. Lots of reasons to be concerned about the hard right takeover of the Court."
For Casey, protecting Obamacare and thoughtful environmental regulations as well as maintaining Roe v. Wade remain some of the biggest issues on his mind as he prepares to vote against Kavanaugh.
"So I think the people of Pennsylvania are better off with folks who are moderate or conservative or somewhere on that scale as opposed to having a Supreme Court being controlled by the hard right," Casey said.
Pennsylvania's Republican U.S. Sen. Pat Toomey sees Kavanaugh in a completely different light.
"I think he's a completely mainstream center-right person," Toomey said.
My statement on President Trump nominating Brett Kavanaugh to serve as an Associate Justice of the Supreme Court of the United States. pic.twitter.com/8hDTcMHrrO

— Senator Pat Toomey (@SenToomey) July 10, 2018

And Toomey says that for him, voting for a Supreme Court nominee isn't like casting a vote for say, Obamacare or anything else that comes before the Senate.
"I don't have a litmus test," Toomey said. "Unlike the left, right? Which has its checklist of policies they want a judge to impose for them because they can't win the argument with the American people and politically, so they want the judges to impose it. My approach is the opposite. I want a constitutional role for our courts. So I don't have a set of policy outcomes that I expect from a judge."
Toomey says the Democrats have basically become the anti-Trump party.
"They were going to oppose anyone," Toomey said. "If President Trump had nominated Barack Obama, they would've opposed him. It doesn't matter. It's not really serious criticism. We should look at his record. We should look at his decisions. We should look at what he says at the hearing and make a decision."
Kavanaugh has had a long career in Washington and lawmakers of all stripes are now pouring over his records. So expect to hear this debate get louder and more heated as the summer itself heats up.
WHYY is your source for fact-based, in-depth journalism and information. As a nonprofit organization, we rely on financial support from readers like you. Please give today.