Local pianist to romance the butterfly at Insectarium
Listen
5:48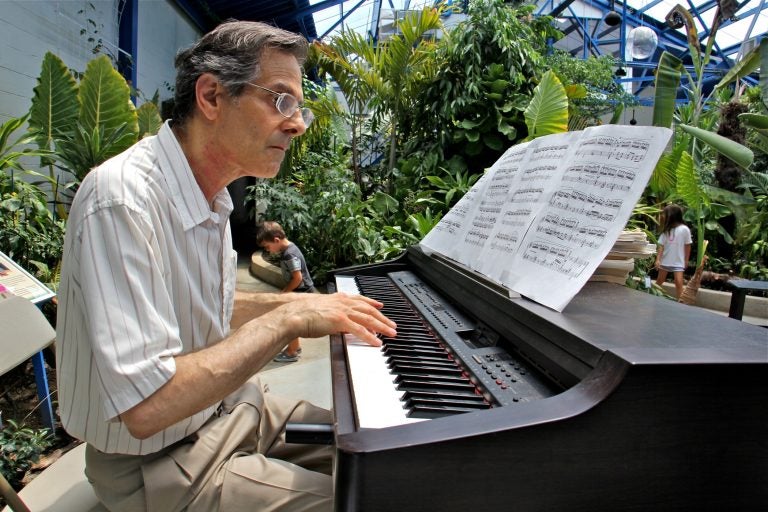 This weekend, the butterflies of Northeast Philadelphia will enjoy a piano serenade.
The 7,000 square foot butterfly pavilion of the Insectarium, near Pennypack Park in the Holmesburg neighborhood, will be a concert venue for a program of short piano compositions about insects and gardens.
"I was shocked that anyone was thinking of doing a concert in an Insectarium. I was confused," said pianist Lance Wiseman, who will be performing numbers like Cole Porter's "Let's Do It" and Nikolai Rimsky-Korsakov's "Flight of the Bumblebee."
When he visited the pavilion — filled with tropical plants, water elements, and thousands of free-flying butterflies — he saw that it might actually work.
"The whole idea of doing what we're doing is try to attract a young audience to the music of the great masters," he said. "This is something fun and novel."
Wiseman sits on the board of Multicultural Arts Exchange, a music presenting organization based on Northeast Philadelphia. Although its bread and butter has been Russian classical music and musicians, the organization has an ambition to establish a multi-site music festival in that underserved region of Philadelphia.
"It's our goal to bring more classical music in Northeast Philadelphia," said project director Mikhail Zorich. "We think this area lacks this kind of programming."
The Saturday evening concert is billed as "a butterfly's flight through the garden," imagining the soundtrack that might play in the head of an insect.
It will include 20 works of diverse styles and genres, ranging from "Spanish Flea" (popularized by Herb Alpert and the Tijuana Brass), to The Beatles "Strawberry Fields Forever," to "In Summer" from the Disney film "Frozen," to Edvard Grieg's "To the Spring" and "The Butterfly."
Wiseman is an accomplished classical pianist; many of these selections are well outside his normal repertoire of Mozart sonatas and Beethoven concertos.
He's a quick study, though. Wiseman said he had never before heard "Strawberry Fields Forever," so he went on YouTube to stream the Beatles song, transcribed it into notation by hand, and worked it out on the keyboard.
Other tunes fit more comfortably in a classical piano idiom: three by Johann Strauss: "Die Fledermaus (The Bat)," "Roses of the South," "Tales from the Vienna Woods," "Appalachian Spring" by Aaron Copeland, and Tchaikovsky's "Waltz of the Flowers."
They are all three minutes or shorter.
"I don't want people to have to sit through long pieces, long sonata movements where they have to worry where the theme comes back otherwise they won't understand what they are listening to," said Wiseman, who also leads a charity youth orchestra. "Before they get a chance to ask the question 'Where's the theme?' the piece has ended already."
The concert is co-produced by GroupMuse, an online portal that connects homeowners with musicians to stage informal house concerts. The Insectarium performance is organized through its MassiveMuse project, which throws extra resources into somewhat larger concerts in non-typical venues.
The butterfly pavilion is certainly not typical. Built for the comfort of butterflies, it is kept at 80 degrees year-round, at a high humidity. Concertgoers will jostle with big, leafy plants, and be distracted by a case of actively hatching butterfly chrysalis.
The pavilion was constructed with a raised, circular stage of concrete. It was always the intention of the Insectarium to use it for gatherings, performances, and talks. It is used for yoga every Saturday, and a monthly "Brews and Bugs" happy hour and music.
Although the butterflies will outnumber the concertgoers by about 100:1, Wiseman said his head will be entirely in the music.
"Then again," he paused, "I'll be playing a little more than an hour of actual music. I'm sure somewhere before the middle of it I'll be thinking about the butterflies, too."
WHYY is your source for fact-based, in-depth journalism and information. As a nonprofit organization, we rely on financial support from readers like you. Please give today.