Voices behind the walkout: Science Leadership Academy
Listen
3:04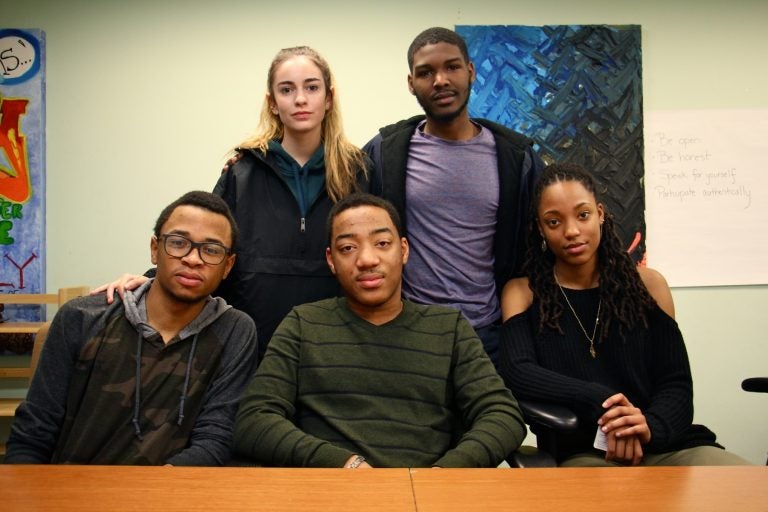 On Wednesday, students around the country will walk out of their schools to demand lawmakers do more to protect the nation from gun violence. The National School Walkout will start at 10 a.m. and last 17 minutes — one minute for each person gunned down at Marjory Stoneman Douglas High School in Parkland, Florida, last month. Each day leading up to Wednesday's walkout, WHYY will post thoughts about school safety from students, parents, and educators in the region.
—
As senior Tamir Harper gathered with a few of his classmates from Science Leadership Academy in Center City one recent morning to talk about how to prevent more school shootings, it happened again.
"Oh my God!" Harper said, reading a breaking-news alert on his smartphone. "Two shot at Central Michigan University! Suspect at large. Breaking now!"
After a pause and a collective head shake, their conversation resumed, the latest shooting just another addition to an ever-growing list no school should be on.
Here's what they had to say:
---
About the Science Leadership Academy
Magnet public high school with a college-preparatory curriculum. The inquiry-driven school, which opened in 2006, is a partnership between the School District of Philadelphia and The Franklin Institute.
Enrollment: About 465 racially diverse students in ninth through 12th grades.
Location: 22nd and Arch streets in Center City.
Details here.
---
Tamir Harper, 18, senior
From: Southwest Philly
Personal connection: Gunfire was part of the background noise of growing up in Southwest Philly, he said, recalling how a Philly cop got shot across the street from his home. "Gun violence — in the black community in general and specifically in the predominantly black community of Southwest Philadelphia — is real. It's not just because of mass school shootings that we need common-sense gun laws. We need gun laws to protect young black men and women from being killed [in the community]."
How to fix it: "I am not anti-guns. People do have the right to bear arms. They should be able to carry Glocks [handguns]. But you do not need an assault rifle in your home. You do not need an assault rifle in your car. There is no need for any human who is not in the armed forces to have an assault rifle."
He supports beefing up mental health services, banning bump stocks, and challenging racially-biased policing that he says criminalizes communities of color. He also co-founded and heads UrbEd, a nonprofit organization that advocates for equality in public education. "Part of our mission is destroying the school-to-prison pipeline, and gun violence and over-criminalization of black communities is directly correlated with the school-to-prison pipeline."
On voting: He just became eligible to vote (so he hasn't voted yet). Still, he said, "I examine these politicians very in-depth. I look at campaign finance reports, which many people don't know are public. I look at their voting record. I look at their stance on public education, black communities, economic development, gun violence and how they're reforming the criminal justice system, as well. I won't vote for retention of judges unless they're doing something right."
What the future holds: "The millennials made a movement. But Generation Z is going to knock this movement out of the park. We are going hard. We are going strong. We are going to reform our country. We are going to do things that people could not predict we could have done. They didn't predict students walking out of school in protest. They didn't predict students starting nonprofits at young ages. They didn't predict students really starting movements that go after politicians even though they cannot vote."
Ella Burrows, 17, senior
From: Fairmount
Personal connection: One of her middle-school classmates fired a gun during a street fight between two groups, and a stray bullet killed a girl walking nearby. "Ever since then, I've felt passionate about gun violence. It just really sat with me, because this girl was the same age as us, just walking down the street. It was just really upsetting. I wondered what could I have done, or my school have done, to prevent something like that from happening."
How to fix it: "Honestly, I don't think anyone should have the right to get any gun, because I just don't see the point in being armed, besides hunting. I don't think having a gun in your household makes a safer community."
What the future holds: "I like to hope that things will change, especially with how outspoken students have been. I'm hoping that all the students who are protesting will change the minds of lawmakers and people who work for the NRA."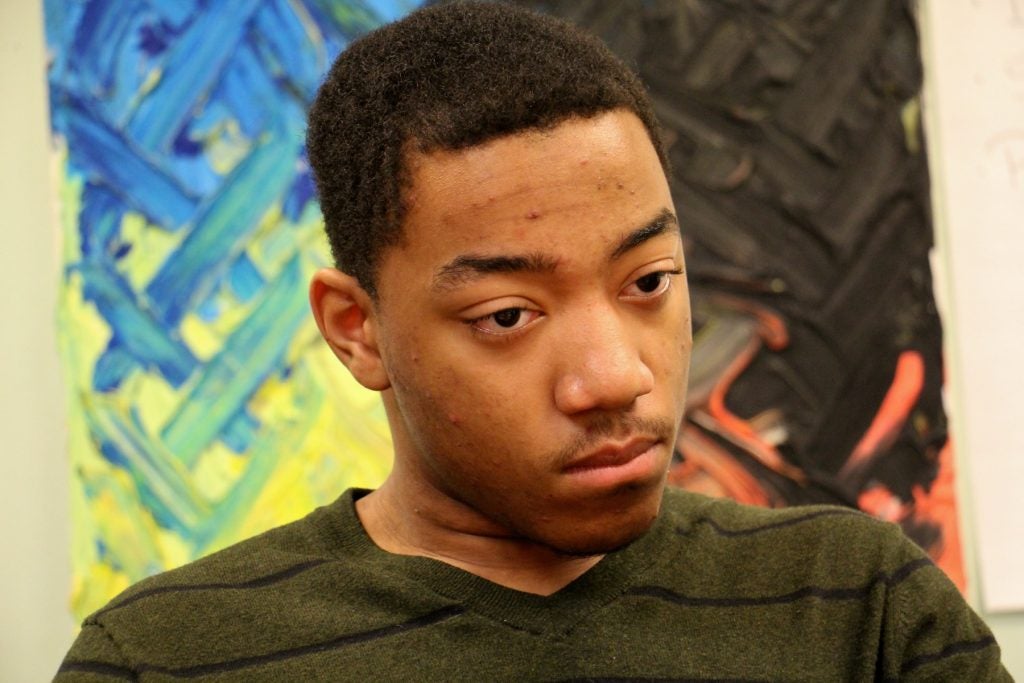 Horace Ryans, 16, sophomore
From: Oxford Circle
Personal connection: His grandmother Cherie Ryans is an activist with the anti-violence group Mothers In Charge. Her son Terence Ryans was an 18-year-old Cheyney University student home for the weekend in 1990 when a gunman aiming for someone else fatally shot him and his best friend Darren Norwood in Southwest Philadelphia. Horace never got to meet his uncle, who died a dozen years before he was born. "I only know him from a big painting in my grandmother's house. I've heard he was a lot like me."
How to fix it: "The only people who should have guns is law enforcement — although we even see problems with that," he said, referring to police-involved shootings and racially-biased policing. "I understand it's a constitutional right to have arms, but we've seen the result of unhealthy people having guns. People think they have a right to not only have guns — but do whatever they want with them." Horace also supports researching firearms' impact on public health.
On voting: "The most important issue we should be focusing on right now is gun control. My graduating class is 2020, so by then, Trump will be up for re-election. We have the power to defeat him."
What the future holds: "Seeing how Sandy Hook is now a joke to some people, and how the Internet makes memes out of school shootings, I'm not hopeful at all for my generation or the rest of our country. How can you make the loss of so many lives a joke? Now, it's just so normalized, that I don't even know how many [shootings] there were last year."
Kaamil Jones, 18, senior
Home: Fairmount
Personal connection: When he was a baby, his father was shot three times, and his father's friend murdered, in a carjacking. "He survived, but he was paralyzed from the waist down, so I've never been able to see my dad walk."
How to fix it: "I definitely think we should have stricter gun laws. I know we can't take away all guns from people. But I don't think assault rifles should be sold. I don't think I should be able to own a gun. I'm 18 years old. There's no reason for me to own a gun. There's no reason for anyone, really, to own a gun, unless you're a hunter. I can't buy alcohol, but I can go and buy a gun, which is really weird."
He also supports lowering the limits on how much NRA lobbyists — or any lobbyists — can give politicians. "We already know that the money from the NRA is what drives these politicians. The NRA is unethical. They care more about their guns than they care about children being killed."
On voting: He's registered. He voted in the November election and has participated in voter registration drives at SLA. "Voting is just super-important. It's one of the simplest things you can do to help improve your community — especially local elections, because those people are really making changes that you see on a daily basis."
What the future holds: "I'm hopeful. I think our generation is tired of it. We've seen it all of our lives." He points out that social media has given his generation a bigger microphone than any other generation to demand change. "They tell us to shut up, but we still keep talking. We're not afraid to call you out on the bad things that you do. We're powerful: We've already seen all these companies drop the NRA. And we're all willing to work to make a difference."