'We do not feel safe:' Delaware students tell lawmakers at post-walkout town hall
Following the walkout, students at Caesar Rodney High School in Camden, Del. attended a town hall forum that was dominated by state lawmakers.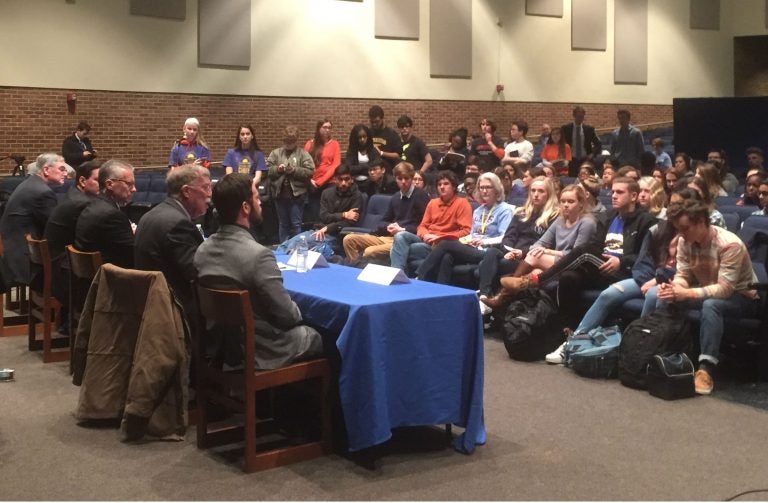 About 100 students at Caesar Rodney High School, just south of Dover, Delaware, participated in the National School Walkout, despite the school district's announcement it would not support the protest.
They were among the thousands of students  around the Greater Philadelphia area and across the country who participated in a 17-minute demonstration in an effort to push legislators to pass gun-control measures. The movement follows a school shooting in Parkland, Florida where 17 people were killed.
But following the walkout, the students were ushered into a town hall with local legislators, which several of them said felt more like being spoken to than being heard.
"It supports this idea of the adults talking and us listening," said Caeser Rodney senior David Haynes, 18, who was also disappointed in the district's initial lack of support for the protest.
Just one week after last month's shooting in Florida, Caesar Rodney School District Superintendent Kevin Fitzgerald posted on the district's Facebook page that he could not support "allowing students to disrupt the educational setting by leaving their classrooms." Nor would teachers be permitted to walk out during work hours, he wrote.
The ACLU got involved after it received complaints that the district was attempting to censor students and staff.
"In history class, you learn about civil rights leaders, Dr. Martin Luther King, Jr., Rosa Parks doing these peaceful protests and the history teachers glorify them," said Haynes. "But then the superintendent speaks out against the political protests, and I thought that was extremely hypocritical."
On Wednesday, Fitzgerald said his apprehensions were solely about the safety of his students.
"All we're concerned about right now is safety," the superintendent said. "We haven't looked at the discipline aspect of it, so we're going to take a look at it, but right now safety is the thing on our minds the most."
Student organizers, including 16-year-old Caesar Rodney junior Selma Cemerlick, read the names of the Florida school shooting victims during the demonstration. Cemerlick said the atmosphere was solemn while remembering those who lost their lives, but there also was a feeling of unity and a sense they could promote positive change.
"I feel very strongly about gun legislation being passed, as well as the fact too many mass school shootings happen where nothing is done afterwards," she said. "And so I feel like the reason I walked out is to be a part of this change, that can finally, for once, enable change."
Lawmakers urge students to consider gun rights
The school did not allow press to watch the walkout, but invited reporters to the town hall event that followed, which included state Rep. Jeff Spiegelman, R-Townsend, state Sen. Brian Bushweller, D-Dover, state Rep. Lyndon Yearick, R-Dover South, state Rep. Trey Paradee, D-Smyrna, and state Rep. Charles Postles, R-Milford.
They spent some time discussing gun safety measures the state has passed or are considering.
However, several of the lawmakers used much of the time to express their support of the Second Amendment, the National Rifle Association, and the need to protect the rights of gun owners.
"At what cost do you want to give up your rights?" said Yearick, an NRA member. "When the government has the ability to seize your property, that's a problem."
Students said they felt the discussion was slanted, and that nothing was accomplished during the event.
"We definitely just sat there. Tons of kids were lined up, interested in talking to them and asking questions, and I feel they didn't acknowledge the questions," said senior Rachel Ewald, 17.
"They were defending, deflecting, not making any progress or accepting responsibility. [Instead of hearing] 'We represent you, we need to make a change,' it was, 'Here's why I did this, and here's why I didn't do this,' and it was just a lot of deflecting," Ewald said.
Fitzgerald said the lawmakers felt they were representing their constituents, and was grateful to them for coming out to speak to his students.
"Our students need to learn how they can go about communicating and talking to legislators," he said. "Today was a tremendous civic lesson, whether you agree with what was said, disagree with what was said, kids have the opportunity to ask questions and hear their legislators' perspective.
"If they're 18, they're going to have a say come November," he added. "This is the way you change the process, and I couldn't be more proud of our kids."
During the town hall, students lined up to ask questions about possible gun safety legislation, and mental health issues.
"We do not feel safe," said one female student who did not give her name. "I agree we have to protect ourselves, but where do we draw the line?"
Ewald echoed her classmate's concerns following the event.
"There's a little bit of a pit in my stomach every time I walk into school thinking, 'This could be my last day,' and I have a little brother who goes here and I have to think about him and if he's safe or not," she said.
Most students in line did not receive an opportunity to speak due to time constraints.
Despite his disappointment, Haynes said he's proud of his classmates for taking a stand.
"I think the students in Parkland set the example for the nation and started this movement, and I think it would be a shame if we didn't jump on board and support them, because they've been through a lot and they really want change, and the only way we're going to get change is if we unify as a nation and every school participates," he said.
"Parkland students who set the example said, 'We have a voice too, and we can make change and we can't be silenced anymore, because children have been silenced for so long.' I think it's extremely important for our age group to step up and join the political discussion."
WHYY is your source for fact-based, in-depth journalism and information. As a nonprofit organization, we rely on financial support from readers like you. Please give today.