Friday Night Lights means only one thing in America.
That's high school football games in thousands of towns across the nation, a tradition celebrated by a movie and television series by the name.
But some disturbing incidents at games in northern Delaware this year have fans, coaches, and administrators on edge.
Consider the unsettling 911 call made by someone attending a Brandywine High School on Friday, Sept. 16, while on the field the host Bulldogs were battling the Howard Wildcats.
"Complete chaos. Get here now,'' the caller urged the dispatcher.
"Tell me what happened,'' the dispatcher responds.
"There's fighting everywhere. Everywhere."
Several state and New Castle County police rushed to the scene, where they encountered several fights involving more than 30 people outside the stadium. Four kids were arrested.
The next Friday night, social media lit up with a report that two people had been shot at a game at Appoquinimink High, where the Jaguars were playing the crosstown Middletown Cavaliers. Those online reports were not accurate. As it turned out, the shooting was just outside the school grounds, and one of the victims was a minor. Fans at the game had to remain in place for up to an hour, however, while a helicopter landed and officers combed the scene.
One parent had reported on social media that the shooting stemmed from a disagreement at the game, but police have not said whether the victims or suspects had any connection to the schools or the game.
Then there was the panic earlier in September, likely spurred by social media posts, that caused a stampede from the Howard section of the stands at Wilmington's Abessinio Stadium during the third quarter of a game against Delaware Military Academy. The game was halted.
Donna Polk, executive director of the Delaware Interscholastic Athletic Association that governs high school sports, says some schools are limiting who can attend games, or moving game times to the afternoon.
"Well, we don't want it to be Friday night fights,'' Polk said. "It's disheartening that we are going through a time, not just within our state, where we're faced with bad behavior and it's turning violent."
After the shootings outside Appoquinimink High, the school district decreed that only students at the participating schools can buy game tickets, and only on the Wednesday and Thursday before a game. At the gate, students must show their school ID.
Players, cheerleaders and band members are permitted up to five guests, but must purchase them at school and identify the names of the people whose tickets they are buying. Fans cannot bring bookbags or backpacks into stadiums, and roaming around the grounds is not permitted. In addition, minors must remain with an adult at all times.
"We understand and appreciate the mixed feelings these changes may bring, Appoquinimink district Superintendent Matt Burrows wrote to families. "Like you, we regret the need for added security. These are not decisions we wanted to make, but decisions we felt had to be made for the security of our students, staff, and supporters. As I've said before, student safety is our #1 priority."
Polk said she supports Burrows' decision and ones at other schools to tighten up on security.
"We want to be able to provide that safe environment for our student athletes, because it's an escape time for them to just be free and not have any pressures on them. So I plead with our community to just kind of be respectful, be civil to one another."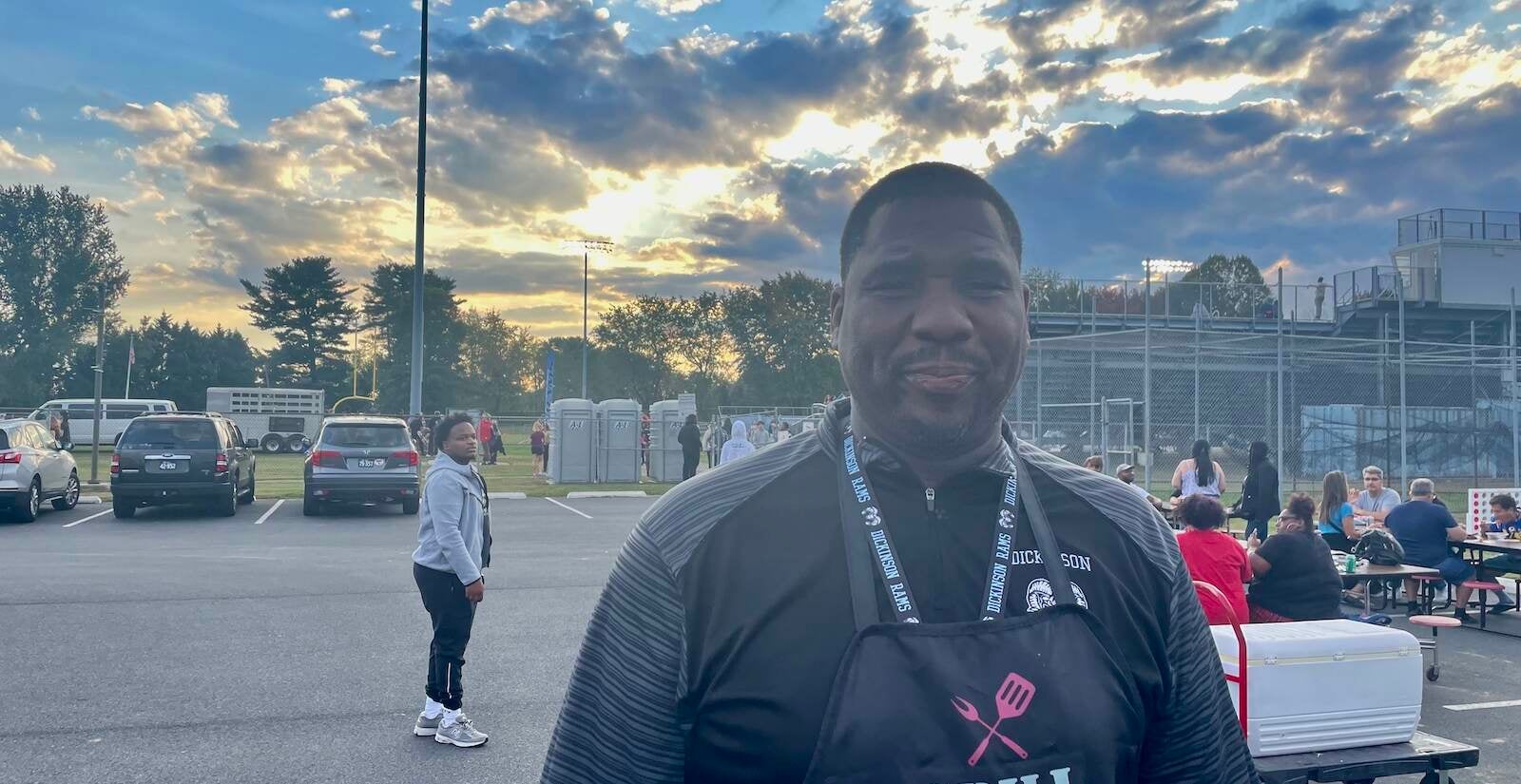 'Nobody wants that negative stigma on their school'
State police said some schools are now paying to have two or more troopers instead of one at their games
At Dickinson High last Friday night, three troopers were on hand, including the one who provides daytime security at the school near Pike Creek.
Several teachers, lured in part by Vice Principal Robbie Johnson's pre-game cookout, also attended. Johnson says he aims to create a laid-back family atmosphere. The school even had three actual rams — the school mascot — on hand.
"Nobody wants that negative stigma on their school, that there was an unfortunate incident involving either players or spectators," Johnson said. "We can't let kids stop being kids or stop them from participating in extracurricular activities. And we just send a message throughout the school day, that this has to be a positive experience for everybody or things will change."
Dickinson cross-country runners Leavitt Horsey and Zha-Mere Crawford were guardedly optimistic that the Dickinson campus was safe for night games.
"I don't think it'll happen here at Dickinson just because we're a smaller school,'' Horsey said. "Hopefully it doesn't."
The crowd wasn't big — just a few hundred fans — but the atmosphere and mood that night as Dickinson played First State Military Academy was buoyant and playful, epitomizing what Friday Nights Lights means to communities.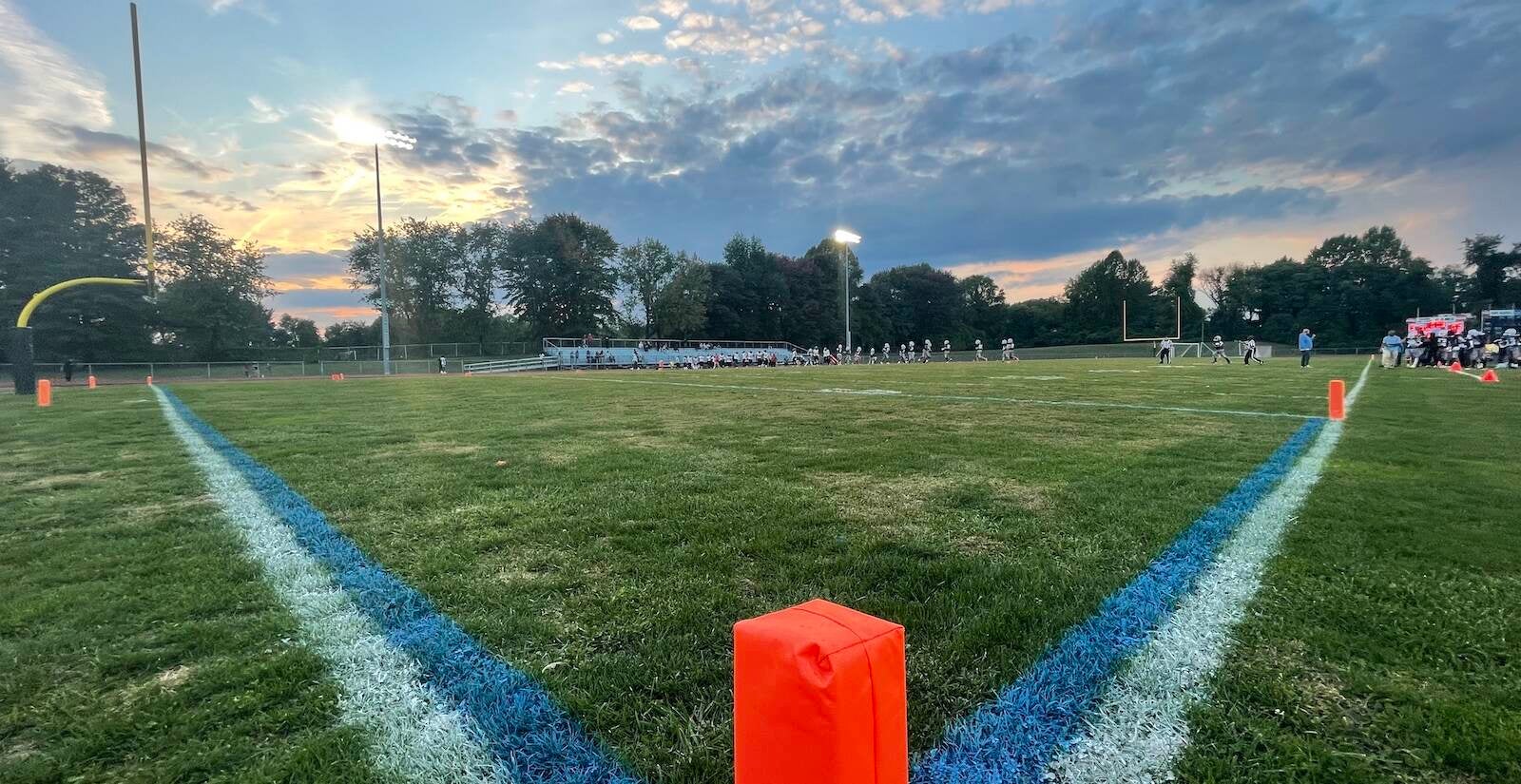 The small but talented Dickinson band belted out rally songs while the Rams' cheerleaders tried to inspire the team and the crowd.
"Are you ready to rock?'' the girls chanted. "Are you ready to throw down?"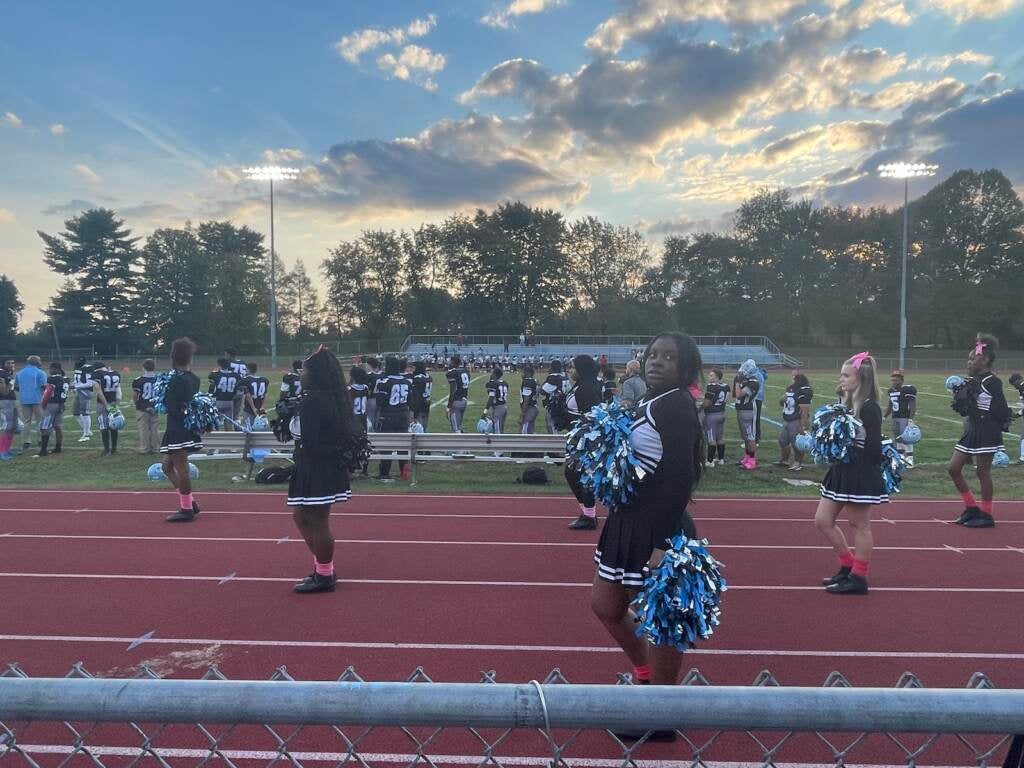 Coaches exhorted their players to get that first down, or make a big defensive stop. Fans coached from the seats, calling to their loved ones to excel. A crescendo of cheers erupted during each play, with the referee's whistle ringing out to halt the action.
Kids who seemed uninterested in the action on the field ran around, flirting and taking selfies.
All under sparkling floodlights that illuminated the scene in an almost magical way.
Violence off the field "spoils it for the rest of us'
Pete Wilson went to watch his nephew play for the Rams. His primary concern was why the Rams were struggling at home against the smaller military-oriented school. The Rams ultimately fell 31-6.
"I don't know what's wrong with them, man,'' Wilson groaned. "They can't get nothing going."
But Wilson is alarmed by Delaware's recent incidents and the Sept. 27 ambush at Philadelphia's Roxborough High after an afternoon scrimmage that left one player dead and four wounded by gunfire.
"You never know what's going down. It could be this side against that side. You know how that goes, and everybody meets at the football game,'' Wilson said. "But I don't know what's wrong with these kids. This is literally crazy, man."
Pete Wilson says neighborhood disputes often end up at the high school football game. (Cris Barrish/WHYY)

Dickinson head coach Duben Word exhorts his players to do better as they struggle during the 31-6 defeat. (Cris Barrish/WHYY)

Dion Peaks, whose son plays for First State Military Academy, suggested conducting security checks for all fans at the gate. (Cris Barrish/WHYY)

Most fans were all smiles for Friday Night Lights at Dickinson High. (Cris Barrish/WHYY)

Spectators cheered without any episodes at the Dickinson game. (Cris Barrish/WHYY)
Tikisha Stewart agreed. She was with her mom and grandmother watching her son Jahmiyr.
"I want to know that there's safety going on out here, that's keeping our children [safe] and also the parents that come out to enjoy their children,'' Stewart said. "Because we want to see the next generation progress, not to go down in all these violent acts of just hatred and ignorance."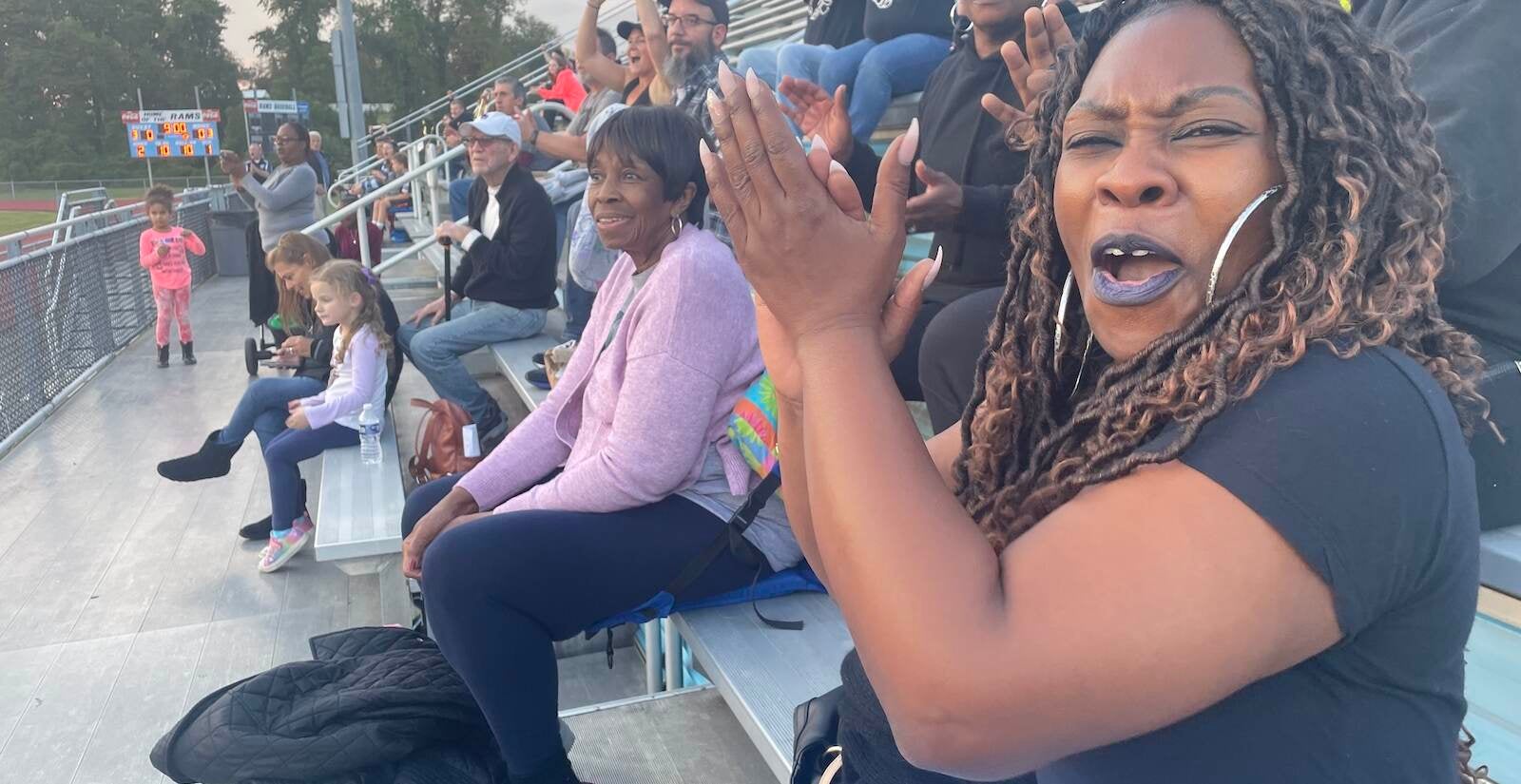 Dion Peak, who was watching his son play for First State Military, echoed some spectators in saying security should be improved at the gate.
"When you first come in, they should be checking for everything,'' Peak said. "Make sure everybody's safe — parents, children, little ones."
Conrad Schools of Science coach Chet Walters was at Dickinson scouting both teams. The episodes at other games has caused him to double down on security and other preparations for Conrad's first night game in 80 years, using portable lights.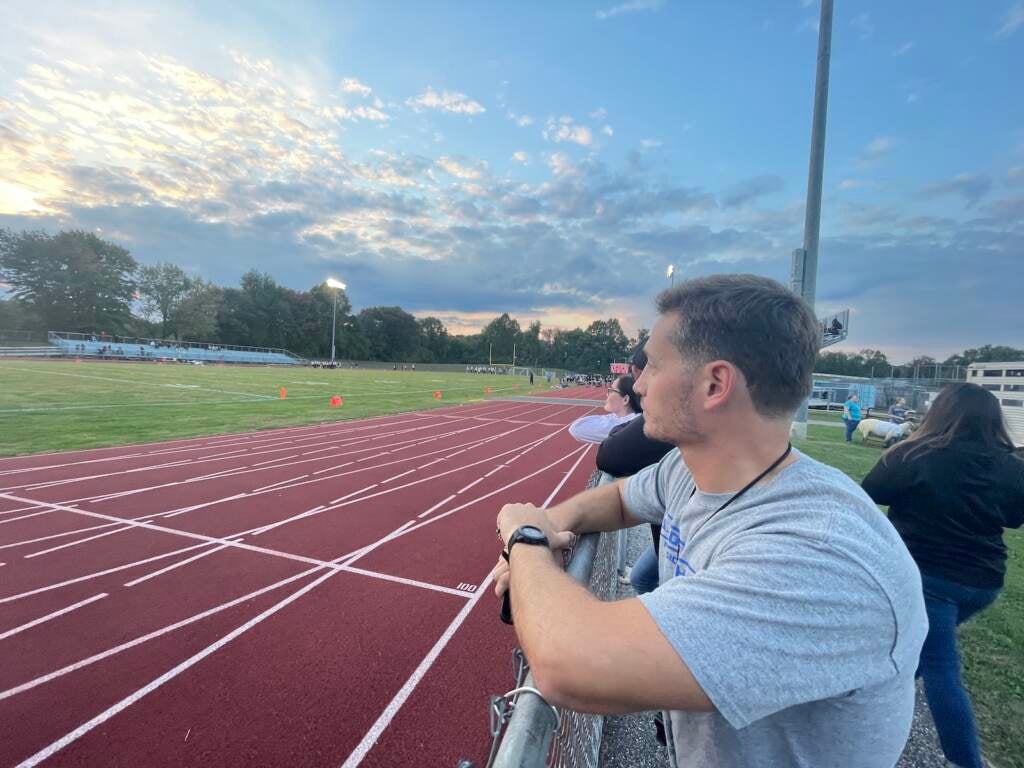 "There's nothing like Friday Night Lights,'' Walters said while gazing at the field as the skies darkened. "And for us at Conrad, we don't have lights so we play on Saturdays. So when we can get a night game, it's like heaven on earth. It's a great experience. And to see some events, whether they're related to the game or not happen, it's a shame because then it spoils it for the rest of us."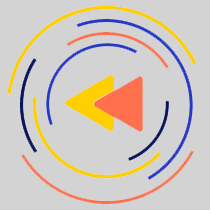 Saturdays just got more interesting.
WHYY is your source for fact-based, in-depth journalism and information. As a nonprofit organization, we rely on financial support from readers like you. Please give today.