Un-sanctuary: Some Pa. police departments pull closer to ICE
Listen
5:25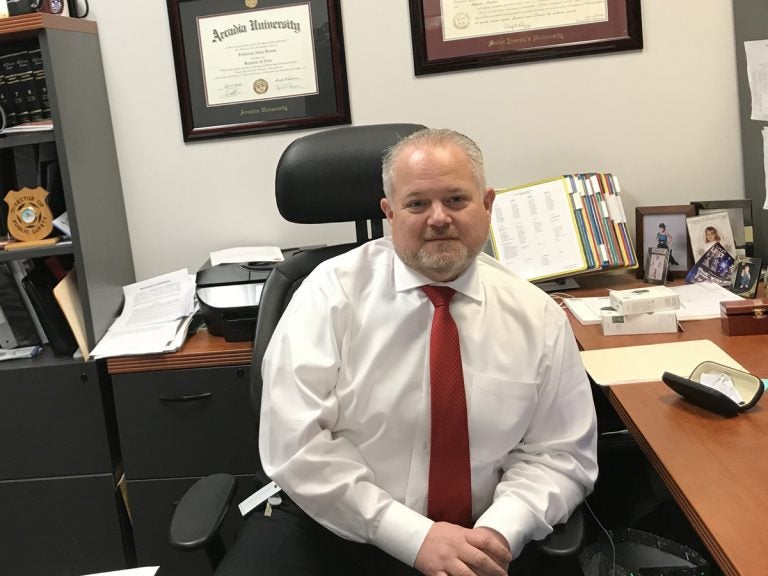 The way Bensalem public safety director Fred Harran tells it, the township's partnership with U.S. Immigration and Customs Enforcement — or ICE — began almost accidentally.
In 2009, Bensalem police arrested a man suspected of shoplifting about $380 in merchandise from a Kohl's department store in the Bucks County township. This crime, which would usually result in a fine or short jail sentence, opened the door to something else, said Harran.
"We found through the course of our arrest that he was undocumented or whatever the politically correct term is … and we called ICE just to see if they were interested," he said.
Harran's officers processed the man and then "turned him over to ICE."
"It was at that point that we realized there's a partnership that could be had, to help get criminals off the street," he said. "Partnerships are the way to fight crime, it's the only thing that works."
Collaborations are on the rise
"Sanctuary cities" such as Philadelphia get a lot of attention for limiting cooperation between their criminal justice systems and federal immigration enforcement.
But across Pennsylvania, many law enforcement agencies — including the Bensalem Township Police Department — want to work more closely with ICE, to identify and deport immigrants who are in the country illegally. Some forms of cooperation involve formal contracts, while others are discretionary, based on local politics or even an individual officer's decisions.
It's normal for local police departments to cooperate with federal law enforcement — be it the FBI, the Bureau of Alcohol, Tobacco, Firearms and Explosives,  or the Drug Enforcement Administration. These collaborations with federal agencies tend to be ad hoc. In ICE's case, the federal government has repeatedly tried out policies to enlist local police in carrying out immigration arrests.
Under President Barack Obama, initiatives such as the Priority Enforcement Program and Secure Communities explored ways to leverage local police work to make federal immigration enforcement more effective.
Now, President Donald Trump has promised to expand enforcement inside the U.S., and these collaborations are gearing up again across Pennsylvania.
ICE can delegate federal power to local police
Staying in the U.S. without a visa or entering without the approval of a border agent breaks federal immigration law.
Enforcing those laws usually falls to the federal government, the same way that the IRS goes after people who don't pay their taxes.
The agreements known as 287(g) are a way for ICE to give some of its power to local police departments.
According to public records, ICE identified more than a dozen county jails, sheriff's offices and police departments across Pennsylvania that expressed interested in learning more about 287(g).
Pennsylvania law enforcement agencies interested in learning more about 287(g)*
| | | |
| --- | --- | --- |
| Armstrong County Jail** | Erie Police Department | Westview Police Department |
| Bensalem Police Department | Erie County Prison | Warminster Police Department |
| Bradford County Sheriff's Department | Franklin County Prison | Warrington Township Police Department |
| Butler County Prison | Perry County Prison | Wilkes-Barre Police Department |
| Cambria County Prison | Plumsteadville Police Department | Westmoreland County Prison |
| Castle Shannon Borough Police Department | Pocono Mountain Regional Police Department | York County Prison |
| Chester County Prison | Ross Township Police Department | |
*All jurisdictions (with the exception of Wilkes-Barre Police Department) appeared on a list compiled by the ACLU of Pennsylvania, based on FOIA results current as of June 30, 2017.
*Jurisdictions in green also appeared on a list compiled by Reuters, based on FOIA results current as of November 27, 2017. Reuters methodology: "While​ ​ICE​ ​provided​ ​a​ ​longer​ ​list​ ​of​ ​jurisdictions​ ​through FOIA​ ​of​ ​jurisdictions​ ​expressing​ ​interest,​ ​nearly​ ​half​ ​contacted​ ​by​ ​Reuters​ ​said​ ​they​ ​were​ ​not​ ​interested​ ​or​ ​were​ ​not familiar​ ​with​ ​the​ ​program.​ ​Some​ ​of​ ​the​ ​jurisdictions​ ​did​ ​not​ ​respond​ ​to​ ​requests​ ​for​ ​comment."
Under 287(g), named after the piece of immigration law creating it, ICE gives local police departments or corrections facilities powers usually reserved for federal immigration enforcement. The agency deputizes local officers to interview people about their immigration status and put them into deportation proceedings. In emails to local police departments, ICE described 287(g) as "force multiplier," a way to dramatically expand the agency's reach within U.S. borders.
"It's a tool. Am I going to turn down a tool that's going to help some young victim, or some victim in general? No," said Warminster Township Police Chief Jim Donnelly.  When ICE called to see if he'd be interested in collaborating last year, he said yes, but that he needed more information.
In Bensalem, Harran went a step further. His department's earlier partnership with ICE had died down around 2012. After getting a call from ICE about 287(g) last year, Bensalem police again began referring arrestees they  believed to be in the country illegally to ICE.
In 2017, that happened 117 times. Harran said his police officers do not detain or transfer individuals into ICE, and he does not know how often ICE uses the information Bensalem shares to take people into their custody. ICE officials would not confirm how many of these referrals resulted in arrests, but gave this statement: "ICE examines all leads when conducting an investigation like other law enforcement agency."
ICE officers also moved into the Bensalem Police Departments offices for a few months.
No 287(g) agreements exist in Pennsylvania yet, and police departments contacted say they've heard nothing else from ICE about formal collaboration. However, informal collaborations have picked up elsewhere in Pennsylvania, according to Tom Gross, executive director of the Pennsylvania Chiefs of Police Association.
"Some departments have increased their cooperation with ICE," he said. In central Pennsylvania, that means State Police sometimes call ICE during a routine traffic stop and detain motorists until ICE can arrive to arrest them, as they did with DACA-recipient Osman Enriquez in the fall.
Or, it could mean calling up ICE when they arrest someone in the country illegally as five police departments in Southeastern Pennsylvania, including Bensalem, told WHYY they do.
Though most declined to be interviewed, nearly two dozen police chiefs responded to a WHYY survey on policies and practices concerning working with ICE, and their answers varied widely. Some said immigration is a nonissue in their jurisdiction, others took pains to explain that they only work with ICE when the agency reaches out, in order to preserve trust with immigrant communities they police.
For those who worked more closely with ICE, all said they are motivated by a desire to make their communities safer and to do their part in upholding federal laws.
"My sense is that most police officers would want to work with [ICE]," said Gross, the former chief of the York Area Regional Police. "And my experience as a chief is that you would like to have clear guidance about what the expectation and what the wishes of ICE are, even if you don't cooperate."
Immigration law is very different from criminal law, and police may not be experts. Critics of police-ICE partnerships say a lack of training leads to abuses of power at the local level and make police departments vulnerable to lawsuits.
Some equate it with racial profiling
"To speak clearly, in practice what we're talking about here is racial profiling," said Golnaz Fakhimi, immigrant rights attorney with the ACLU of Pennsylvania. "There are a number of examples from around the country where this is exactly what happened in the wake of 287(g) agreements."
Locally, the case of Ernesto Galarza stands as a cautionary tale for law enforcement. In 2008, police in the Lehigh Valley arrested Galarza, a U.S. citizen of Puerto Rican descent from New Jersey, as a part of a drug sweep. Believing Galarza was in the country illegally, police notified ICE, who issued a detainer request, asking the local jail to hold Galarza on their behalf. He later sued, and a judge found the county liable for his wrongful detention.
Fakhimi said she's also concerned about a chilling effect, that victims or witnesses of crimes may not cooperate with local police if they fear their loved ones could be deported.
Balancing these concerns, and local politics, may mean some of the police departments initially interested in 287(g) agreements will turn them down. In Warminster, Donnelly said he would need to get input from all the stakeholders involved: township administrators, police officers, and the community.
"We'd have to vet it to see if it's sustainable and if it's an absolute need," he said. "Because we have other needs that want to be addressed, [such as] traffic and crime."
Another consideration is purely practical: Do they have enough manpower?
"My guys and girls are always willing to arrest bad guys, mainly focused around criminals," said Donnelly. "Are they looking for more work? Not necessarily."
—
Correction: In a previous version of this story, former York Area Regional Police Chief Tom Gross' title was incorrect.
WHYY is your source for fact-based, in-depth journalism and information. As a nonprofit organization, we rely on financial support from readers like you. Please give today.