What does it mean to be a doctor with a disability?
Medical culture has long viewed doctors as "able-bodied in the extreme." A growing wave of doctors with disabilities wants to challenge that.
Listen
12:56
When Stacy Jones arrived at medical school at Harvard University, she was prepared to struggle. She'd always been aware in the back of her mind that certain aspects of academics were tough for her. She figured she'd just have to work even harder. But that "work harder" strategy didn't work out so well.
"I basically almost failed a lot of my classes," Jones said. "During that time I felt very ashamed and I felt very lonely."
She avoided her professors, terrified they were thinking she was lazy. Then the summer after her first year, in 2015, Jones went to get evaluated. She realized she had a learning disability and attention deficit/hyperactivity disorder.
"It was very validating when my neuropsychologist sat down with me and said, 'Stacy, you're smart. Stacy, look at all of these things your brain does well. It must be so frustrating that when you read or listen to lectures your brain is not processing language in the same way,'" Jones said.
It was a relief to hear all that. But a concern, too.
"I think there is this perception in medical education, and in the culture in general, of not really admitting vulnerabilities," Jones said. "'Disability' isn't a word that I often heard spoken."
Disability hasn't been talked about a lot within the profession. Doctors — the ones charged with treating everyone else — are often portrayed as pinnacles of health, super humans responding to emergencies around the clock. They're the fixers, not the ones in need of care or accommodation.
Yet a growing movement of current and aspiring doctors says this narrative is a disservice. They're trying to change the culture amid new research on disabilities in medicine.,.
'Able-bodied in the extreme'
Lisa Iezzoni, a professor of medicine at Harvard and director of the Longan Institute Health Policy Center at Massachusetts General Hospital, is very familiar with the culture of medicine.
"This profession historically has viewed themselves as able-bodied in the extreme," Iezzoni said.
Iezzoni uses an electric wheelchair or scooter to get around. In the early '80s, when she was in medical school herself at Harvard, Iezzoni was diagnosed with multiple sclerosis. She wasn't in a wheelchair then, but she was experiencing some "shadowy" symptoms, like a loss of sensation in a limb. She wasn't able to stay up late at night, due to fatigue.
She says her advisors knew this, and they treated her differently because of it. So did just about everyone else.
Iezzoni say one experience in particular stands out: She was scrubbing in on a surgery.
"The surgeon — at a slack time during the operation — turned to me and said, 'Do you want my opinion about whether you should become a doctor?' And what was I going to say? I'm a third-year medical student. I said, 'Certainly, Dr. so and so. I would be happy to,'" she said. "And he then opined that I had no right to go into medicine because I lacked the most important quality in medicine. And that was 24/7 availability."
Iezzoni says after that point, the residents overseeing her program ignored her.
"I was beneath their notice, because their attending [surgeon] told them I had no right to be in medicine," she recalled.
Iezzoni didn't become a doctor. She says she just didn't have the support.
But she didn't leave medicine.
"The work that I do is on disparities in health care for people with disabilities, and I think that part of the origins of disparities are stigmatizing attitudes," she said.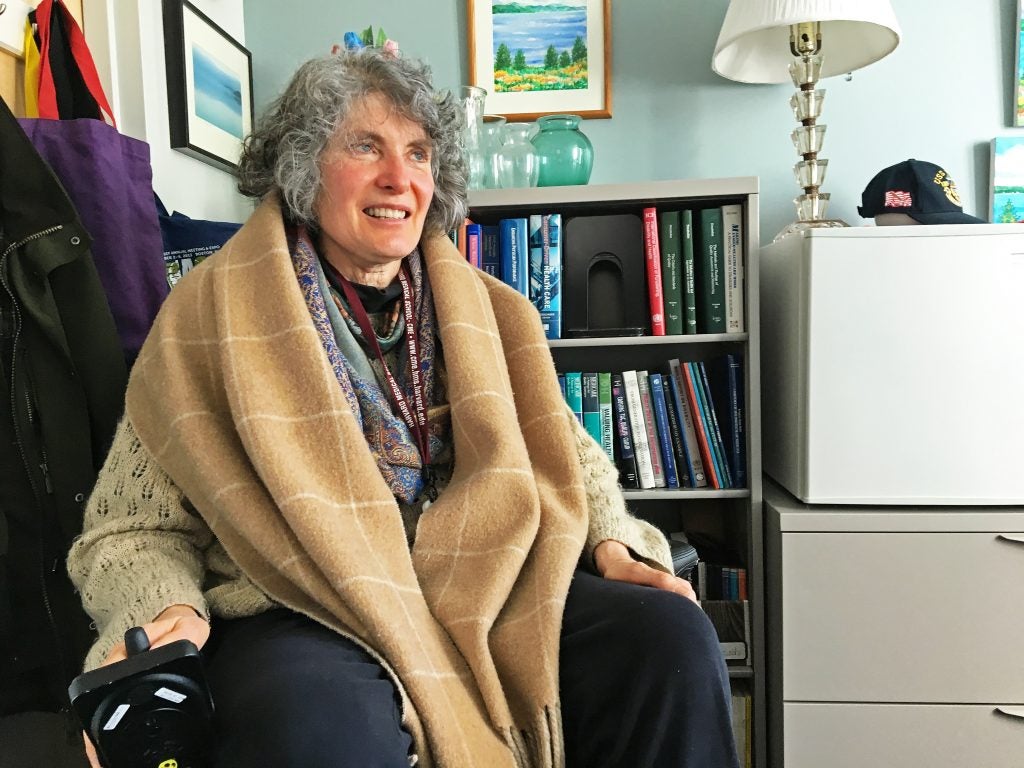 Medicine's slow to adapt
Iezzoni says her medical school experience happened six years before the Americans with Disabilities Act, or ADA, passed in 1990. The landmark legislation created federal protections for people with disabilities.
In the decades since, amendments and court rulings have clarified those rights. But Iezzoni and others say those changes have been slow to take hold in medicine.
Research has found that, as future doctors advance through their training, they may become "more hardened," says Iezzoni, and develop more negative views about people with disabilities. More recently, she has been interviewing doctors about their knowledge of disabilities for an upcoming report. She identified attitudes among some that gave her concern. Just about everyone said they'd never been trained about the ADA.
"They'd heard of it but had no formal training in what that meant about their responsibilities toward patients with a disability, what their responsibility is to care for people with a disability," she said.
Changing practices
Another Lisa — Lisa Meeks — is on a mission to offer training and change attitudes.
"What we view as absolute is very different now than what it was 10 years ago, and owe a lot of that to assistive and adaptive technologies," Meeks said. "But also medicine is an ever-evolving creature."
Meeks is a psychologist at Michigan Medicine, specializing in disabilities in medical education and the profession at large. She co-founded the Coalition for Disability Access in Health Science and Medical Education and says, despite advances, navigating a disability in medicine can still be a really rocky road, starting from the very early stages of medical training.
Getting supports or accommodations, she says, is not about getting an easy pass to become a doctor. It's the ramp, so to speak, that allows a person to enter the room.
"There is no waiver of any sort of skill or competency," she said. "The physician has to know what they're doing and has to understand the same clinical skills as their peers."
Meeks holds trainings at medical institutions and has found that the way places understand and handle disabilities varies greatly. Someone with the same disability, like an autoimmune disease, for example, may have very different experiences depending on where they are studying or practicing.
"So everything from being told, 'You really shouldn't be a physician. I don't know how you're going to do this,'" said Meeks, "to on the opposite extreme hearing, 'Hey, we should come up with something else. Let's call Apple or Microsoft to see what technology is out to keep you from proactively going into the flare.'"
Meeks says some places may not know how to align what's required to become a doctor with what's reasonable support for aspiring doctors with disabilities, especially in the clinic.
"I think the saddest thing for me is when people don't know what to do. They don't know about the resources that are available," Meeks said.
People with disabilities may be left to figure things out on their own, potentially getting lost in the system or falling through the cracks. Meeks recently co-authored a major disabilities in medicine report — a sort of blueprint for best practices — with the Association of American Medical Colleges, or AAMC.
"We have to do a better job of educating those in the field about what the potential is for those with disabilities, versus what is consumed or assumed to be an automatic inability," said  Geoffrey Young, a director with the AAMC and former medical dean.
Medicine, says Young, is having a moment.
The report outlines recommendations, cites legal cases, and features first-hand interviews. In one instance, a medical student faced frustrations when arranging accommodations for taking tests. It seemed to the student that the medical school was "making up rules along the way." Another resident with a physical disability was more than a year into training when the medical institution finally installed an automatic door he needed.
"I just think there is so much misinformation out there of what may be required to give someone accommodations," Young said, adding that people with disabilities in medicine can help inform colleagues, too. "I think that educates our future physician population."
Many aspiring doctors hide a disability, the report notes, out of a "fear of judgment, bias, and skewed perception of ability." Less than 3 percent of students in medical school have disclosed a disability, and as a result get accommodations. That's fewer than the estimated one-fifth of people with disabilities in the United States and those in other graduate programs.
Doctors (and nurses) with disabilities speak out
Earlier this year, Meeks had a thought: If doctors with disabilities saw more people like themselves, would they talk more openly about the challenges and opportunities? She started the hashtag #docswithdisabilities. The goal was to find 20 doctors willing to share their stories.
"There's no end in sight," Meeks said.
She has been flooded with interest from doctors with disabilities. (And now #nurseswithdisabilities have joined in, too).
That includes Nichole Taylor, an anesthesiologist at Wake Forest Medical School who has multiple sclerosis, and Erica Dwyer, an internal medicine resident at Cambridge Health in Boston.
"I was actually born deaf in one ear," Dwyer said. "I was almost done with medical school, and then realized that I was also losing my hearing on the other side. And I started needing technology to sort of help amplify my hearing and to help manage in clinical settings and the like."
Jason Brookman is an anesthesiologist in Baltimore who has attention deficit disorder. Brookman published a case study about himself about how he's learned to managed his disability. It hasn't always been easy, he says, and he only recently publicly identified himself as the person featured in the case report.
Another vocal participant is Feranmi Okanlami. He had a spinal cord injury and became partially paralyzed after a diving accident during his third year of medical residency in 2013. He returned to practicing and is at Michigan Medicine now.
He doesn't want to be viewed as "an anomaly."
"Once people see how many people are out there practicing with disabilities, I think that will normalize this more," Okanlami said. "Disability does not mean inability."
Okanlami might not be the guy on the ground doing the chest compressions during a code, when someone has stopped breathing, but he says a doctor is more than that.
"You have to be the person deciding what medication to give. You have to make sure that the people doing chest compressions are doing it adequately. You have to think about why the person stopped breathing, or their heart stopped," he said. "The tasks required to run a code aren't just physical tasks."
Aspiring doctors with disabilities
Stacy Jones, who has completed three years of medical school at Harvard, says getting diagnosed with a learning disability after her first year and then later figuring out what she needed has made all the difference. One "gamechanger" has been using text-to-speech technology on her computer.
"It's not just, you know, OK, I can read faster now," she said. "It's actually allowing me to take that burden off to actually learn."
Jones says she struggled sorting out what to do after she was first diagnosed and figuring how and where to get support. Last year, she started connecting with other medical students and doctors with disabilities from around the country.
"We formed this national group — the national medical accessibility group called NMAC — out of this idea of de-stigmatizing disability in medicine, bringing peers from across the country, and Canada, too, for peer support," Jones said.
So far that has included some 50 people — mostly medical students, but some nursing, pharmacy and occupational therapy, and others as well — from about 40 different schools. They're advocating for better systems for people with disabilities in medicine, for more awareness across the field, and for support, especially for "some people whose voices have felt silence because of the structures and the systems as they are right now."
These kinds of connections have made all the difference for those starting out, like Jessica Laird. She's wrapping up year one of med school back at Harvard.
"To have that be the beginning of medical school and see students who were succeeding in older years who had disabilities was a really amazing way to start medical school, to know I wasn't alone in this process," said Laird, who was diagnosed with a rare connective-tissue disorder called Ehlers-Danlos syndrome in high school, and who recently got involved with disability awareness activities on campus. "The experience of being ill is so central to why I wanted to become a doctor."
Meanwhile, since Jones began raising awareness about disabilities following her diagnosis, the medical school has been reviewing its policies. It's now actively looking to hire a full-time disabilities-service provider, something that is identified as a best practice in the new AAMC report.
In an emailed statement, Harvard Medical School said:
"Fully addressing the needs of our students, faculty and staff with disabilities is central to our mission as an educational institution. The individual experiences of members of our community are important and illuminating — and they spark ongoing assessment. They also improve how we are able to address these matters. Establishing the position of a full-time disabilities service provider is part of this ongoing evolution."
Cooper Medical School at Rowan University in Camden, New Jersey, has also started training staff and students in disabilities.
Stacy and others say these efforts are important not just for them, but for patients, too.
As it stands, research has found that people with disabilities are less likely to get recommended treatments and screenings, like pap tests. One reason may be that doctors carry biases or don't always understand the nuances of these experiences. So to this new wave of doctors, the most  "able" physician of the 21st century is one who is equipped with the skills to connect with patients and what they're facing, and who can think creatively about how to come up with the best care.
As Jones looks ahead, she hopes that plays out in her future practice. She's leaning toward working in pediatrics.
"I think that when I see patients and families of kids who just received this diagnosis, and they're sort of receiving this narrative of 'Your kid needs help; your kid needs special education; you know, your kid isn't perfect,' I think I have the viewpoint where I could say, 'No, your child is perfect. Your kid is smart. Your kid is capable.' This is not a tragedy. Disability is not a tragedy," Jones said. "I think that's something that is a huge strength that physicians can bring to medicine and to patient care."
WHYY is your source for fact-based, in-depth journalism and information. As a nonprofit organization, we rely on financial support from readers like you. Please give today.