Between health and illness
Andrea Avery was a piano whiz kid until she developed rheumatoid arthritis at age 12. The disease symptoms can leave her feeling able-bodied one day, disabled the next.
Listen
4:28
Audio producer Neda Frayha produced this story about her childhood friend Andrea Avery:
It was when I was 7 that I was finally allowed to take piano lessons.
And it was just … there was no looking back after that. It was just … I would daydream about it in school. The way other kids might tiptoe down to sneak out of the house or meet boys or do drugs or something, I just wanted to go down to the piano and play some greatest hits of the 70s!
It was like love. It wasn't like love, it was love.
It was just this incredibly tempting and totally available intellectual puzzle, a means of self-expression, and then as I grew older and got better at it, means of claiming an identity:
"Oh, you're that piano girl."
I first learned that I had rheumatoid arthritis when, in my 6th grade year, I started to have these kind of weird symptoms. I remember being in French class in middle school and looking at my thumb and thinking, "My thumb looks funny."
And you know, it abated. And a few weeks later, I was playing on a basketball team (quite badly at the time), and my shoulder really, really hurt. And it just … and, I raised it up and I couldn't put it down.
The day that things changed for good was when I literally leapt out of bed and my feet and legs crumbled beneath me and everything hurt. And I could not put weight on my lower extremities. And that, I think, is when both my mom and I had a sort of wake-up call.
My hands are really interesting hands. And are … first of all, not symmetrical. My two hands don't look like each other. My fingers are … many of them sort of fused solid. So many of my joints do not bend. So, my hands are kind of more monolithic. They're more like paws, in some ways, than hands. I also have, on several of my fingers, rheumatoid nodules, which are small round bumps that crop up.
It was probably while I was in college: I was studying music. I knew then that playing piano was going to be not a career for me. The bargain I made is, okay, if I can't play piano at all, I'm going to write about music and I'm going to sort of honor its presence in my life and also its loss in my life – by composing something beautiful.
When I'm well, I'm well and it's the farthest thing from my mind. And when I'm not, it's a crisis and it's the first thing I need to attend to so that I can get back to my life without it. I identified that early on, that I had to sort of put arthritis first so that it could be last.
When I find myself in either a community of all able-bodied people or all disabled people, I don't quite fit, feel like I fit in either community squarely. I served on a panel once about disability for a women's studies class. And the other panelist, this woman was a wheelchair user and she said that I was "passing."
And I, thought, because my level of disability is not like your level of disability? Because we're not contending with the same things? Because I don't use the same adaptive technologies you use, or any at all? Now I don't fit here, either? I can't … I'm not in your club, either? But, I don't fit squarely into either category.
But the truth is, most of us don't. And at least over the course of a lifetime, most of us are going to visit the disabled side.
Avery wrote "Sonata: A Memoir of Pain and the Piano." Shortly after her conversation with audio producer Neda Frayha, Avery began playing piano again, for the first time in two years. She posted the video to Facebook.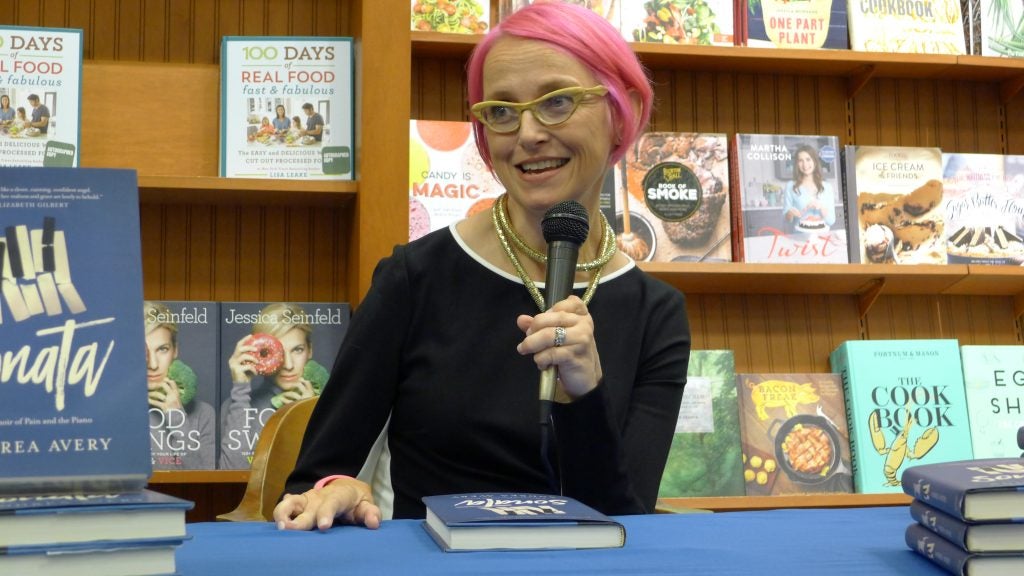 WHYY is your source for fact-based, in-depth journalism and information. As a nonprofit organization, we rely on financial support from readers like you. Please give today.