Suburban schools' residency enforcement mostly affects kids of color
When school districts remove students for residency fraud, they say they're enforcing rules and protecting taxpayers. Others see a system that targets the poor and minorities.
Listen
6:39
Every year, hundreds of kids are kicked out of suburban Philadelphia school districts for residency fraud. Maybe even thousands. This little-discussed corner of the K-12 world contains so many of the issues that shape education in Pennsylvania today.
WHYY explored the topic of disenrollment in our series, "Kicked Out." This is part one. In part two, we'll look at what school districts do when they suspect students of residency fraud.
To listen to the radio versions of this story, click on the play button below the headline to hear part one. To listen to part two, click the play button further down in the story.
—
On Sept. 11, 2014, a resident of the Pottsgrove School District sent school administrators a letter demanding action.
She believed one of the neighbors in her sleepy suburban subdivision was running a scam, allowing extended family to stay at the address on school nights so they could illegally attend local public schools. Children would show up at the house early on weekday mornings or late Sunday night and disappear again Friday afternoon, the neighbor claimed.
She and others had been complaining about the house on Butternut Drive for years, saying the family was "using our school district and tax dollars."
"We all would like to see something done, we have gone to the township, called the police, contacted the district office many times," the neighbor wrote.
This is how many school residency investigations begin — with a tip.
Maybe some unsuspecting third-grader tells teachers she lives two towns over. Perhaps a neighbor reports strange pickup patterns at the house next door.
The tip travels up the chain to a suburban school administrator, who then requests a formal investigation. If the investigators find the student in question doesn't live within district boundaries, the district moves to disenroll him or her.
Translation: The district kicks the kid of out school.
This type of thing happens hundreds of times each year in the four collar counties outside Philadelphia — maybe even thousands. Almost every suburban school district spends time and resources trying to root out families it suspects of lying about their addresses and illegally crossing district lines.
Some worry, however, that this form of educational law and order leaves poor and minority students vulnerable. That's partially because disenrollment receives relatively little scrutiny from education policymakers, officials, and advocates. But peek inside the world of residency enforcement, and you will find many of the forces that shape education in Pennsylvania: race, class, school funding, inequity, and changing demographics.
WHYY dug into the numbers to look at the scope and nature of disenrollment. Some of the findings were frustratingly incomplete. Others were stark, suggesting minority families are more likely to be suspected of residency fraud and ultimately barred from many suburban schools because of it.
Though districts are not required to track the number of kids they remove from school, through a series of Right-to-Know requests, WHYY found 37 of 63 suburban districts recorded the number of disenrollments from 2014 to 2017. Those 37 districts disenrolled a combined 1,603 students.
To do that, districts paid social workers, hired investigators, tailed students, ran data searches, and monitored bounced mail — all in the service of determining who belonged in their schools — and who didn't.
Fairness and money
Most school administrators will tell you that disenrolling students is about fairness and money.
"We are not the big bad bully standing there with the bat batting people away," said Frank Bruno, director of pupil services for Delaware County's William Penn School District.
William Penn, a largely poor district just west of Philadelphia, has long struggled to fund its schools — so much so that it's currently suing the state to unlock more dollars. Though William Penn's schools perform worse than many in nearby districts, they compare favorably to many in the School District of Philadelphia, right next door. That simple fact, said Bruno, creates an incentive for people to lie and puts strain on an already overburdened school system.
Even wealthier districts in Southeastern Pennsylvania feel pinched by rising enrollments and pension costs. Forced to impose regular tax hikes to keep up with expenses, districts are under financial and community pressure to ensure they're only serving taxpaying residents.
"The idea of money comes into play, and it does something to people," said Lee Ann Wentzel, superintendent of the Ridley School District in Delaware County. "It makes people feel something."
The four major counties surrounding Philadelphia are carved into 63 school districts: some rich, some poor, some high-achieving, and some not. Research shows the wealth disparity among school districts in Pennsylvania is abnormally high. Combine those two facts, and you have ideal conditions for residency fraud. In many places, trekking from a struggling school district to a flourishing one requires little more than a 10-minute drive.
Some believe the suburbs of Southeastern Pennsylvania are uniquely predisposed to residency fraud and, thus, residency enforcement.
"Kicking a kid out of your school because they live in another community is a little bit localized in some respects," said Dan McGarry, assistant superintendent with the Upper Darby School District in Delaware County. "It's a big deal around here. Nationally, they say why would you want to keep a kid out?"
The disparities among school districts, in Pennsylvania and elsewhere, have deep roots in the policies of the past: housing segregation, job discrimination, and even Jim Crow, said Cornell University professor Noliwe Rooks, who recently wrote a book on school segregation. Her book includes a chapter on residency enforcement because she sees the issue as a "symptom of a larger problem."
"You just want your kids to be safe and have basic education," she said of parents who attempt to jump district lines. "I think [that] is more an indictment on the rest of us than it is those parents."
Some administrators sympathize with that point — or at least the parents who commit residency fraud.
"I think when you look at it, people think they're trying to get their kid a great education," said McGarry. "That's why it's such a tough process."
Four districts in Delaware County — William Penn, Chichester, Interboro, and Southeast Delco — each disenrolled more than 100 students.
William Penn was an outlier, disenrolling 495 students between 2014 and 2017, according to records the district provided to WHYY. Administrators estimated that in that same time period, they questioned the enrollment status of about 3,000 students. William Penn serves about 5,400 students overall.
But those numbers may not tell the whole story. Because there's no formalized process for reporting student removals, several districts said they only count a fraction of students kicked out because of residency. Many families, administrators said, withdraw when confronted with evidence of residency fraud, rather than wait for a formal disenrollment.
"We say, 'Hey, look, withdraw your student and register them in a different school district,' " said McGarry. "A withdrawal is different than disenrollment."
Though McGarry doesn't believe "there's a staggering number of illegal residents attending our school district," he admits administrators face pressure from community members who believe outsiders have flooded neighborhood schools and made them worse.
He put it delicately.
"When some communities change, when poverty increases in some communities and student conduct changes here and there, it leads people to be frustrated," McGarry said.
'Racial and financial class warfare'
Upper Darby, like several other suburban communities near Philadelphia, is rapidly becoming less white and less affluent. The same holds for many of the suburban districts where WHYY found the highest numbers of disenrollments. When we ventured into neighborhood Facebook groups and asked about residency enforcement, the majority of respondents seemed to think their districts weren't doing enough to keep outsiders out. Some specifically cited an influx of children from Philadelphia, Chester, Darby, or Trenton.
It's hard to miss the racial undertones. As suburban districts become more diverse, there seems to be a sentiment — at least among some residents — that students from poorer, majority-minority communities are slipping into the district illegally.
Virden believes the cry for more residency vigilance stems from larger anxieties about the rising number of minority residents in suburbia.
"Demographics are changing pretty rapidly, and a lot faster than a lot of people would like to see," she said.
Remember, disenrollment usually starts with a tip. Someone believes someone else doesn't belong.
Too often, said Maura McInerney, an attorney with the Education Law Center, those suspicions stem from a common preconception: If you're poor or a minority, you may not be from around here.
"Disproportionately, we have this implicit racial bias that's driving these referrals," said McInerney, who has represented families accused of residency fraud. "That's driving people to call the school district and say, 'You should investigate that family.' "
McInerney said her office at the Philadelphia-based nonprofit receives about 150 calls every year from families who believe they've been improperly removed from suburban school districts or denied enrollment. In many cases, she said, districts wind up targeting families in nontraditional living arrangements. Perhaps they're transient or live with relatives.
Many districts, for instance, require written affidavits for students who live in multifamily dwellings. The practice is intended to prevent people from fraudulently listing a common address, but some see it as a vehicle for undue scrutiny.
Holly Morrison Street, a mom in Delaware County's Interboro School District, moved back into her parents' house almost two years ago after her father lost his job and needed financial help. After struggling with district officials to prove her family actually lived in a multi-occupancy dwelling, she decided to register her children as homeless because homeless children have different rights, and it was easier to get through the enrollment process.
"It's so much bullcrap to get through to prove our residency here," she said. "We're doing everything we can to follow the legalities of it. Because our situation is a little less than normal, they make it impossible."
McInerney believes the burden of proof too often falls on poor families and, disproportionately, students of color.
WHYY filed Right-to-Know requests with every district in the four collar counties around Philadelphia and asked for a racial breakdown of all students suspected of living outside district lines and all students actually disenrolled.
Of 63 districts, 20 had the data and had removed or notified at least 10 students over the last three years.
In every single one of those districts, students disenrolled and students suspected of residency fraud were disproportionately nonwhite. In other words, the pool of disenrolled students and the pool of students who received residency notifications always had a greater percentage of minority students than the districts as a whole.
| | | | |
| --- | --- | --- | --- |
| DISTRICT | DISENROLLED (% MINORITY) | NOTIFICATION (% MINORITY) | OVERALL (% MINORITY) |
| Abington | N/A | 45.8% | 36.1% |
| Bensalem | N/A | 66.3% | 46.4% |
| Bristol Borough | 54.9% | 62.0% | 39.1% |
| Centennial | 25.0% | 43.9% | 24.8% |
| Cheltenham | 100.0% | 95.3% | 67.0% |
| Colonial | 66.6% | 66.6% | 25.0% |
| Council Rock | N/A | 38.5% | 13.1% |
| Downingtown Area | 48.5% | 47.8% | 23.0% |
| Interboro | 23.7% | 33.5% | 21.1% |
| Morrisville Borough | 73.9% | 73.9% | 62.3% |
| Neshaminy | N/A | 30.6% | 18.4% |
| North Penn | N/A | 60.8% | 39.1% |
| Octorara Area | N/A | 41.1% | 22.9% |
| Owen J. Roberts | 30.8% | 21.1% | 15.8% |
| Oxford Area | N/A | 57.1% | 34.0% |
| Penn-Delco | 63.6% | N/A | 14.6% |
| Spring-Ford Area | N/A | 41.2% | 20.3% |
| Wallingford-Swarthmore | 72.7% | 38.9% | 26.0% |
| William Penn | 98.0% | N/A | 96.4% |
| Wissahickon | 72.7% | 72.7% | 36.8% |
Take the Cheltenham School District in Montgomery County, where the proportion of black students has increased steadily in recent decades, but about a third of students are white. Over the last three years, Cheltenham has disenrolled 42 children, all of them racial minorities. And of the 85 students suspected of living outside district lines, 95 percent were students of color.
The district called it a case of correlation, not causation.
"It's not a black and white issue," said Kate Shevlin, the district's registrar and residency specialist. "But it's a black and white issue in the fact that you're either a resident or you're not."
Cheltenham acts on tips, Shevlin said. When the tips lead to students who have illegally enrolled, the district removes them.
"These things are coming to the registration department," she said. "I don't look at a child's file and go. 'Let me see if Johnny is not a resident.' "
It's also possible the racial disparity in disenrollment reflects a racial disparity in actual infractions. Perhaps more minority families are trying to move from poor districts to wealthier ones with more educational resources and, thus, more minority families are being caught.
Either way, district officials say they're simply prosecuting the cases brought before them.
"We're blind to everything except where you live," said Samuel Lee, superintendent of the Bensalem School District in Bucks County.
But Felicia Roche, a single, African-American mom who lives in Cheltenham, believes there is a general air of suspicion around black families. When Roche enrolled her daughter, Kayla, in the district two school years ago, she said she was told her six-month lease wasn't sufficient since it did not run through the end of the school year.
"It was a constant feeling of, even though you can legally be here, we don't want you to feel like you should be here," she said "We want to be as tough for you as possible. We want it to be as uncomfortable for you as possible."
District officials say they would not deny enrollment just because a family's lease lapsed before the end of the school year. They said they've changed their processes over the last three years and shuffled their administration. It would be "pure speculation" to comment on how a case like Roche's would've been handled under the old regime, they said.
There are documented instances, though, when districts follow questionable tips to questionable conclusions.
The house on Butternut Drive
One such instance took place in Pottsgrove, Pennsylvania, in 2014.
It all started with a letter from a neighbor, the one mentioned at the top of this story.
The four-bedroom Colonial on Butternut Drive in question —  the one allegedly at the center of a residency fraud scam — is owned by Louise Octavia Durham, a 64-year-old matriarch with two bad knees and a broad smile that belies years of struggle.
Durham grew up poor in South Philadelphia and had her first child at 12. She managed to finish high school and, by 19, settled down with a man who had a steady job. They lived in West Philly, but, whenever she could, she'd round up her seven kids and take them on a driving tour of the middle-class neighborhoods just beyond the city line.
"They used to say, 'There she goes dreaming,' " she said, " 'Cause that was Sunday afternoon, we going to ride through those nice neighborhoods."
Eventually, the dream materialized. Durham found good work herself managing a chain of cell- phone stores and, in 2000, when she was 46 years old, had saved just enough money to buy a house in one of those idyllic subdivisions. Durham's family, though, never matched the "Ozzie and Harriet" vibe of her new neighborhood or the expectations of her neighbors.
"It was almost like they thought I hit the lottery and didn't belong here," she said.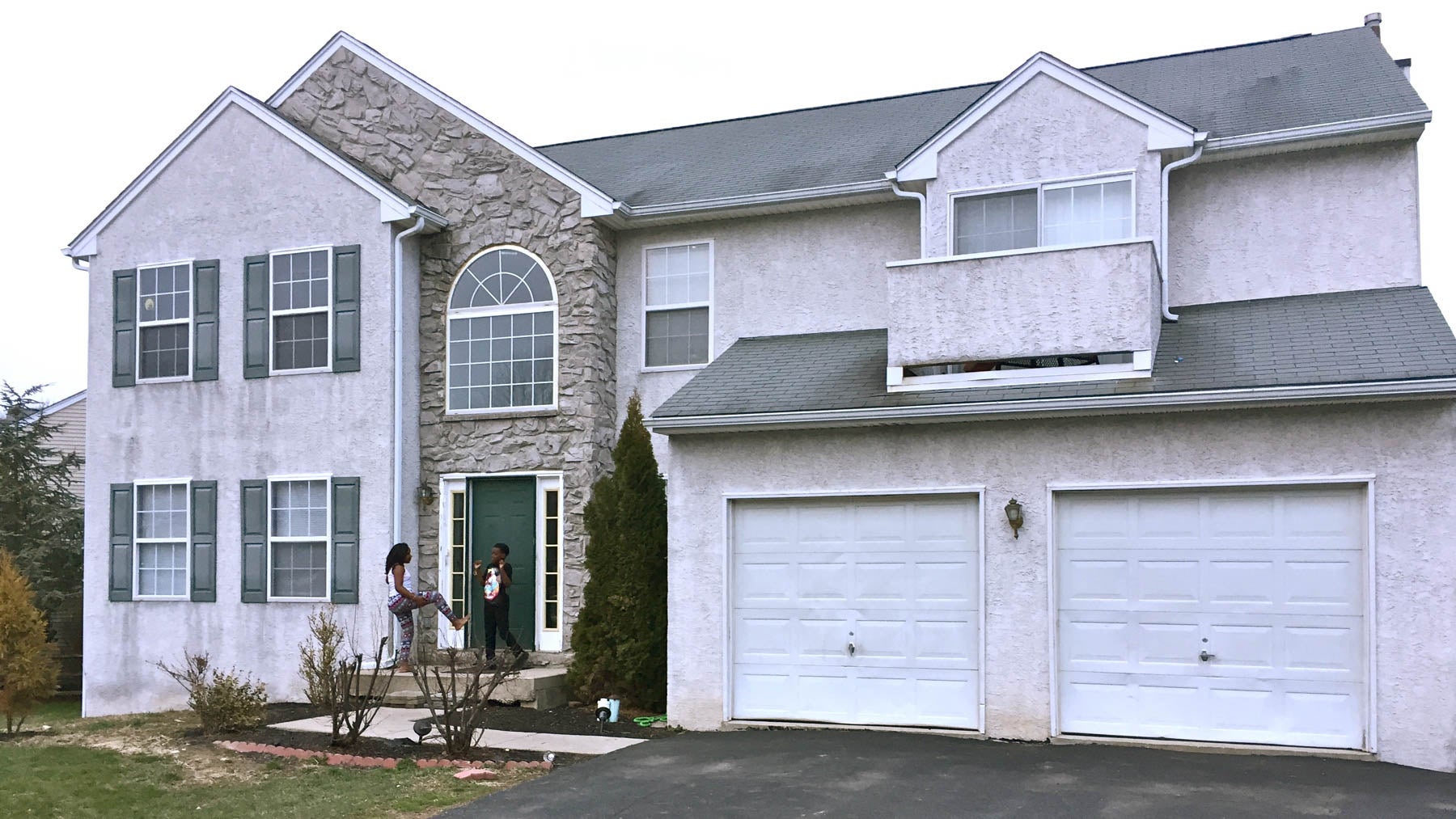 Durham has 35 grandchildren and 16 great-grandchildren. She calls them all her "grands." Over the years, in an effort to give her family a life she didn't have, she's taken in many of her grands. By 2014, she had 12 school-aged kids living with her and attending the Pottsgrove School District.
"I didn't know anything about residency papers," she said. "I just went. I told them who they were, and they went to school."
Things changed in the fall of 2014, when the neighbor told district officials the students didn't actually live at Durham's house. The district investigated and said it found evidence that nine of the 12 kids actually lived elsewhere.
At a hearing, the district presented testimony from two social workers, a district "attendance secretary," and a paid investigator. The district officials said they found a suspicious pattern of absences among the kids and what they considered flimsy excuses for those absences.
On one occasion, Durham told the attendance secretary some of the children were tardy because they'd spilled cereal on themselves and she had to wash their clothes. The secretary suspected the children didn't have clean clothes because they didn't actually live full time at Durham's house. The paid investigator also claimed he saw the mother of two of the kids in a car that was registered in nearby Pottstown.
Durham and her family had no witnesses at the hearing. They didn't know that was allowed. The school board eventually upheld the district's argument and removed the nine students.
Durham was dumbfounded. For four months in the middle of 2015, Durham's grands were completely out of school. She entertained them with impromptu home-school lessons  — and waited.
"The only thing that bothered me was that they were hurting my kids," she said, her voice breaking. "My kids didn't do anything to anybody."
Finally, lawyers from the Education Law Center intervened and convinced the district to re-enroll the children.
Pottsgrove declined our requests to speak about Durham's case or their residency enforcement methods. Eventually, Pennsylvania Commonwealth Court reviewed the case and determined the district never had enough evidence to toss out the students.
"I think it underscored everything that's sort of wrong in our system with regard to residency hearings," said McInerney, citing circumstantial evidence and the power imbalance in the disenrollment hearing.
Was it a case of racial bias, though?
Durham herself isn't sure, and she still doesn't know why exactly her neighbors reported her.
"They do have black friends, so it's not that kind of racial. I think it was status," she said. "I just think they felt as if I didn't belong here."
But Durham has stayed. Even though she and her "grands" still resent the neighbors, Durham doesn't regret moving to suburbia.
"Because what I wanted, I got, which was better life for my grands," she said.
Those grands won't have to daydream about a quiet life in the suburbs, she explained. They'll expect it. And perhaps their future neighbors will be willing to share it with them.
To see how many students your district suspected of residency fraud and ultimately disenrolled, see the map below. To view the key, click on the box on the top left corner.
School districts not providing data: Bristol Township, Central Bucks, Chester Upland, Coatesville Area, Garnet Valley, Great Valley, Hatboro-Horsham, Jenkintown, Kennett Consolidated, Lower Merion, Marple Newtown, Neshaminy, Norristown Area, Pennridge, Pennsbury, Pottsgrove, Pottstown, Radnor Township, Souderton Area, Springfield (DelCo), Tredyffrin-Easttown, Unionville-Chadds Ford, Upper Merion Area, West Chester Area
—

WHYY is one of 19 news organizations producing Broke in Philly, a collaborative reporting project on solutions to poverty and the city's push towards economic justice. Follow us at @BrokeInPhilly
WHYY is your source for fact-based, in-depth journalism and information. As a nonprofit organization, we rely on financial support from readers like you. Please give today.