Students learn to combat hate at Philly conference
The annual gathering hosted by the Anti-Defamation League aims to combat hate through a day of workshops and tough conversations.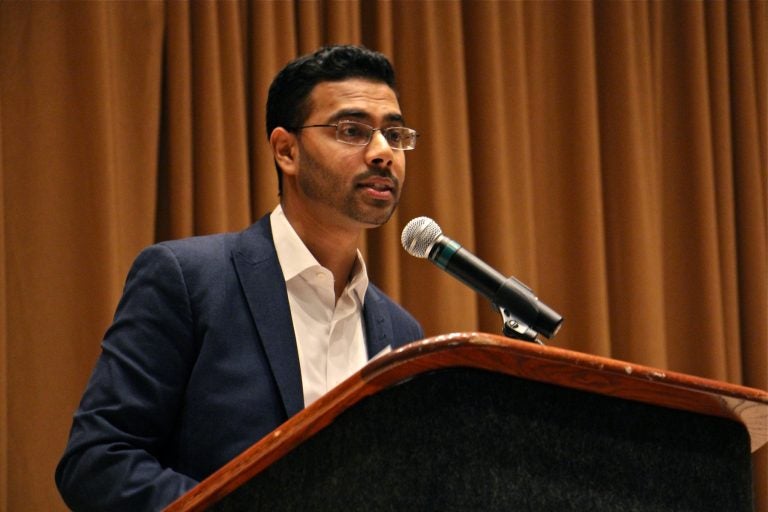 As his speech began, Akbar Hossain paused to take a selfie from behind the rostrum at the Pennsylvania Convention Center.
With a crowd that big behind him, he explained, who could resist a picture?
In the audience behind him sat nearly 500 students from 65 area high schools, all gathered in Philadelphia Thursday for the 11th annual Youth Conference hosted by the Anti-Defamation League. The conference aims to combat hate through a day of workshops and tough conversations.
And if the crowd looked big to Hossain, the keynote speaker, it also looked big to organizers. Participation was up 30 percent from the year prior.
"A lot of schools are experiencing hate incidents, bias incidents that they didn't have before or weren't as aware of before," said Lisa Friedland, one of the event organizers. "So I think the attraction to having a workshop where kids can come together to challenge these things is a lot more prominent this year."
This fall, the Delaware Valley has been plagued by an outbreak of racially charged incidents at local schools. There's been racist graffiti in Bucks County, racial slurs hurled in Montgomery County, racist social media posts in Chester County, and a racially charged fight in South Jersey.
Thursday's conference was designed to combat intolerance through targeted lessons and the sort of passive learning that comes through face-to-face interaction.
The day began with a series of workshops on bias and bullying. Students, for instance, learned about becoming an "upstander" rather than a bystander when they see peers harassing another student.
"[At] all high schools there's a lot of gossip, and it just happens. And everybody participates," said junior Katie Hamelin from Newark Charter School in Delaware."I have before and I really wish I didn't or said, 'Guys, that's not OK.' "
'You can't hate what you know'
Another lesson, called the pyramid of hate, told students that daily injustices or examples of intolerance form the base for larger, societal transgressions such as genocide.
For the first part of the day, students split into groups where they interacted with peers from other high schools. Simply by being exposing kids to people from different backgrounds can  curb bias and hate, organizers said.
"We like to say, you can't hate what you know," said Friedland.
After the first round of workshops, students reconvened with classmates from their home schools to discuss how they can spread what they learned in their communities.
"I got lots of ideas that I could bring back to my school and make my school better," said Maria Robinson-Jimenez, a junior at Mariana Bracetti Academy Charter School in North Philadelphia, who hopes to jump-start more peer mentoring programs.
Robert Watson, a junior at Valley Forge Military Academy, said he learned skills that will make him a better platoon leader. Specifically, he think he can be a better listener.
"I'm drumline captain, and I don't listen to well to what other people have to say," he said.
Brendan Hannum, a junior at Boyertown Area Senior High School, said his predominantly white classmates too often fail to treat students of color with a "warm tone." He hopes to help change that when he heads back to class.
"What we showed everyone today is what it really means to have an open mind," Hannum said.
WHYY is your source for fact-based, in-depth journalism and information. As a nonprofit organization, we rely on financial support from readers like you. Please give today.