Philly artists recreate gigantic 1973 'Rube Goldberg' orchestra
Now on display at the Pearlstein Gallery in Drexel University's URBN Annex, "Zwei Mann Orchester" is a musical Rube Goldberg machine that delights with its symphonic absurdity
Listen
4:04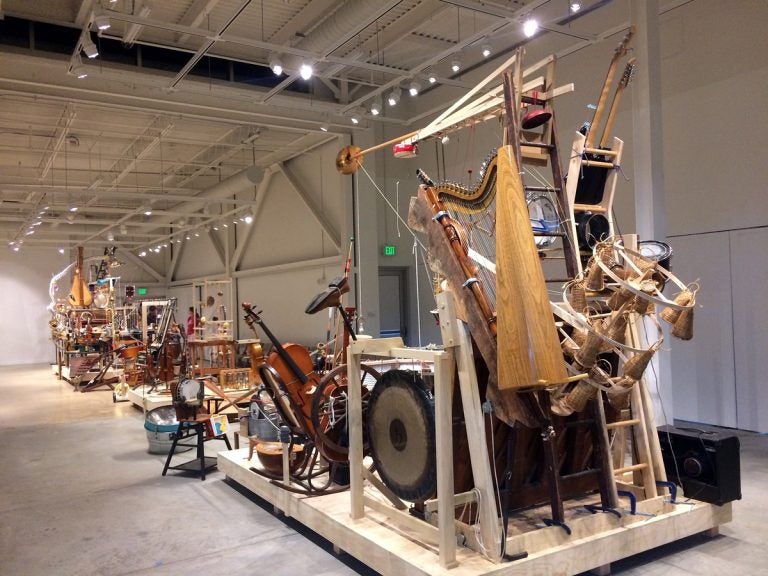 Zwei Mann Orchester will be performed at 7pm on May 13, 17, 20, and 24 at the Pearlstein Gallery, URBN Annex, 3401 Filbert St.
Tickets are $15 (but sold out) and standing-room-only tickets are free.
"Sound Machines" exhibition on display until May 31. Tuesday through Sunday, 11am – 6pm.
"Build your own Sound Machine" workshop from 1 to 5 pm. on May 19 at Tiny WPA, 4017 Lancaster Ave.
A bouncy ball that plays the harp. A tree of saxophones, blown not by mouth but by air pump. Two saws that bow the cello. These fantastical instruments are linked by strings and pulleys in a sculpture that stretches over 60 feet long and towers high above its performers. Now on display at the Pearlstein Gallery in Drexel University's URBN Annex, "Zwei Mann Orchester" is a musical Rube Goldberg-type machine that delights with its symphonic absurdity.
Two musicians, Ashley Tini and Andy Thierauf, play every instrument without ever moving from their seats at opposite ends of the sculpture, more than 40 feet apart. They pull strings to shake maracas halfway across the room and strap on helmets equipped with rainmakers. More than 200 instruments make up the installation, and all are played in unexpected ways. That's part of the fun.
On opening night, the audience looked on in gleeful suspense, trying to guess what would happen next, laughing when, time and again, their expectations were upended.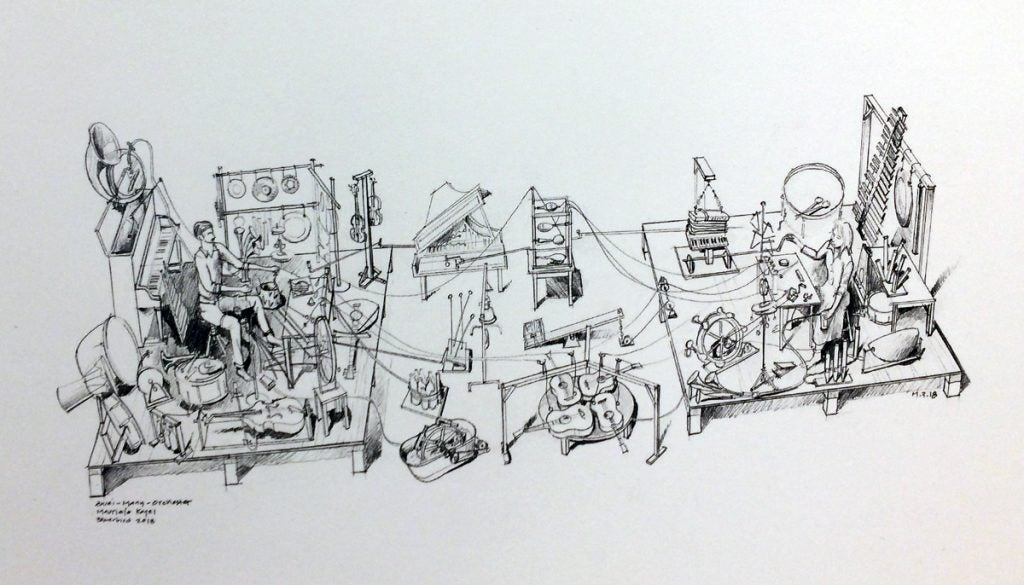 "There is the anticipation of waiting for something to happen, and then it gets revealed," said Dustin Hurt, artistic director of Bowerbird, the Philly-based experimental music organization that brought the artwork to life. "There's this playfulness of it, but then you get drawn into the sound."
Created by avant garde musician and artist Mauricio Kagel and first performed in 1973, "Zwei Mann Orchester" sounds like a series of experiments — or maybe like an orchestra and a flea market thrown into a slow-motion blender. Each instrument is played just once, giving the audience an opportunity to appreciate what happens when a rolling pin covered in suction cups is pushed across the head of drum or when a chain is pulled along a ladder of cymbals. The sounds are sometimes haunting, sometimes silly, sometimes dissonant, but they always keep the audience engaged.
Bowerbird's production is only the fourth time "Zwei Mann Orchester" has been performed, and it's the first iteration in the United States. It is based on a score by Kagel, but he left the piece highly open to interpretation. Anyone who wants to perform the score must first build a sound-generating machine. Kagel lets the artists decide which instruments to create and how to play them.
For this version, Hurt, Tini, Thierauf, and three builders, Yona Davidson, Scott Kip, and Neil Feather, spent four months in the studio trying out possible sounds. There were some instruments they wanted to recreate from earlier versions, including a waterwheel of beer bottles. The end result, however, was largely a product of their collective passions. Both Kip and Davidson work on the restoration of the Wanamaker organ, so the piece incorporates — what else? — pipe organ parts.
Kagel, who was born in Argentina and spent much of his life in Germany, collaborated on the first three versions of the work with the German guitarist Wilhelm Brück. Brück served as a consultant for Bowerbird's production.
Kagel's original score indicates not only rhythms and melodies, but, at times, body parts. As in, play with head, shoulder, chest, and foot.
"That helped shape the instruments, too," said Tini, a percussionist and ethnomusicographer. "I can play this with my hand, but can I play it with my face? It is kind of an extension of ourselves."
Tini and Theirauf, in matching jumpsuits, play their parts in a perfect straight-faced slapstick. But it's not all funny.
"This piece is also critical of the orchestra as an institution," said Hurt. "There's a political statement being made about returning music to something that everyone can do and limiting the elitist aspect by diminishing the importance of virtuosity. So, yeah, we can't play violin like Paganini, but we can make interesting music with the violin."
"It's really a piece that's pushed by curiosity, for listeners and artists," he continued. "If you have curiosity for our world, it's a really exciting piece to encounter."
Sure enough, on opening night, I witnessed a little boy trying to make sense of a zimbelstern — a circular toy organ mounted with a cluster of bells. "That might go that way, and then hit the little things, and then, hmmm …" he mused, trying to follow the series of strings. Bowerbird has also partnered with Tiny WPA, a nonprofit that teaches building skills, to host workshops for people who want to build musical contraptions of their own. The next one is May 19.
"Zwei Mann Orchester" is on display until May 31, with performances on May 13, 17, 20, and 24. Tickets for seats are sold out, but free standing-room-only tickets remain. RSVP before they're gone.
---
This article is part of a new effort recommending things to do in the Philadelphia region.  Tell us what you think.
WHYY is your source for fact-based, in-depth journalism and information. As a nonprofit organization, we rely on financial support from readers like you. Please give today.