Museums' Super Bowl bet nets Philly a portrait of patriot
The Philadelphia Museum of Art made a bet with the Museum of Fine Arts Boston over the Super Bowl. On Friday, the victor reaped its spoils.
Listen
2:22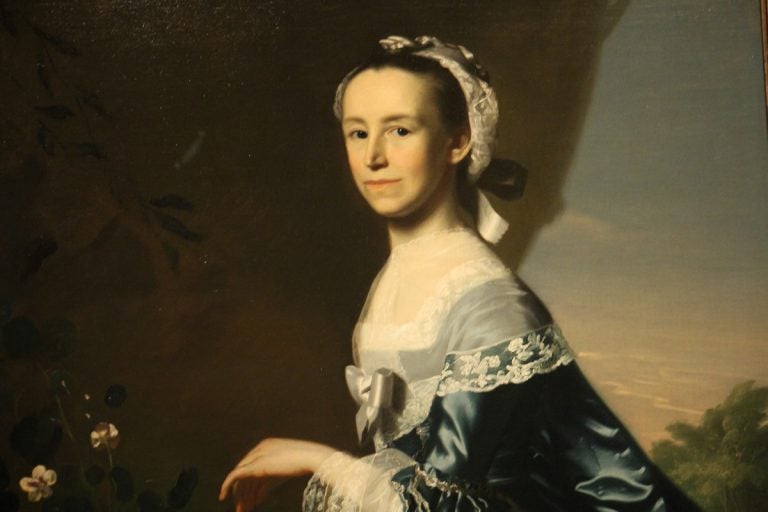 The Philadelphia Museum of Art made a bet with the Museum of Fine Arts Boston over the Super Bowl.
On Friday, the victor reaped its spoils a month after the Eagles outplayed the Patriots.
Philadelphia now has an iconic Bostonian painting for the next three months. MFA Boston delivered John Singleton Copley's "Mrs. James Warren (Mercy Otis)" to the Philadelphia Museum of Art's American galleries. It's a portrait by one of the greatest 18th-century American artists of a prominent Colonial-era woman.
Mercy Otis was formidable in her age. Highly educated in a time when few girls had formal schooling, she wrote satirical plays and political poems meant to push the American Colonies toward revolution against the British king.
Philadelphia Museum of Art curator Kathleen Foster called her the Tina Fey of her day, but she remained anonymous for most of her life.
"Because of the difficulty of being a woman intellectual in this period, she didn't publish under own name," she said. "Because [her writing was] incendiary politically, and because she was a woman. She was afraid — and her family was afraid — that her position would be disparaged if it was known a woman had written it."
Toward the end of her life, Otis published — finally under her own name — the three-volume "History of the Rise, Progress, and Termination of the American Revolution" (1805). Although it was criticized at the time because of the author's gender, it was mandatory reading for everyone in President Thomas Jefferson's Cabinet.
Otis was a woman of society, supported by the men in her life: her husband, father, and brother were all agitators against the crown. Her brother, James Otis, a lawyer and member of the Massachusetts Assembly, coined the phrase, "Taxation without representation is tyranny."
"She came from this nest of unhappy Colonists," said Foster.
The artist, on the other hand, was a loyalist to the British crown. When Copley painted  Otis' portrait around 1763, he was a young, self-taught artist in his early 20s and already a sought-after talent. Now considered one of the greatest American painters of his age, he made his living by attracting patrons in high society.
He was on the opposite side of the political fence from Otis. Ironically, as he painted this outspoken woman fighting for country and gender, Copley kept his mouth shut to avoid alienating the sitter.
He also made her beautiful. Copley placed Otis, dressed in a dazzling blue gown, in a fantasy bucolic setting with nasturtiums. The determination of her countenance is matched by the lush folds of her satin dress.
"He is giving her a moment of charm and glitter in this amazing blue dress," said Foster. "The way Copley could paint satin is extraordinary. He paints the silver thread of the lace with a fantastic virtuosity."
This is not the first time the MFA Boston has gotten into a Super Bowl challenge with a rival city, usually via social media trash-talking and images of iconic paintings doctored into football memes.
With five Super Bowl rings to the New England Patriots' credit, Boston had became accustomed to winning. This year, the stakes were higher, with revered pieces of art on the line. The Philadelphia Museum of Art had put Benjamin West's "Benjamin Franklin Drawing Electricity from the Sky" (1816) on the table.
"And why not? It's fun," said museum president and CEO Timothy Rub. "We also have a really good relationship with our colleagues in Boston. We are in the business of lending and borrowing pictures all the time. In that sense, you could consider it business as usual, but it was a wonderful way of activating our collections in supporting a great civic event."
The timing of the loan could not be more appropriate. Not only does it mark a landmark sports victory, but the arrival of Mercy Otis comes in time for Woman's History Month and as the #MeToo movement is changing American culture.
WHYY is your source for fact-based, in-depth journalism and information. As a nonprofit organization, we rely on financial support from readers like you. Please give today.