An immigrant's tale of becoming Philadelphia's lawyer
After two years as Philadelphia solicitor, Sozi Tulante has resigned to teach at the University of Pennsylvania Law School.
Listen
6:09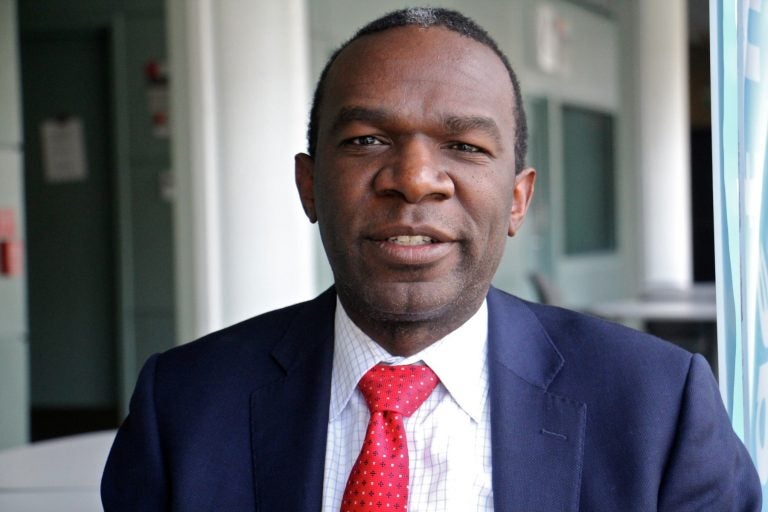 Friday was Sozi Tulante's last day as Philadelphia City Hall's top lawyer as he ended his two-year tenure as city solicitor to teach at the University of Pennsylvania Law School.
While overseeing the city's 216 attorneys, Tulante, 42, led civil suits against Wells Fargo over alleged predatory lending to black and Hispanic borrowers, opioid manufacturers over their role in the city's drug-overdose crisis, in addition to the city's ongoing legal battle over Mayor Jim Kenney's tax on soda and other sweetened beverages. On top of that, Tulante argued successfully in court against the U.S. Department of Justice to defend the city's "sanctuary city" status.
WHYY's Bobby Allyn sat down with Tulante to reflect on his time as the city's chief civil attorney, how his former career as a federal prosecutor compared with being city solicitor and his own story of immigration.
The interview has been edited for brevity and clarity.
Bobby Allyn: A solicitor to some people might sound like a centuries-old British occupation. Can you just explain what it is that the city solicitor does?
Sozi Tulante: Right, people think I'm English, or I wear I wig, or something like that, but really, the solicitor is something recognized by the Home Rule Charter as the person responsible for the city's legal affairs. I represent the city when someone sues the city or when the city files a lawsuit.
The most common misperception is that it's an elected or political position, that if you make a decision, that it's a political position. Many people don't understand that people who have historically held the office are distinguished lawyers. In addition, sometimes you have to translate legalese for people. A lot of my time has been to talk about hot-button issues in the legal context to politicians. I have to tell them, if we file a lawsuit, we have to make sure it has legal merit, so if a judge gets it, they recognize it as something to take seriously.
BA: Some of the cases you've been involved in have been in the news quite a bit, in particular the city's lawsuit over preserving federal grant funding under threat by the city's "sanctuary" status. Can you talk about that case?
ST: The first thing I try to clarify when I talk about that case is the label "sanctuary city" is not one I ascribe to because it may have legal meaning, so I go really quickly into our policies. That issue is really, for lawyers, a very sexy issue. It talks about the limits of federal power and the ability, or inability, of the government to condition, as part of its spending power, some conditions that have nothing to do with criminal law enforcement. Given a lot of the new conditions the Department of Justice placed on public safety grants we had been receiving for a decade, we proactively went to court. It's something Mayor Kenney made clear would be decided in a court of law. The DOJ was trying to make us adopt the federal government's view of immigration enforcement, even though, in our view, it makes us less safe and makes our immigrant community members go into the shadows. That's something we don't want.
So we had a hearing. I put Police Commissioner Richard Ross on the stand, so I could say, "Your Honor, you don't have to listen to me, you can listen to Ross, a 28-year veteran of the Philadelphia Police Department." And the judge recognized the value of the police department being able to reach out to the immigrant community, saying if we reverse that and start asking for status and reporting people to Immigration and Customs Enforcement, victims won't come forward, and informants will not come forward. Then Health Commissioner, Dr. Tom Farley, took the stand to say, vaccines and diseases don't stop because of someone's legal status. We need to get everyone vaccinated and make sure they're not afraid to do so. It showed that the argument  over immigration policy became counterintuitive and just doesn't make sense.
Then Judge Baylson issued a 128-page opinion enjoining them from putting their new conditions on the funding, which, by the way, is going to be devoted to increasing the city's use of Narcan to help combat the opioid overdose epidemic.
BA: You have a immigrant story. Your family came to Philadelphia when you were 8 years old from what is now the Democratic Republic of Congo, where your father was a political prisoner. Can you tell me more about that?
ST: Yeah, my dad was a political prisoner in the Congo, and we were able to get him released and sought asylum in various countries, and the first country to let us in was the United States by that radical leftist Ronald Reagan (laughs) in 1983. My mother, my father, my two younger siblings — and my mom was nine-months pregnant. We all came to North Philly. My dad drove a cab. We were raised on the hardscrabble streets of Hunting Park, Ninth and Erie is where I grew up, which was pretty tough, but we managed to make it.
BA: And you yourself, as an immigrant, were arguing in court over the "sanctuary city" case in federal court, which goes to the heart of how governments treat immigrants. Did that have any special personal resonance for you?
ST: It has some personal resonance — first of all, I was part of a team — but the real reason I wanted to be involved is because I think I'm a good lawyer, and I know the immigration stuff pretty well as a former federal prosecutor — the interplay between federal immigration law and local law enforcement. I think it was symbolic for the judge to see evidence presented by the city solicitor from the police commissioner that this is of the highest priority. So, there was a personal resonance, but even if grew up in Lower Merion and was in the suburbs, I'd still be doing it, because it's so important for the city. And it's also important to set an example for other cities.
BA: With U.S. Attorney General Jeff Sessions' continued war with cities and states over the "sanctuary city" issue — most recently, Sessions taking California to court — how does the role of a city law department like Philadelphia's change in this environment?
ST: You can't sit back and be passive. It provides an opportunity for partnership with other cities; many of them filed amicus briefs for our case. And we all exchange ideas. Partnerships with local law firms. Because after Trump was elected, private lawyers kept coming to us saying, 'How can we help? How can we help?' But we wanted to do it in a way that made sense, working with firms that had resources and really throw us the best attorneys. And also, working with our Office of Immigrant Affairs and the police department to find ways to hear the voices of the immigrant community. When people were afraid, they weren't going to the federal government they were coming to us. And we're all trying to reduce the anxiety so people feel like they belong here.
BA: When you see Sessions suing California over the "sanctuary city" issue, does that send a chill through Philadelphia's City Solicitor's Office?
ST: It probably sends a potential chill to our residents, not to the solicitor's office, because we've been studying this issue for years. In fact, we were ahead a lot of other cities, since we recognized early on that this was going to be a contested issue. We're ready for whatever may come. A natural question is, 'Are we next?' But the best person to answer that is Jeff Sessions. He's going to do what he's going to do. The city is well positioned, whatever happens. We have eight to 10 attorneys working on it. Some people don't realize that the 10th Amendment exists, and it's a fairly conservative principle that our rights that are expressed here are reserved for states and localities. So the extent that you start commandeering local law enforcement and prison officials to enforce federal law, you run right up against it.
BA: Going back a little bit: You arrived in Philly as a little boy and grew up in North Philly. You went to Philadelphia public schools before going off to Harvard then Harvard Law School. Then you were a federal prosecutor for five years before becoming the city's top lawyer. How did the job as city solicitor compare with prosecuting crimes for the federal government?
ST: It's very different. First of all, I'm managing a lot of attorneys. But putting that aside, the job of solicitor is doing a lot of counseling. Talking to people and trying to resolve problems. As a prosecutor, by contrast, you sometimes get frustrated when you're dealing with problems at the back end. People make mistakes. And sometimes people make really catastrophic mistakes, and when you read their presentence report, it's a parade of horribles. Growing up in a bad household, or going to bad schools, or dropping out and not really having any skills. And they pursue a life of crime.
Working here, I got to deal with some of these issues on the front end, particularly talking about education, local control of schools being resumed, and the mayor's expanded pre-K — things we didn't have in North Philly. We didn't have those resources, and it was very difficult for people to advance. I got lucky. I had a father figure, but not everyone does. As a prosecutor, you're asked to be a teacher when the schools fail, a social worker when social services fail and a prosecutor — and you're using a hammer and not a scalpel to get things done.
BA: You're moving on after just two years? Why?
ST: By way of background, most solicitors — if you start with Alan Davis, the solicitor under Mayor William Greene in the 1980s — it's basically been a two- to three-year job. And part of it is because it takes a lot out of you. You have to manage a department. You're counsel to City Council, the mayor, the police commissioner. You also have things you want to do, but then you open the paper, and that becomes a priority. And at a certain point, you just want to do something else, and that's where I found myself.
BA: Another aspect of the job is overseeing lawyers who are negotiating settlements with people who have legitimate claims against the city. For instance, every year the city pays out around $10 million a year to settle allegations of police abuse or misconduct. And that number has been fairly consistent over the years. Why is that?
ST: It's a relative number. But one of the things we have been seeing is, after the shooting of Michael Brown in Ferguson in 2014, our shootings have actually gone down. But you're always going to have liability. I settled the largest police settlement in the history of Philadelphia for $4.4 million. But people are more conscious of this issue, especially with social media, so the cases that are brought are cases that you have to fully evaluate. With approximately 6,600 police officers, there are always going to be issues. For the most part, most go out there and do their job, but it's not a big story when we defeat a claim brought against one.
BA: What have you learned about Philadelphia that you didn't know before becoming city solicitor?
ST: I've learned that they can throw one heck of a Super Bowl parade fairly quickly. Overall, though, our ability to do big events very quickly. The Democratic National Convention, NFL draft, Made in America … the nimbleness of the police department and emergency services to really get together very quickly and be able to host these events.
BA: But as a legal liability guy, wasn't watching some of the shenanigans during the Eagles parade stressing you out?
ST: People don't like being around me because I look at things differently. I'm not just a lawyer, I'm the lawyer for the city, which means you always look at potential liability. But also, I also look at the hundreds of other people who go about minding their own business and do things the right way, while also knowing social media will explode with people jumping on top of the Ritz and that type of stuff.
WHYY is your source for fact-based, in-depth journalism and information. As a nonprofit organization, we rely on financial support from readers like you. Please give today.