Monmouth Beach ban on plastics — most comprehensive in N.J. — off to smooth start
Merchants say there's been a period of adjustment since the ban started June 1, but most customers are taking it in stride.
Listen
5:53
Plastic trash is deposited at the high tide line at Monmouth Beach, New Jersey, where local merchants are banned from using plastic straws, styrofoam food containers, and plastic bags. (Emma Lee/WHYY)

A ban on plastic straws, plastic bags, and Styrofoam food containers in Monmouth Beach has met with near universal approval from the towns 3,400 permanent residents and a dozen or so affected businesses. How the town's summer visitors will take it remains to be seen. (Emma Lee/WHYY)

Ashley Cozzi serves up a smoothie without lid or straw at the Monmouth Beach Bathing Pavillion. (Emma Lee/WHYY)

A ban on plastic straws and bags in Monmouth Beach can't prevent trash from other towns from washing up on the beaches, but supporters say it's the right thing to do and hope it will start a wave of environmental awareness. (Emma Lee/WHYY)
Tina Cros has sold beverages at the Jersey Shore for years, but this is the first time she's had to tell her thirsty patrons that they won't be able to sip their drinks through a straw.
"Every single customer says, 'Can I have a straw?' " said Cros, who runs the food concessions at the Monmouth Beach Bathing Pavilion. "They're like, 'How am I supposed to drink it?' I'm like, 'Your mouth. A cup.' It's funny. It's really funny. People look at it, and they're baffled."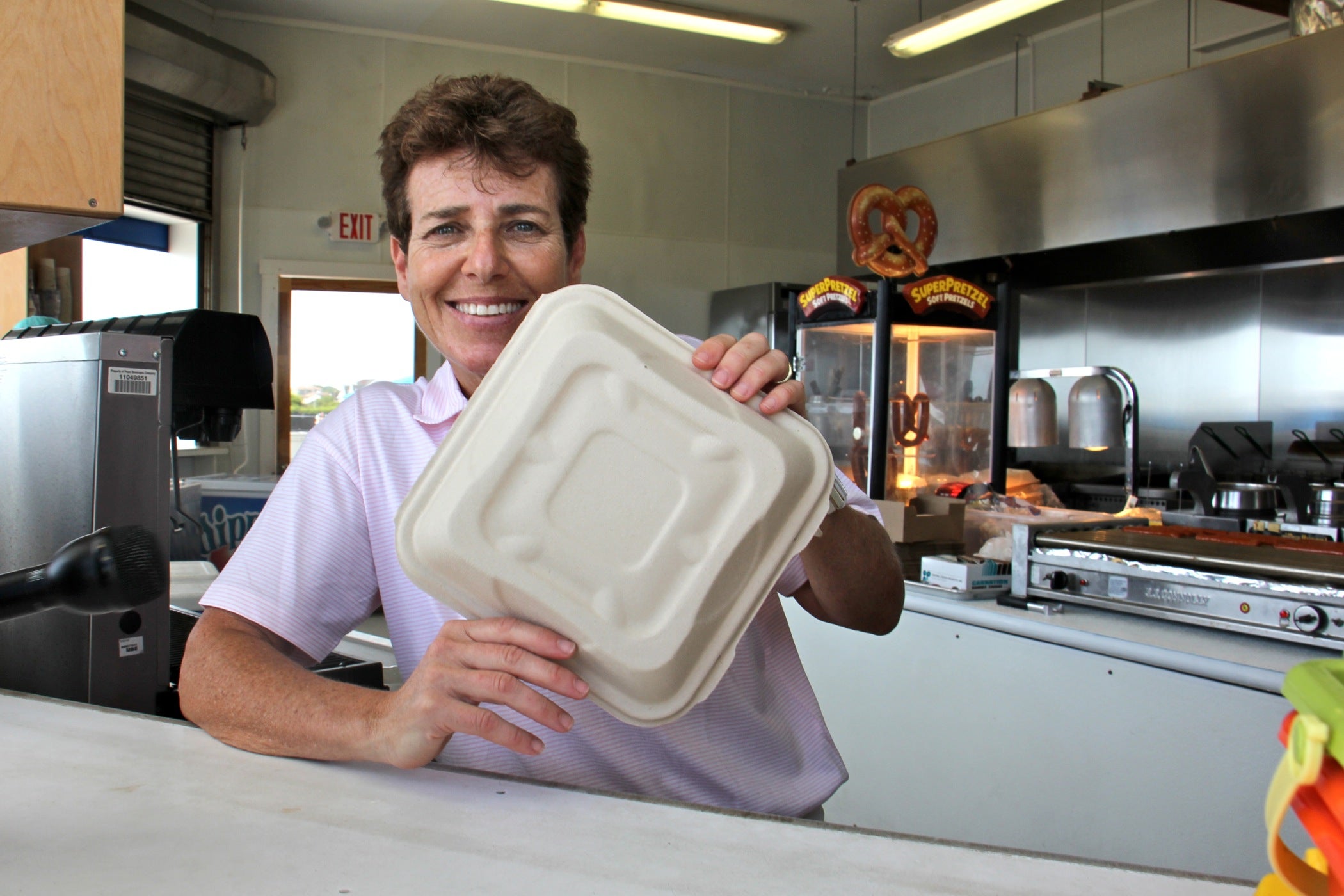 Cros isn't withholding straws to be a jerk. She's complying with a new Monmouth Beach ordinance that bars businesses from giving out plastic straws, single-use plastic bags, and polystyrene containers such as Styrofoam.
Borough officials passed the ordinance in May to reduce the amount of plastic and polystyrene litter on the beach, the bay shore, and in the water.
Plastic and polystyrene waste not only serves as a blight on communities that rely on summer tourism. When it washes into the ocean or other waterways, it can become a hazard to fish and marine life, scientists say.
"If you live on the Shore, and you walk on the beach, and you see plastic straws and Styrofoam containers, you know what the damage is," said Monmouth Beach Mayor Sue Howard, who voted for the ban, which took effect on June 1.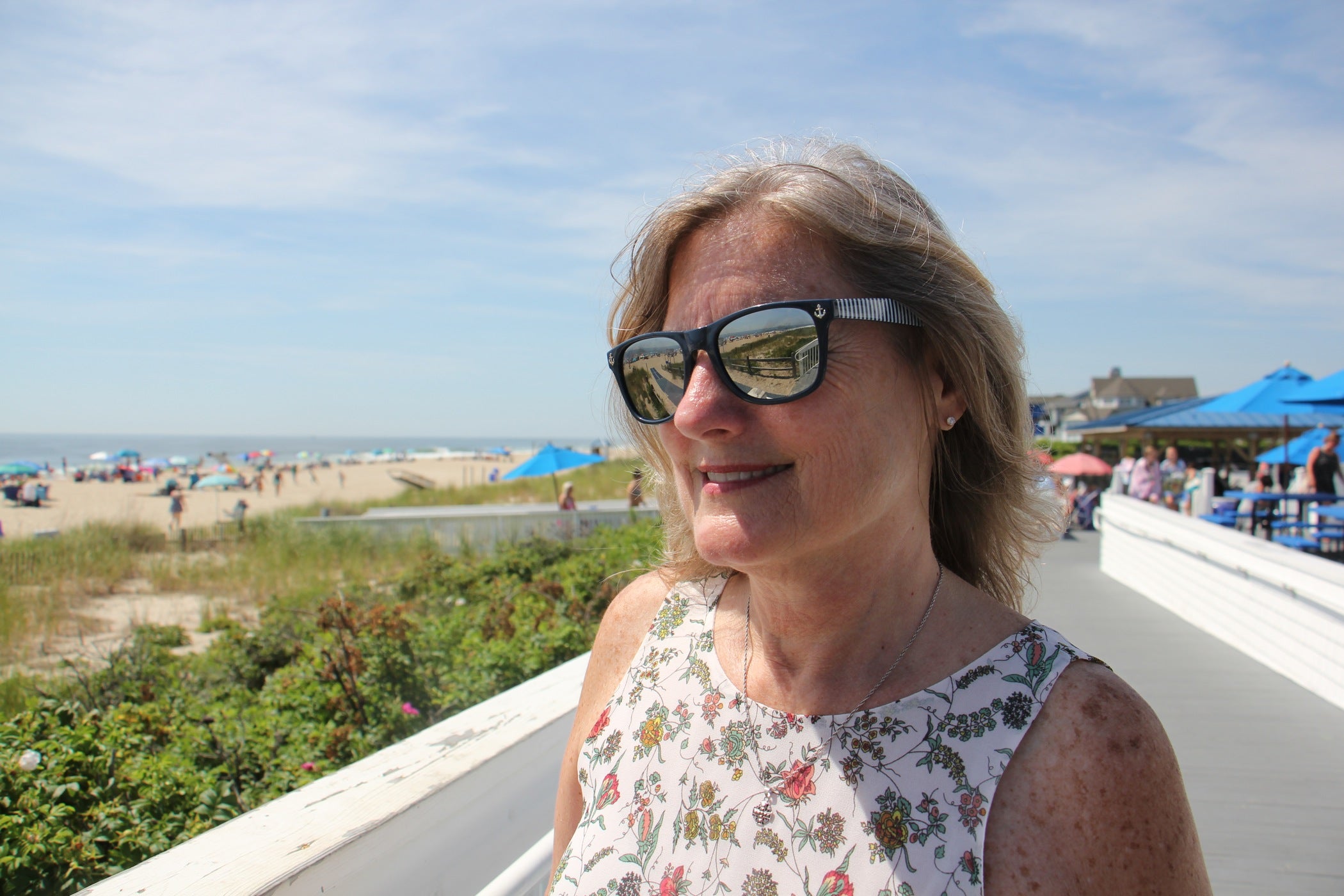 A growing cadre of municipalities in New Jersey and beyond have instituted similar bans to cut down on plastics and other materials in the environment.
Jersey City and Hoboken — as well as Shore towns like Long Beach, Belmar, and Point Pleasant Beach — have all banned single-use plastic bags. Teaneck, Longport, and Ventnor each have put a 5- or 10-cent fee on plastic bags.
The state Legislature has passed a bill calling for a 5-cent fee on plastic bags statewide, but Democratic Gov. Phil Murphy has yet to sign it.
Seattle is believed to have just become the first major city in the U.S to ban plastic straws and utensils.
Garden State environmentalists say Monmouth Beach's ban on plastics and polystyrene is the most comprehensive of its kind in New Jersey.
And there has been a slight learning curve.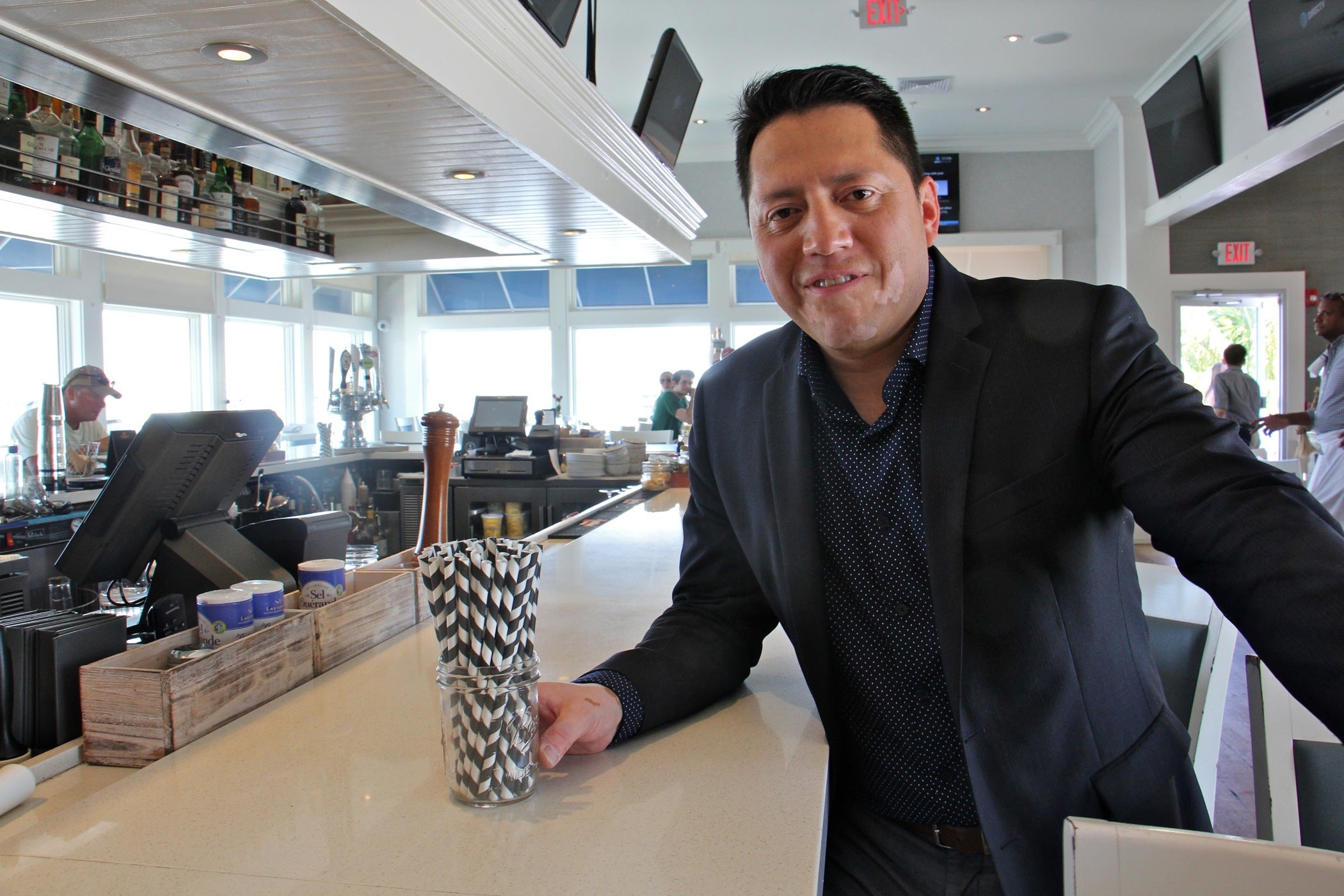 "It was a little hard for people to get out of that mode of having that straw," said Arturo Rojas, general manager of Beach Tavern in Monmouth Beach. "But now that they know that we're trying to contribute a little bit to the environment, a lot of them have been very supportive."
Beach Tavern gives out paper straws if a customer asks, and the restaurant has started using paper takeout cartons, too.
It's an adjustment
Tina Cros said her customers had to get used to the new rules, as well.
"In the past, I have to admit, I trained my staff to always give a lid and a straw because it keeps the line moving," Cros said. "The people here got used to that. So when I did a 180 [degree turn] on them, they were like, 'Wait, something's missing.' "
While Cros was speaking, her friend and former colleague Melinda Gravell approached the counter and ordered two fountain sodas.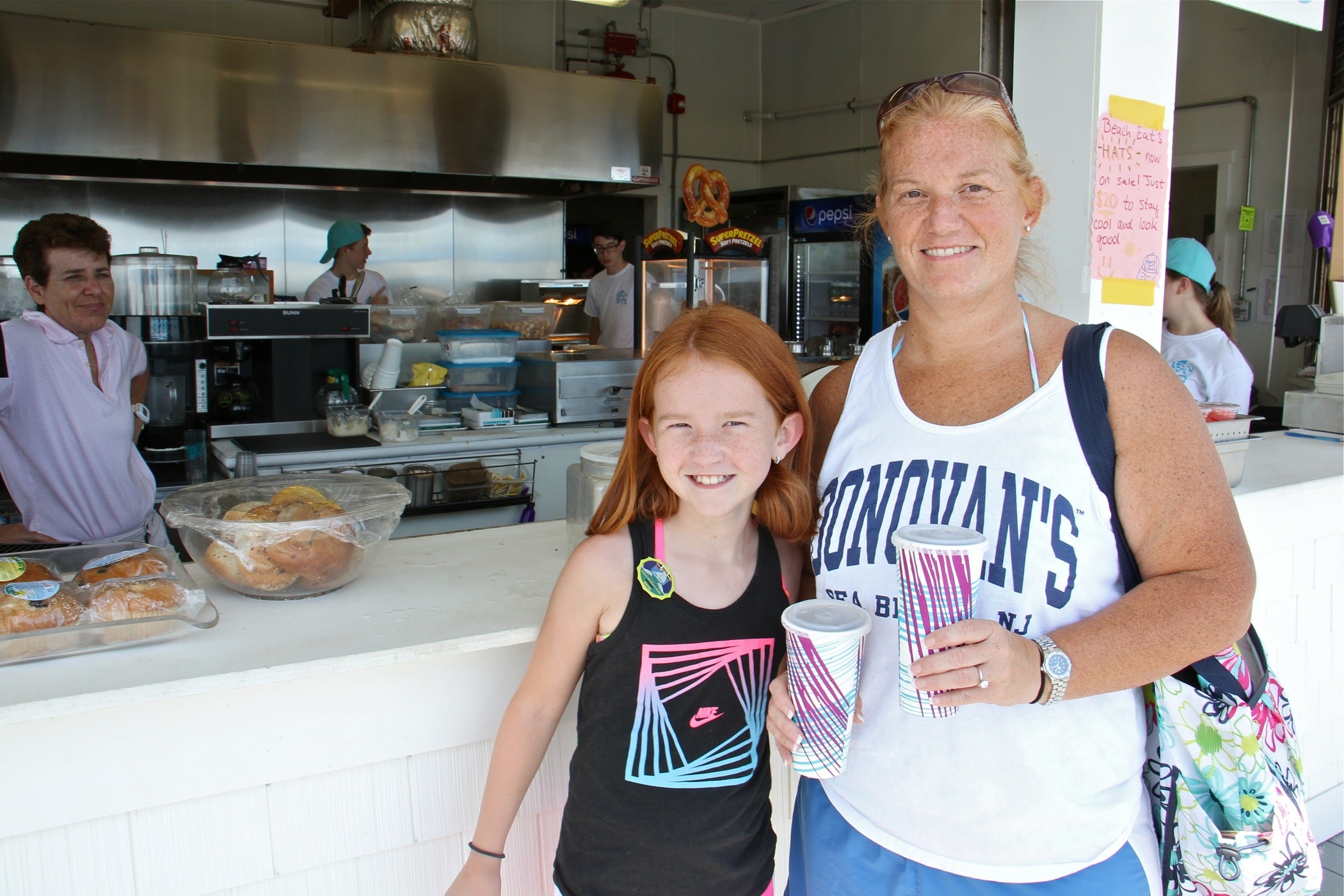 Gravell was headed to the beach and wanted plastic lids and straws for her drink. Explaining that the new Monmouth Beach ordinance prevented her from giving out straws, Cros added that she would give Gravell two lids because she requested them.
"Environmentally, I love it," Gravell said of the ordinance. "But it's not good for convenience."
Neither the concession stand at the Monmouth Beach Bathing Pavillion nor Beach Tavern has increased prices to compensate for the compostable replacements for plastics and polystyrene, which are slightly more expensive.
And both Cros and Rojas said they support the ordinance — even if it makes businesses a little more difficult.
But just because Monmouth Beach banned its businesses from giving out plastic straws, plastic bags, and polystyrene containers, that doesn't mean those items don't still appear on the beach.
"We did not ban use of the straws. We banned distribution at the establishments," said Colette Buchanan, a member of the Monmouth Beach Environmental Commission, which spearheaded the ban.
Although businesses within the geographic bounds of Monmouth Beach cannot give out plastic bags and straws and polystyrene containers, residents and tourists can still bring in those items from out of town.
Buchanan said some of the motivation to institute the ban was to get people thinking more consciously about the environment and their role in it. "Part of what we hoped for by passing the ordinance is not only to ban [those items] in our town, but to educate people and bring the problem to people's attention so that they become more aware of the problem and take steps on their own to address it," she said.
Officials in Monmouth Beach are willing — even eager — to explain their approach to other towns.
Howard said more then 20 municipalities across New Jersey have already contacted her, wondering how they too can ban plastic and polystyrene items.
Howard said she hopes the ban catches on and that other municipalities, or even the state government, put a similar prohibition in place.
"When I was a little girl, we didn't have [Styrofoam]. We had paper straws when I was young," she said. "We can live without these plastics."
WHYY is your source for fact-based, in-depth journalism and information. As a nonprofit organization, we rely on financial support from readers like you. Please give today.