Love them or hate them, lima beans could be key to climate resilient crop
A new collaboration of scientists, farmers, and foodies are giving the lima bean a makeover. But will people actually eat them?
Listen
9:29
This story is from The Pulse, a weekly health and science podcast.
Find it on Apple Podcasts, Spotify, or wherever you get your podcasts.
---
On a misty, spring day in May, about a dozen volunteers gathered at Plowshare Farms in Pipersville, Pennsylvania to sow different varieties of lima beans.
Farmer Teddy Moynihan handed over the seeds to volunteers — some shades of white, pinkish brown, and some speckled as the crew planted them down a long, brown field.
Moynihan said he's grown green beans, garbanzo beans, and heirloom dry beans, but he's never had much success with lima beans.
"I think most people only know limas as being the big, frozen, green bean, and they're much more than that," he said. "So, we are hoping to not only see what varieties grow best here, but also see what varieties taste the best."
This new planting is an experiment. It's part of a four-year research project out of the University of California, Davis — that spans seven institutions in six states including Delaware Valley University, in Doylestown, and the University of Delaware. Scientists, producers, chefs, and small-scale farmers like Moynihan — all collaborate to unlock the genetic and consumer potential of lima beans in the U.S.
Researchers on the project say lima beans are more resistant to climate stressors, including heat, drought, or high moisture than the more popular common beans like string beans, pinto beans, and navy beans.
"We don't just think about climate change. We experience climate change out here," Moynihan said.
He and his wife, Faith, started Plowshare Farms about 10 years ago. They raise chickens, pigs, berries, and vegetables that they sell to restaurants in Philadelphia.
Moynihan says he got into farming because he wanted to eat more locally and grow food in a sustainable way.
"And it would in some tiny, infinitesimal way mitigate climate change. But the irony is that we are a very susceptible industry to climate change."
Since he's been farming, Moynihan says he's seen hotter temperatures, drier seasons, and earlier frosts.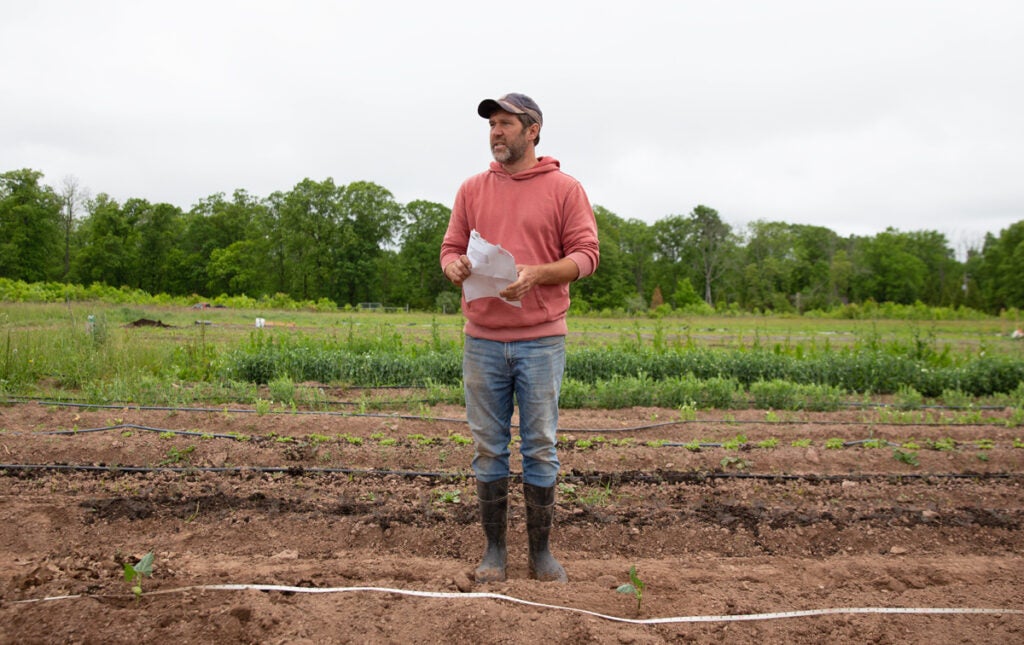 A 'climate smart crop'
Research scientist Sarah Dohle traveled from Washington state to help with the planting. Although she admits she never cared much for lima beans growing up, today, she may be their biggest champion.
Dohle's job is phaseolus curator or bean curator for the U.S. Department of Agriculture. She's in charge of making sure the department's seed collection is safe, growing, and distributed to researchers around the world. She even carries a purse that has "Bean Queen" embroidered on it.
Dohle calls lima beans a "climate smart crop."
"Wild lima beans have adapted to grow in hotter, drier, wetter, colder, more stressful climates than wild common bean," said Dohle. "And so, we think that lima bean cultivated types that we grow could also be more stress tolerant. So, lima beans potentially can grow in environments that common beans can't grow in."
Wild lima beans naturally grow in Central and South America. They have robust root systems that can go deeper than other plants and so in times of drought they can still access water and nutrients in the soil. Like other legumes, lima beans are nitrogen fixing — they can build their own plant food — and are a good rotation crop for the soil.
But one challenge to growing lima beans in the Northeastern part of the U.S. is that many varieties are photosensitive. They need 12 hours of light and 12 hours of darkness to flower. At a northern latitude like Bucks County, Pennsylvania, 12 hours of darkness doesn't happen until September.
"And if a bean doesn't flower until September, you don't get a pod or seed to form before the frost comes. And so, they're not adapted to growing here," Dohle said.
Researchers with the project have crossed varieties from warmer climates with some that grow well at Northern latitudes to develop a variety that could stand up to some of the climate-change related stressors and grow in the Northeast.
"So, you get that exotic stress tolerant genetics with the right photo period so they could grow here. So, we are literally rubbing flower parts together and hoping that the progeny, the next generation, inherit the good traits from both."
At Plowshare Farms, the volunteers planted a few of these crossed varieties as well as several other pole and bush seeds from Central America, Haiti, New Jersey, and the local garden center.
Getting people to eat their beans
Growing lima beans is one challenge — getting people to eat and actually like lima beans is another.
"Every farmer wants to grow something that's easier to grow, but all farmers also need a market," Dohle said.
Go to any grocery store and you'll likely find only two kinds of lima beans — dried white beans and succulent green beans in the freezer section or in a can.
"People often associate limas with maybe the worst bean dish they ever had or mom's succotash," Moynihan said.
But as bean curator for the USDA, Dohle says she has about 2,000 kinds of lima beans including wild and domesticated — 700 of those are available to the public.
"They are delicious, they're buttery, they're creamy, and there's all sorts of flavor, taste, nutritional variation too, that could exist if the market demands it," Dohle said.
To test out the market, Moynihan teamed up with some local chefs to show people just how delicious lima beans can be at a dinner on the farm.
About four months later, in September, the lima bean seeds at Plowshare Farms have grown into lush plants that hang on trellises like a big green curtain across the field.
In the barn, two, long rows of tables are set up with white linens. About 40 guests linger outside as hors d'oeuvres are passed around.
Khashad Gillespie works at Plowshare Farms and tended to the lima beans this spring and summer. He's happy with how the plants have turned out because it was a little touch and go at first.
"We noticed that they were kind of light and color," Gillespie said. "So, we came, and we spread compost over them and about two weeks later they all looked great, and they started to shoot up."
They ended up harvesting about 50 pounds of beans for the dinner.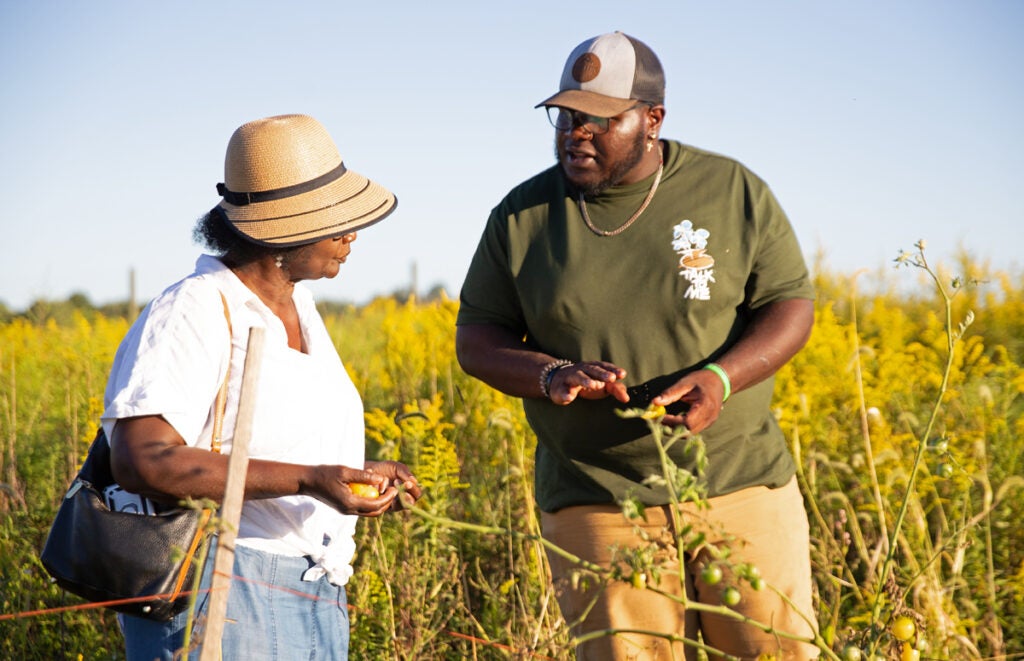 Outside of the barn, chefs Valerie Erwin stirred a big pot of creamy, whipped lima beans.
"I cooked lima beans until they were really soft with butter like mashed potatoes," Erwin said.
She said the dinner is trying to showcase the lima bean and pay tribute to the American South.
Chef April McGregor is originally from Mississippi and spent a lot of time in North Carolina before coming to Philly.
I feel there's a lot to be learned from the South about lima beans," said McGregor. We refer to them as butter beans, but they are a very prized summer vegetable. We particularly love them fresh shelled right out of the garden.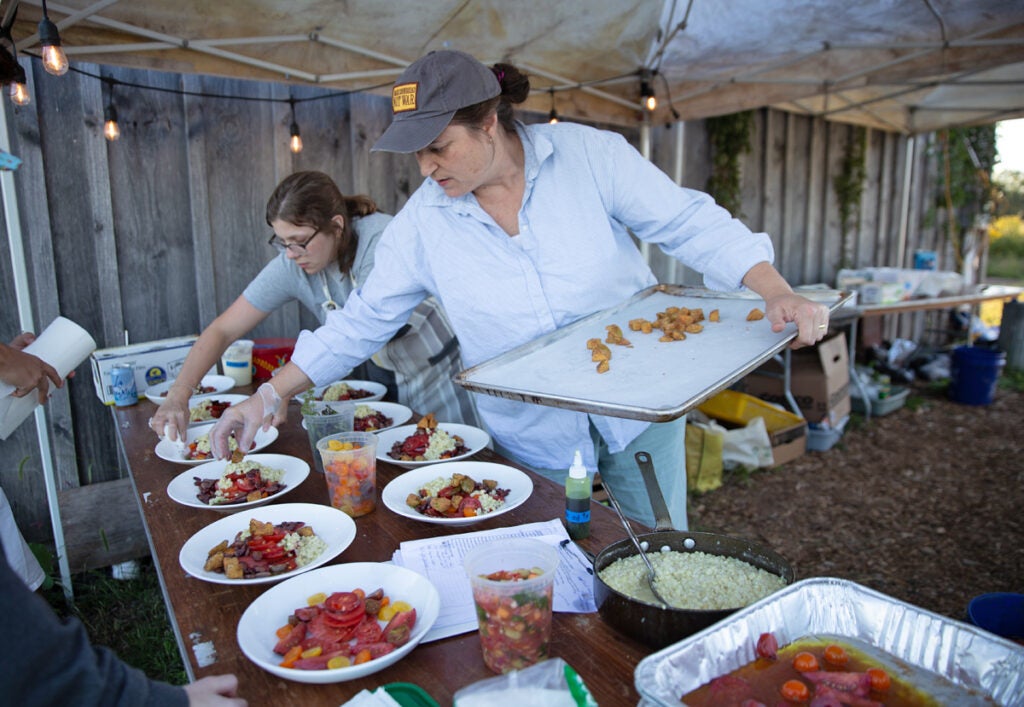 On the menu, there's lima beans in every course. Starting with an heirloom tomato stack with a mixture of heirloom lima beans, creamed corn, and fried green tomatoes. For the entree, confit of Plowshares' chicken tops those whipped lima beans with roasted okra. And for dessert, there's even a lima bean creme caramel flan with spicebush berries.
McGregor is hoping the dinner will begin to change people's minds and misconceptions about lima beans.
"People think about them from our bad experiences and institutional food settings. But for lunch today, we had lima bean hummus which makes the creamiest hummus ever," McGregor said.
As the guest filled the barn and the sun went down over the farm any memories of mushy, institutional lima beans seemed to have faded away.
WHYY is your source for fact-based, in-depth journalism and information. As a nonprofit organization, we rely on financial support from readers like you. Please give today.