Is it important to keep lab rats happy?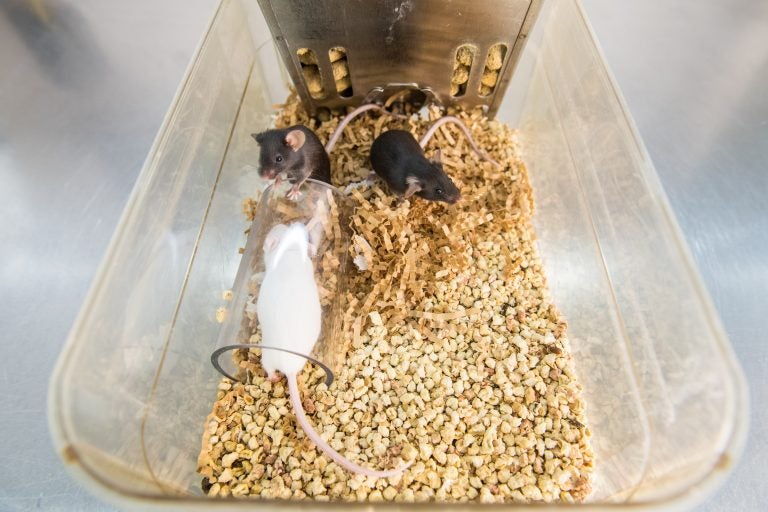 Veterinarian Tara Martin with the University of Michigan says she takes care to make lab mice feel at home in their cages, so that when they're not being used for experiments, they can do normal mouse things.
Mice like building complex nests from different materials. So Martin and her staff put bits of crinkled paper and cotton in the cages, so the animals can use it as building material. The mice also like to hunt for food instead of waiting to be fed by a human, so Martin and her team crumble up treats and sunflower seeds and mix those into the bedding for the mice to dig up.
The researchers say they do that because, when mice live in standard empty boxes without much stimulation, they get bored.
"Our animals like to have some form of control over their environment," Martin said. "They like to be able to engage in natural behaviors, just like we do."
Scientists used to think they just needed to keep the animals healthy and clean. Now, it's standard practice to provide the mice with more interesting environments, which is known as "enrichment." It's also required by the National Institutes of Health.
"An animal that lives in a barren environment is a pretty stressed animal," Martin said. "It can affect hormones within their body, it can affect their immune system, it can certainly affect brain development. And, when you have all of those effects, they all can act as confounds on your research, so they can alter the results of your research."
That means researchers also need to figure out if the animals are happy, says Jennifer Lofgren, global head of animal welfare and compliance at the drug company Novartis.
"Mice that aren't feeling well aren't going to build a good nest," she said. "Looking at the cage, I would know that it was a very happy mouse inside if it was well organized and there was a big fluffy nest."
Martin, Lofgren, and other scientists say that if you can keep the mice content and remove sources of stress, we could end up with better test subjects and better research.
WHYY is your source for fact-based, in-depth journalism and information. As a nonprofit organization, we rely on financial support from readers like you. Please give today.