How Philly's neighborhoods use street festivals to compete for summer dollars
Listen
4:17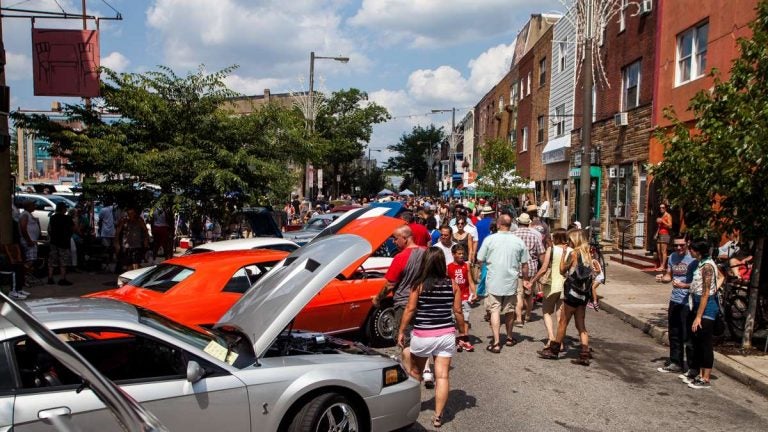 For the poet T.S. Eliot it was April, but for restaurant owners in Philadelphia August is the cruelest month.
"August is the worst of the worst," said Terry McNally, co-owner of the London Grill in the Fairmount neighborhood.
Twenty-five years ago she started a goofy Bastille Day celebration in mid-summer as a drunken lark. With support from the nearby Eastern State Penitentiary historic site – with towering stone walls that are an apt substitute for the Bastille in Paris — it grew into a massive street festival that attracted as many as 10,000 people.
Last weekend, July 14, was the last Bastille Day celebration with ESP. The prison museum bowed out, no longer willing to underwrite the free event that did not align with its institutional goals.
Originally, it was intended to keep locals from going down the shore in the summer.
"If they are wealthy they don't go to South Jersey. They go to Maine or Europe," she said, pointing out that London Grill caters to an upscale crowd. "They're leaving. But for Bastille Day we got everybody to stick around."
Every summer, business owners across Philadelphia dream up gimmicks to keep residents from fleeing the city for gentler climates.
Even East Passyunk Avenue in South Philadelphia, a hotbed of a restaurant renaissance, is powerless against the summer doldrums.
"There's a lot more parking during the day," said Pam Zenzola, executive director of the East Passyunk Avenue Business Improvement District, during a phone interview last week from her office. "Actually, I'm looking out the window right now and there's no parking. But, yes, it does absolutely get slower, especially when the July 4th is in the middle of the week. It's amazing how slow it was."
Later this month, East Passyunk Avenue will shut down for the annual Car Show. As many as 200 classic cars are expected will park along the avenue. About 10,000 people are expected to come to ogle.
For the last 12 years, the Business Improvement District and the Northeast Muscle Car Club has organized the show, the only classic car show in the region that takes over a commercial corridor (most car shows are in parking lots).
A few years ago the event almost didn't happen because of a threat of rain; that's when Zenzola working the phones — an assistant at the time — learned people actually travel from shore to city to see the cars.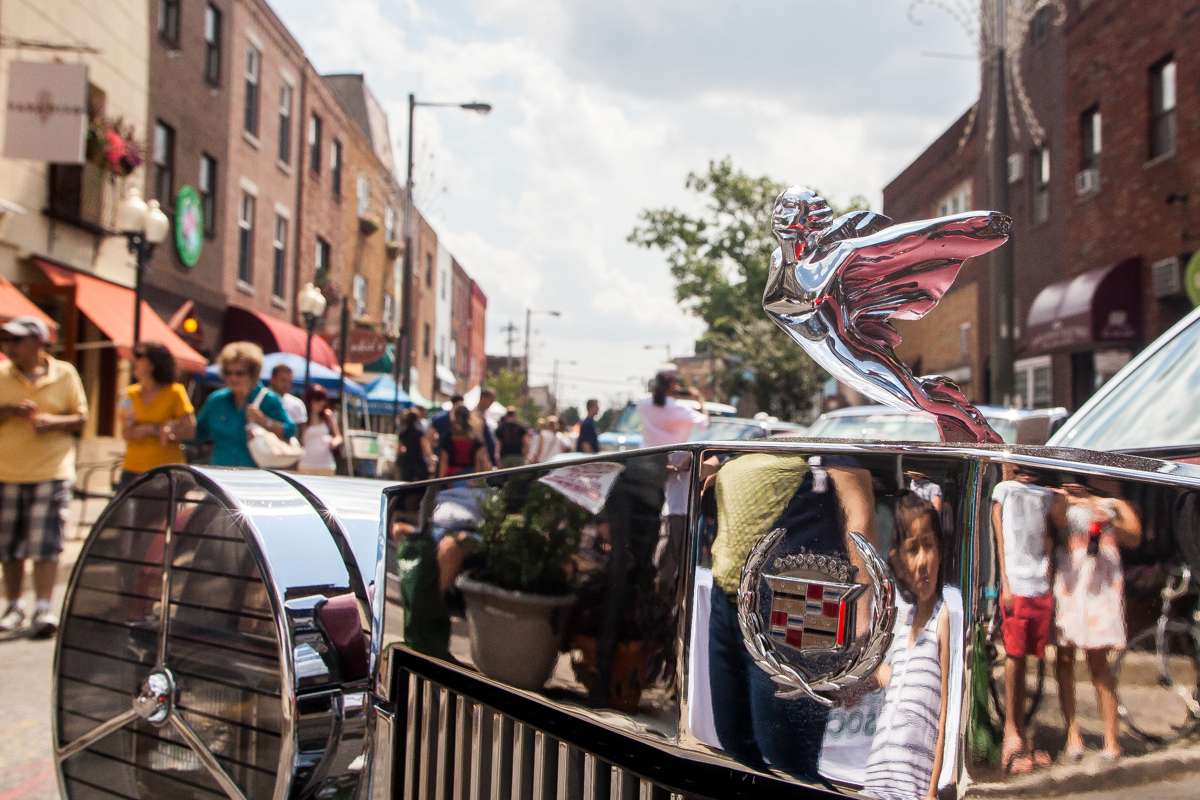 "They were driving from Cape May, the Poconos," she said, recalling her efforts to assuage their worries. "The phone calls: Is it on? Is it on? Even though we put it on social media and posted it everywhere, they were still calling: North Jersey, Delaware, Maryland. I was surprised. I had no idea."
These street festivals often do more than ring cash registers. It's often an opportunity to build community support for the neighborhood.
Ten years ago, a bunch of bars and restaurants in Northern Liberties closed down 2nd Street to traffic to have bands play and sell beer outside. Now the so-called 2nd Street Festival (this year on August 5th) attracts 35,000 people strolling from Spring Garden to Girard Avenue, perusing food vendors, retail merchants, and watching more than 30 bands play on four stages.
"It was partially just to drum up some business," said festival co-founder William Reed, owner of Standard Tap. "It was also trying to take the street back from cars, to stop making it feel like a small highway. Cars can dominate a neighborhood and we wanted to claw some of that back, at least for a day."
The 2nd Street Festival was also the catalyst to form a neighborhood business improvement district, or a BID, in Northern Liberties. Proceeds from the event paid for studies and consultants that helped push the BID through City Council, which approved it just a few weeks ago. Reed is its first president.
The proliferation of street festivals can also take a toll on businesses. The summer sun sprouts pop-up beer gardens all over the city, all of them are attempts to get people to enjoy the outdoors inside the city.
"People just want to be out on the street," said McNally, of London Grill. She also pointed out that all those beer gardens are able to exist by exploiting a loophole in Pennsylvania's state liquor laws, and compete directly with more established bars and restaurants.
"All the competition hurts, and I feel Philly is the wild, wild west just letting everybody do whatever the hell they want all the time," she said. "The brick and mortar restaurants suffer."
As for Bastille Day, McNally vows to keep it going without the support of Eastern State Penitentiary. She still wants to tip a toque to the French on their special day. It might mean bringing back the old Bastille Day tradition of waiter races, when restaurant staff from across the city compete for prizes in a footrace while serving with a champagne split and a pair of flutes.
"I need somebody else to plan it," said McNally. "I'm almost 60, and this is a young man's game."
WHYY is your source for fact-based, in-depth journalism and information. As a nonprofit organization, we rely on financial support from readers like you. Please give today.