Medical respite for homeless now open in North Philly
Serenity has a total of 20 beds for homeless men and women.
Listen
2:18
Ronald Lane beamed Tuesday morning as he sat on a lime green couch inside Serenity Court, the first – and only – medical respite in the city for homeless patients recovering after a stint in the hospital.
It may be hard for him to walk. His legs and feet may be tightly wrapped in gauze. It may be awhile before any of that changes. But, Lane knows it could be worse. He could be on the street or in a homeless shelter trying to care for his wounds, sustained this winter after a nasty bout of frostbite.
"I'm just happy to be here," said Lane after a packed grand opening ceremony. "I don't think I'd be around."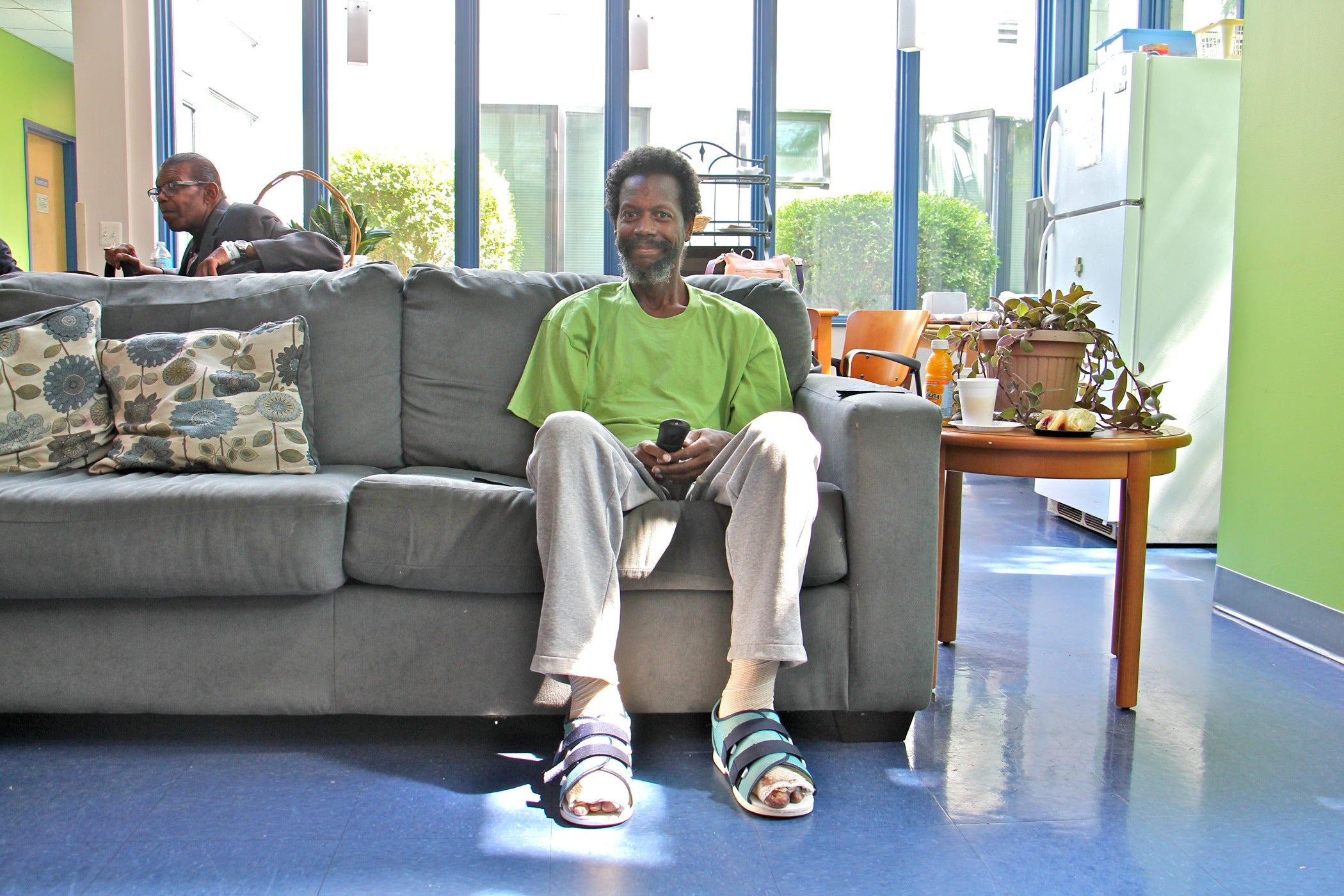 Lane, 57, is one of 10 patients currently living at Serenity Court, which officially opened in April at 19th Street and Ridge Avenue in North Philadelphia.
Like Lane, a lot of homeless people will come to Serenity for wound care, after being injured or having surgery, including amputation. Others will need a course of IV antibiotics or reliable transportation to chemotherapy appointments.
The hope is that by having a dedicated place for homeless patients to rest and recuperate after being in the hospital, the number of unnecessary trips to the emergency room due to lack of proper care after being released the first time will decrease.
"Imagine having your appendix removed and then being told by the hospital that you're being discharged and your discharge is on a corner," said Gina Gentile, nurse manager at Serenity, which is operated by the nonprofit Public Health Management Corporation.
The city's shelters don't have trained medical professionals on staff to do hands-on care, and because of liability issues, employees aren't allowed to do it themselves, though there are nurses who visit shelters to do some onsite care.
Serenity has a total of 20 beds for homeless men and women.
To qualify, patients must have control of their bowels and bladder, be able to use the bathroom on their own, and feed themselves, said David Dunback, director of homeless and social service programs at PHMC.
Room and board at Serenity are covered through contracts with hospitals.
Serenity has partnerships with the city's Office of Homeless Services, Hahnemann University Hospital, Mercy Health Systems, Penn Presbyterian Hospital, Temple University Hospital, Jefferson University Hospital, and Hospital of the University of Pennsylvania.
Medicaid pays for the clinical services.
After they've healed, the hope is that patients will be able to transition to permanent, supportive housing. But there's no guarantee that will happen, which means it's possible patients will find themselves on the streets again – back on their feet physically, but not financially.
"It's not the whole solution, but it is an important solution," Dunbeck said.
(Disclosure: Public Health Management Corporation supports WHYY)
WHYY is your source for fact-based, in-depth journalism and information. As a nonprofit organization, we rely on financial support from readers like you. Please give today.