Golfers alleging racial discrimination at York County club hopeful ahead of state hearing
Hearings begin Thursday in what's described as a fact-finding mission to ensure equity on all sides.
Listen
4:33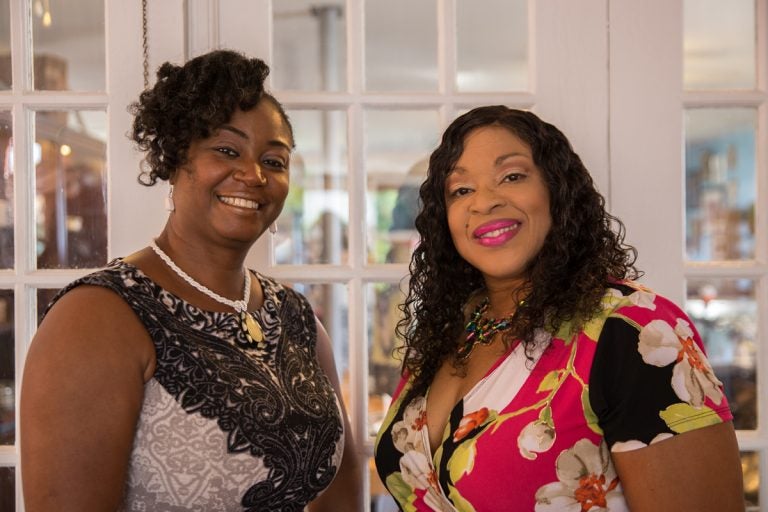 First, they were accused of playing too slowly.
Then, they were ordered to vacate the golf course.
And then, management at the Grandview Golf Club in York County called the police on them. That's when Sandra Thompson, Carolyn Dow, Sandra Harrison, Karen Crosby and Myneca Ojo — all club members — decided that the only reason they were being harassed was because of their race.
For Dow, a seasoned golfer who has played all over the world, the April incident still shakes her.
"I'm literally afraid to go on the golf course at this particular time," said Dow, 56, a manager in the Department of Homeland Security. "I'd be wondering if they're watching me."
The incident has gained national attention and echoes other recent incidents when people have called the police on African-Americans for dubious reasons.
At Starbucks, it was two men waiting for a friend without buying anything.
At Yale, it was a student napping in her dorm's common room.
In Oakland, it was a family using the wrong type of barbecue grill in a park.
In York County, it was golfing too slowly.
After news of the incident blew up, Gov. Tom Wolf, a York County native, and state Sen. Vincent Hughes, D-Philadelphia, urged the Pennsylvania Human Relations Commission to get involved.
Hearings begin Thursday in what's described as a fact-finding mission to ensure equity on all sides.
"We do know something happened on the golf course. Our goal is to find out what that was, and to hear from all sides," said Chad Dion Lassiter, the commission's executive director. "Some may come, some may not, but we're going to have our hearing."
Looking forward to a day of golf
It was a beautiful spring day when the five women, part of a group called Sisters in the Fairway, gathered for their first golf outing of the season.
"I was looking forward to seeing the ladies," Thompson said. "We got there, we were all excited, taking selfies."
But things quickly turned ugly when five white men who identified themselves as club management approached them on the second hole and told them they weren't keeping up with the pace of play.
The women disputed that claim. There were five of them, but they say they got permission from the golf pro to play as a quintet. And they said the course was backed up for an hour because of a frost delay.
Even so, they say they skipped a hole to be courteous.
"We knew from the first accusation that we were being targeted, and we couldn't understand why," Thompson said. "And neither could the white males playing behind us."
Robert Wenrich was one of those men. He and his brother Damen Carter-Mann and golfmate Jerry Higgins made up the threesome who played behind the women. Wenrich said that Higgins walked the course, making it virtually impossible for them to ever catch up to the women.
"Jerry was walking, and we were shooting, six, seven, sometimes eight shots per hole," he said. "There was no issue with rate of play."
Wenrich couldn't believe it when Steve Chronister, the club manager and a former York County commissioner, told them on the 10th hole that he had called the police on the women.
"I'm thinking in my head, what is going on?" Wenrich said. "These people are polite, they're professional, they're standup women. They weren't doing anything disrespectful. They were having a good time."
When asked if he thought the women were being racially targeted, Wenrich replied, "One hundred and fifty percent, yes."
'Only her mouth'
The women said they were being harassed so much that three of them — Dow, Harrison and Crosby — left after playing nine holes.
"I couldn't take it," Dow said. "It was not pleasurable. It didn't feel like golf. It felt like hockey because I was running."
Thompson and Ojo decided to stay. And that's when things got worse — ultimately pushing the women to file formal complaints with the state.
Keystone Crossroads went to the Grandview Golf Club to request an interview with management and made repeated calls to Chronister — to no avail.
Chronister told the York Daily Record there's more to the story, but he has since declined comment.
He gave his immediate account of the dispute in 911 calls placed that day.
"She thinks we're being racist. We're not being racist, we're just golf course management that has to have play moving in a certain way," Chronister told the dispatcher.
When the dispatcher asked if the women had weapons, Chronister replied: "Just her mouth. That's the only weapon."
Thompson, 50, an attorney who is also president of the York NAACP, guesses that dig was directed at her.
"So you know I'm an attorney. You know I ran for judge the year prior. The only reason you knowingly treat me this way is because I'm black. There is no way that he would treat a white attorney the same way," she said. "Still belittling my position because I'm black and thinking I have less of a voice."
Before the police arrived that day, Thompson recorded a cell-phone video of her confrontation with management, narrating the scene as it unfolded. Chronister can be heard speaking to his son Jordan and another staffer, indicating that Thompson was enjoying the attention.
"This is what she wants," said Chronister, trying to calm his son down. "This is what she does for a living."
The Northern York County Regional Police arrived, conducted interviews, and concluded the incident was not enough to warrant any charges. The women then left.
J.J. Chronister, Jordan Chronister's wife and co-owner of the club, issued an apology on behalf of the club, but then seemed to walk it back with a statement saying, in part: "We spoke with them once about pace of play and then spoke with them a second time. During the second conversation, we asked members to leave as per our policy noted on the scorecard, voices escalated, and police were called to ensure an amicable resolution."
Thompson said the hearing this week is a start. But she wants to see policies changed too, such as fines for those who call 911 when a crime isn't being committed.
"For some reason, people are being empowered to vocalize more internal thoughts of white privilege in white spaces," she said. "The more we continue to stand up, the more bystanders speak out, then the less these people who are popping up and feeling empowered will feel free to do so."
It's unclear if the Chronisters will accept the invitation to testify at the hearing.
WHYY is your source for fact-based, in-depth journalism and information. As a nonprofit organization, we rely on financial support from readers like you. Please give today.