Despite landmark Pa. court decision, subjectivity remains in congressional mapmaking process
Now that districts have been completely overhauled, some big questions remain: just how much gerrymandering is too much?
Listen
6:28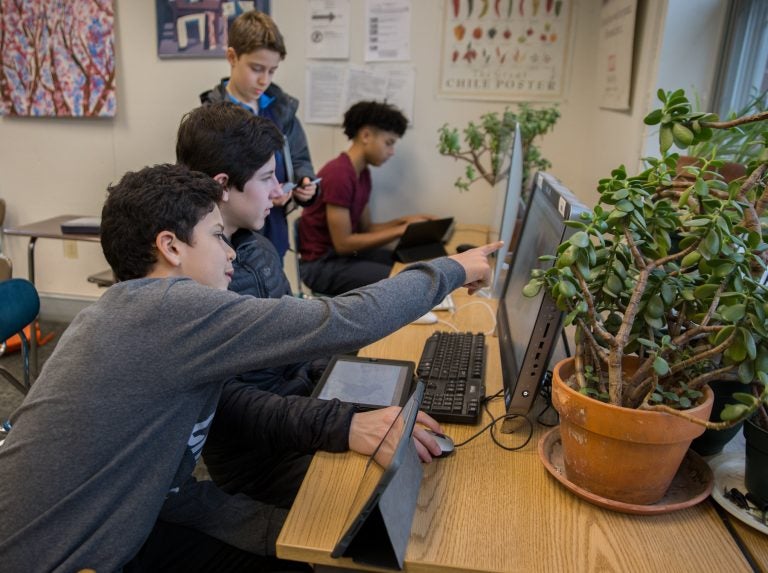 In the days after the Pa. Supreme Court released its new congressional map, students in Jon Kimmel's 8th grade math class huddled around computers to analyze the changes.
The class has been closely following the twists and turns of a case that could have an impact on the balance of power in Washington D.C.
In January, the Democratic-majority court ruled that the congressional map created in 2011, in a process controlled by Republicans, was an unconstitutional partisan gerrymander.
The court found that the old map deprived voters of their right to "free and equal" elections and was designed to give Republicans an unfair advantage, while diluting Democrats' votes.
"Teenagers are finely tuned to injustice," said Kimmel, who teaches at the Westtown School in West Chester, Pa. "It's usually about petty things, but this is about a much bigger thing that actually ends up affecting lots of people."
After reviewing several proposals from the state's GOP and Democratic leaders, as well as other parties, the court released its own remedial map for the 2018 congressional election, calling it "superior or comparable to the other submissions."
James Bradley, one of the students at the private Quaker school, points out that the new map splits fewer counties than the version enacted in 2011.
"I think it follows county lines much better," said Bradley, "I think it's definitely going to represent the population better and make it a more fair map in the upcoming midterm elections."
It would be hard to argue with Bradley and the other students' analysis of the two maps.  By several measures, the court-drawn map is more compact, contiguous, and better at keeping counties whole  — all criteria outlined in the court's opinion.
But now that the state's congressional districts have been completely overhauled, some big questions still linger:  just how much gerrymandering is too much? And how "fair" does a map need to be in order to be considered legal?
"What we had was so excessive and egregious," said Justin Levitt, a law professor at Loyola Law School in Los Angeles, who specializes in voting rights and redistricting. "If you have a design that's flawed from the get go, it's difficult to know exactly how much to scrap in order to get to the constitutional bit that's left."
Levitt compares the redistricting battle in Pennsylvania to a traffic stop where state GOP leaders have been caught speeding.
"This Legislature was essentially clocked going 120," said Levitt. "It blew threw all of the speed limits, so the court didn't have to decide if the speed limit was 50 or 55 or 60 or 40. The court said you were going 120.  We don't have to decide exactly what the speed limit is, you were speeding."
Compare the 2011 congressional district map with the court-imposed plan using the interactive slider below. 
During the next redistricting process, which will happen after the 2020 U.S. Census, Levitt says lawmakers will at least know they have to stay under 120. But as far as how fast  — or rather how partisan — a map can be, favoring one party over another, that remains unsettled.
The U.S. Supreme Court has long held that politics and partisan considerations are inherent in the redistricting process.
In a 2004 federal case out of Pennsylvania, Vieth v. Jubelirer, the Court said that it could not find a clear and manageable standard to determine a partisan gerrymander, and ruled the matter a political question — one that is non-justiciable.
"The basic problem is that some degree of political motivation and effect in districting is not unconstitutional," said the late Justice Antonin Scalia. "No one contents that a decent amount of political motivation and political effect is unlawful. So, it comes down to determining how much political motivation and effect is too much."
The U.S. Supreme court is currently reviewing similar cases out of Wisconsin and Maryland, but hasn't issued an opinion on partisan gerrymandering since the Vieth case.
In its majority opinion, the Pennsylvania Supreme Court, acknowledged that federal courts have not been able to come up with a standard for when partisan gerrymandering becomes unconstitutional under federal law, but says that's not a barrier for the state court under state law.
The state court found that political considerations must come second to traditional redistricting criteria such as: equal population, compactness, contiguity, and dividing as few communities of interest as possible when determining districts.
In the court's majority opinion, Justice Debra McCloskey Todd wrote that when "it is demonstrated" that "neutral criteria have been subordinated" due to "gerrymandering for unfair partisan political advantage" the plan violates the state constitution.
But the court did not outline exactly where that line between "gerrymandering" and "neutral criteria" can be blurred.
And that vagueness doesn't sit well with Amanda Holt.
If ever there were a redistricting celebrity in Pennsylvania, it would be Amanda Holt.
"No, no free lunches. I certainly don't feel like a celebrity by any means," said Holt. "My story shows how an ordinary citizen can engage in issues they care about and have a huge impact.
Holt's a piano teacher in Allentown and a Republican Lehigh County Commissioner.
In 2012, she challenged the constitutionality of the state legislative district lines before the Pennsylvania Supreme Court, and won.
The court ordered legislators to redraw the districts — and although Holt wasn't completely satisfied with the revised map — those are still the boundaries voters use for state Senate and state House races.
In this recent ruling, the court's opinion borrowed from the criteria used for state races for the new 2018 congressional districts, and that's what concerns Holt. She says the court didn't really live up to this standard.
"One of the most important rules in there is that you aren't allowed to split any place unless you need to — to make for equal population," Holt said.
Compared to any other map that was proposed recently, the court-drawn version divides the least amount of counties, but it splits more municipalities — as well as voting precincts — than some other options, including a submission from state GOP leaders.
"It's puzzling to me, because I wonder why they choose to ignore their own court order," said Holt. "You would expect the judiciary would be really good about following the rules, particularly, that they lay out. So it makes you question whether they were really invested in following this rule or whether they had some other motivations that were prompting them to create the map that they did."
So, why did the court choose its map over the others? Would the other plans have passed constitutional muster?
Keystone Crossroads reached out to the court-appointed advisor, Nathaniel Persily, to inquire about other possible motivations not detailed in court orders or opinions.  But Persily wrote in an email that he was not allowed to comment.
Political analysts point out that the new map is more favorable to Democrats, giving them a shot to win half of the state's 18 congressional seats.
Registered Democrats outnumber Republicans in Pennsylvania, but the old map clearly advantaged the GOP, which sent 13 representatives to Congress for the last three election cycles.
Analysts hypothesize that the court went out of its way to make the map fairer according to statewide voter rolls, despite Democrats geographic disadvantages.
"Democrats are clustered in terms of their voters in Philadelphia and Pittsburgh, but the choices that the Supreme Court made in adopting this map tend to help Democrats versus what they might expect from a random or neutrally drawn map," said David Wasserman, a national political analyst with The Cook Political Report.
A recent analysis by The New York Times backs up that claim.
The idea that the new map could make the partisan split of the state's congressional delegation more equal can seem rational to some voters. But this idea of partisan balance or "fairness" is nowhere overtly expressed in state or federal law as a goal of the redistricting process.
And critics, including Justice Sallie Mundy in her dissent, suggest that aiming to do so contradicts the court's guideline that "neutral redistricting criteria" shouldn't be superseded by "gerrymandering for unfair partisan political advantage."
In effect — even with this new court order — the question when determining congressional districts still seems to boil down to an inherently political one: what's fair?
As the current redistricting debate goes on, the state's top GOP leaders have continued to fight the Pa. Supreme Court, with legal challenges before the U.S. Supreme Court and a federal district court.
Holt says these battles illustrate the need for clearer standards.
"I think the ideal process really comes down to not so much about who is drawing the maps, but making sure you have clear and measurable rules, so that you can hold those drawing the maps accountable," said Holt. "You can see that no matter who draws the maps, whether it's the courts, whether it's the legislature, there are questions that arise."
She hopes those rules will be in place for the next round of redistricting, just around the corner.
WHYY is your source for fact-based, in-depth journalism and information. As a nonprofit organization, we rely on financial support from readers like you. Please give today.