Outside expert advises Pa. Supreme Court in drawing congressional district map
The Pennsylvania Supreme Court is expected to decide Monday where Pennsylvania's congressional boundaries will fall for the next two election cycles.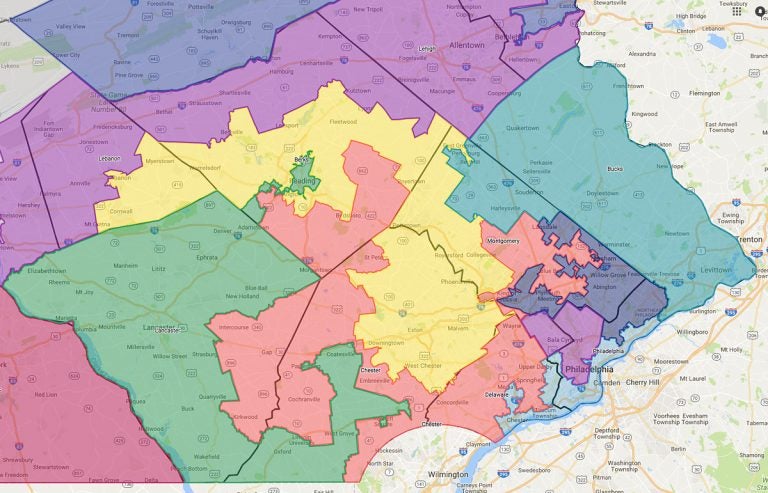 In a decision that could have national political ramifications, the Pennsylvania Supreme Court is expected to decide Monday where Pennsylvania's congressional boundaries will fall for the next two election cycles.
To advise the court, the justices enlisted Nathaniel Persily, a redistricting expert and Stanford Law professor, who suddenly has a lot of sway over Pennsylvania's political future.
"Since over 85 percent of our elections are not competitive in the general election, how we choose to divide up our constituencies often can be more important than who wins at the ballot box," said Persily in a 2016 video about the consequences of redistricting.   
In a landmark ruling, in January the Democratic-majority court struck down the state's congressional map as drawn by Republicans in 2011 as an unconstitutional partisan gerrymander. Justices gave the General Assembly and Governor Tom Wolf a tight timeline to agree on a new plan.  
That didn't happen.
Instead, the court received a barrage of unilateral map proposals — including from Gov. Wolf,  Statehouse GOP leaders, House Democrats, Senate Democrats, Republican interveners and the plaintiffs in the case, each with their own ideas of how Pennsylvania's congressional districts should be shaped.
Without consensus between Wolf and the Legislature, the court said it would take over the process and issue a new map by Feb. 19 to be used for this year's midterm elections.
Persily, who pretty much wrote the playbook for when courts draw district maps, has also been appointed as a Special Master by courts in New York, Connecticut, Georgia, and Maryland.  He's also been tapped as a consultant in Miami, Puerto Rico, as well as for Bethlehem's school district in Pennsylvania.
"He is scrupulously fair and will do exactly what the court tells him and no more," said Justin Levitt, also a redistricting expert and law professor at Loyola in Los Angeles.
Levitt says Persily's been vetted by both Democrats and Republicans.
"I think people should be assured that… [a Persily-advised court] will have interests other than the particular partisan interests of the legislators in mind and interests other than the incumbents self-preservation of the legislators in mind."
Top Republican lawmakers have their doubts. They see the court's action as an overreach meant to ultimately pack the state's congressional delegation with more Democrats.
Under the map adopted in 2011, Republicans have consistently won 13 of the state's 18 congressional seats.
GOP leaders also question giving one person so much power for a job that's supposed to be done through legislation. They pledge a federal appeal if the state court proceeds with its plan.
Barring that intervention, Persily's influence on Pennsylvania's congressional district map — known nationally for its oddly shaped districts — is bound to be significant.
So, what will he have in mind?
Keystone Crossroads reached out to Persily, but he's under a gag order from the court.
However, while a professor at The University of Pennsylvania, he outlined guidelines and key questions a court should consider when it wades into the murky, political waters of redistricting.
In his 2005 essay, "When Judges Carve Democracies: A Primer on Court-Drawn Redistricting Plans," Persily says there's no completely neutral way to draw a map.
He wrote a court should only draw it's own map as a last resort, and only after legislators have failed to pass their own plan.
In its ruling, the Pennsylvania Supreme Court prioritized creating compact districts that respect communities of interest.  
Persily wrote that doing so can sometimes be deceiving — and a mask for partisan goals.
He wrote that a mapmaker's first instinct may be to say, "let's clean it up."
To avoid this pitfall, he suggests using several measures that go beyond visual tests of compactness, such as area, circumference and number of protrusions.
He also wrote there are different ways to measure how a map divides counties and municipalities  — and that all splits are not equal.
Former colleague and Penn Law Professor, Seth Kreimer, was pleasantly surprised when he heard Persily would be consulting with the court.  
"That's a splendid development!" said Kreimer. "He is a thoughtful, very well-regarded individual and I'm very heartened by that."
Once the gag-order lifts, he's optimistic that Persily will be transparent about his process.
"I would hope that…he will at least provide explanations for the choices he made," said Kreimer.
WHYY is your source for fact-based, in-depth journalism and information. As a nonprofit organization, we rely on financial support from readers like you. Please give today.