March 9, 2013 — Having your soil tested can be very helpful, but the recommendations that come with the results are often toxic. Mike McGrath explains your organic lawn and garden options. Plus: Mike speaks with farmer and gardener Adam Glas about raising chickens in your own backyard. And answers to all your growing questions!
---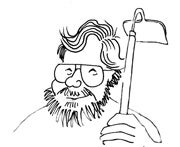 Question of the Week
I recently had my lawn soil analyzed by the soil test lab at Penn State University. Their suggestion for the amount of limestone I should add to bring up my soil's pH is quite clear, but they give endless recommendations on fertilizers, none of which seem to actually match the numbers on any bags of lawn food at garden centers. Here are just a few of the "N-P-K" ratios they listed: 32-4-10; 33-3-10;
30-3-10; 30-6-12; and 29-3-4. They suggest I pick a fertilizer that matches (or is close to) one on the list and use it three times during the growing season. Some of the offerings in a famous "Four Step" program come close at 30-0-4 and 28-1-4; but nothing matches any of Penn State's numbers exactly. What defines "close" regarding ratios? Is 28-6-6 "close" to 28-1-4? I appreciate your advice! Get the answer »
Photo by Flickr user NRCS Soil Health
WHYY is your source for fact-based, in-depth journalism and information. As a nonprofit organization, we rely on financial support from readers like you. Please give today.