Who gets paid more than $200,000 at a part-time job? Some former SEPTA managers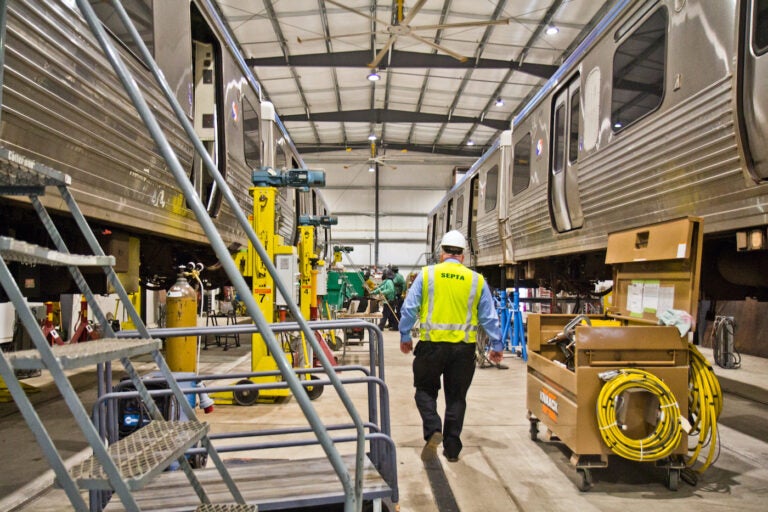 More than two dozen retired SEPTA staffers were paid upwards of six-figures for hourly "part-time" work last year, even as the agency grappled with a looming budget crisis caused by COVID-19. Although SEPTA officials described the positions as "transitional," some of the part-timers have raked in cash for many years, while simultaneously collecting pension benefits.
A records request filed by WHYY's PlanPhilly last year uncovered 26 employees categorized as "part-time pensioners" on SEPTA's payroll at the end of the past fiscal year, ending in June 2020. The head of SEPTA's revenue and marketing department is currently one such employee: a retiree quickly hired back to work the same position as hourly part-timer earning over $200,000 a year, while also collecting a generous pension.
Andrew Busch, a spokesperson for SEPTA, said the practice began in 2013 to ensure a wave of retirements among the agency's older employees didn't disrupt multi-year projects, such as SEPTA Key.
"They've retired but they've been brought back because of their expertise," he said. "Part-time pensioners have been utilized to ensure that retirements and other staffing shortages would not interrupt scheduled construction and other improvement projects."
But Robert Strauss, an economics professor at Carnegie Mellon University, said part-time pension arrangements were controversial in public finance, as they enable senior employees to continue collecting a salary while cashing in on pension benefits that are tax-free in states like Pennsylvania.
"There are people that try to take an early retirement and then double-dip," he said. "There's a sensible argument for people, at time of retirement, moving to part-time status … And then there's outright corruption. People move out of positions of influence and then are kept in part-time administrative positions forever."
The positions are just a sliver of SEPTA's 9,400-strong workforce, but the handful of part-timers collectively cost the agency about $1 million during the previous fiscal year. While most made only modest sums, the majority went to just five individuals, who were each paid over $100,000 a year to work part-time, according to SEPTA records.
All were high-level managers before filing for retirement. Busch indicated that the top earner, former SEPTA marketing exec Dennis Hiller, was paid over $229,000 during the 2020 calendar year for overseeing the agency's Revenue, Ridership, Advertising & Sales department as a part-time employee. That's about three times to four times what the average SEPTA worker earns in a year for full-time work, and makes Hiller among the highest-paid employees in the organization despite being an hourly employee.
Joe Coccio, secretary-treasurer with Transport Workers Union Local 234, which represents 5,100 SEPTA blue-collar employees, described part-time arrangements won by Hiller and others as a perk for a "good old boy network" within the transit agency.
He compared the part-time jobs to programs like the city's Deferred Retirement Option Plan, which allows city employees to work up to four years as their pension benefits accumulate in an interest-bearing account, while still earning a city salary. But an unintended consequence has been elected officials who retire for a day, get a huge payout, win reelection and resume collecting a salary.
"We call it the 'SEPTA DROP program,'" Coccio said, of part-time pensioner jobs. "This is not an option for ordinary hourly workers, but a perk for management."
Busch said managers who retire earn about 60% of their averaged peak pre-retirement salary, meaning that former top staff like Hiller would earn in excess of $100,000 a year in pension payouts — with income earned from part-time work coming atop that base benefit. The spokesperson acknowledged there was no precise system for establishing the amount part-time workers were paid, but that former managers were more likely to score higher-paying post-retirement gigs.
"This varies by individual and their area of expertise," he said. "Pre-retirement salary is taken into consideration, as are a number of other factors, such as the market demand for the types of positions that need to be covered."
SEPTA has lost roughly $1 million a day over the course of the pandemic, driven by catastrophic ridership declines as COVID-19 forced passengers off public transit. Although the agency has not made severe budget cuts, SEPTA General Manager Leslie Richards has said the agency is considering service cuts and job reductions if ridership doesn't return. Earlier in the crisis, union and management clashed over benefits for workers reporting to frontline jobs during the pandemic, and at the end of 2020, the union threatened legal action over the agency's quarantine leave policy.
But while SEPTA said it has reduced the number of pensioners on salary, those blows have not yet led the agency to completely eliminate lucrative part-time positions.
An 'outlier' that raises red flags
Hiller was first hired by SEPTA in 1978 as a financial auditor and retired as Chief Officer of Revenue, Ridership, Advertising & Sales, according to his online resume. But not long after he retired in 2019, he was rehired for "part-time" employment in what was effectively the same job.
Busch said that Hiller had logged nearly a full-time schedule, necessitated by the need for continuity amid the troubled implementation of the SEPTA Key farecard, and for other projects the retiree had overseen, including fare restructuring and the implementation of free transfers.
"It may be an outlier for what is technically a part-time position," he said, of Hiller's role. "But the Key and some of the things they're working on are unique. And it's not forever."
But Strauss said arrangements like Hiller's still raised some red flags: high-level employees in largely administrative positions — as opposed to, say, skilled technicians — occupying high-salaried "transitional" roles for years.
"The question is the duration of time," he said. "When you're talking about the long-term — years — and they're still making a lot of money, the question is what are they doing that requires that amount of money."
According to SEPTA, some retired employees have been repeatedly renewed for part-time work for far longer than Hiller, in one case for nearly seven years.
Payroll records indicate a former engineer that oversaw SEPTA's long-running Positive Train Control safety project was classified as a part-time employee from 2013 through 2020. During the previous fiscal year, he earned $122,800 for part-time labor.
Busch said the former engineer was among the first part-time pensioners and cast this particular arrangement, which ended last year, as a cost-saving move over hiring a more costly technical consult.
"He had expertise, he could have retired here and then gone on to work as a consultant and made a lot more money," he said. "We were fortunate to get them to stay here."
Still, the spokesperson said the number of part-time pensioners had been reduced from over two dozen to just eight positions within the last year. But, notably, these include three of the five highest salaried part-timers from the prior fiscal year, including Hiller, and another employee that has continuously worked part-time since filing for retirement nearly six years ago (Busch said Hiller and several others were expected to conclude their employment later this year).
Strauss, who has studied public agencies in Pennsylvania for decades, said he was unsurprised that SEPTA, which has grappled with allegations of theft by managers, overtime juicing, and other chronic cost overruns, seemed to be in no hurry to trim certain costly part-time jobs.
"The problem with SEPTA is that it's always been something of a cesspool," he said.