Where should MOTU build modern roundabouts?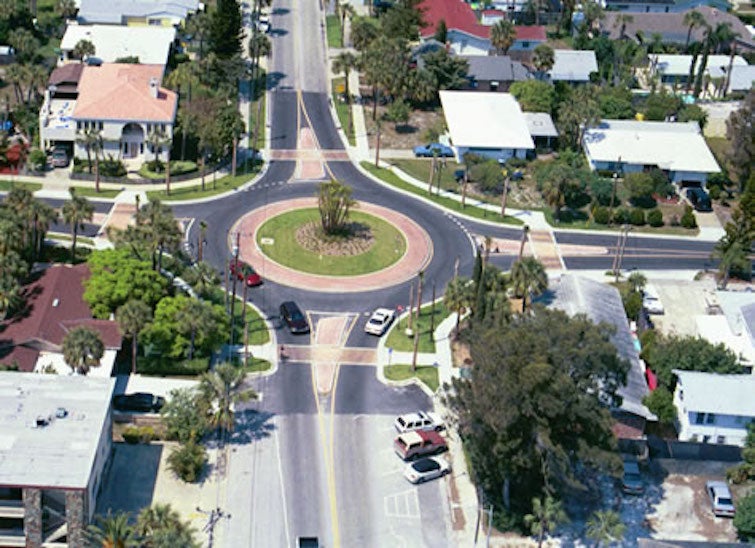 A few months ago we noted that PennDOT and the city were looking for some locations to install some modern roundabouts using Automated Red Light Enforcement camera revenue.
The news was significant because roundabouts are relatively rare in Pennsylvania, but PennDOT has been warming up to them because of the well-documented benefits. Some studies have found that roundabouts can reduce traffic fatalities at intersections by 90 percent, and pedestrian collisions by 40 percent, while improving traffic flow by as much as 20%.
Why are they safer? Consider this infographic on conflict points:
A roundabout has 8 potential places where two vehicles could collide, and 8 positions where vehicles could collide with pedestrians. By contrast, a basic intersection where 2 two-way roads intersect has 32 potential vehicle conflict points, and 24 potential conflict points between vehicles and pedestrians.
We checked in with Gustave Sheerbaum, the ARLE Grant Programs Manager at MOTU, to see how the planning is progressing, and he told us that the city is commencing studies at a few possible roundabout locations, but construction is not imminent. Some of the locations under consideration are more complex and could require the city to acquire right-of-way, so he cautioned not to expect them soon.
Via Citified, MOTU chief of staff Andrew Stober had invited people to submit ideas for locations, and they're looking into some of the reader suggestions.
"We are looking to see whether there are any warranted locations that could be done more affordably, without right-of-way, and completed by the end of 2017," he said.
Sheerbaum couldn't say yet which locations MOTU thought to study on their own, but he did share the most popular reader-submitted ideas, which included:
Queen Lane and Fox Street

5th and Girard

Cottman, Oxford, and Rising Sun

Stenton Ave and Flourtown/Cricket Road

Stenton Ave and Northeastern/Wissahickon Ave

Frankford Ave, York Street and Trenton

34th and Grays Ferry
MOTU is still accepting location recommendations, so leave your favorite roundabout ideas in the comments.
WHYY is your source for fact-based, in-depth journalism and information. As a nonprofit organization, we rely on financial support from readers like you. Please give today.