Carney calls for boosting education funding, early voting in State of the State
Delaware Gov. John Carney called for increased education spending and improved access for voters in his second State of the State address.
Updated at 7 p.m.
In his second, wide-ranging State of the State address, Delaware Gov. John Carney called for increasing education funding, making it easier for Delawareans to vote, and raising the legal age for buying cigarettes to 21.
Carney focused much of his speech on ways the state can improve education, particularly for students from poorer families and in the city of Wilmington. Earlier this week, he unveiled plans to spend $60 million to help improve school performance for low-income students and those still learning English.
"The status quo isn't working and we can't let it continue," Carney said. "Children from disadvantaged backgrounds need additional support, resources that they aren't getting now."
Carney pledged to improve the way Delaware's youngest students prepare for kindergarten by providing assistance to help low-income families to put their kids in daycare. According to the state, the average cost of child care in Delaware is $640 per month.
Carney also proposed increasing student loan assistance for teachers who work in high-needs schools. Last year, 200 teachers at more than 100 schools received help paying back their student loans from the state. Next year, Carney hopes to help 700 teachers who work in high-poverty, low-performing schools.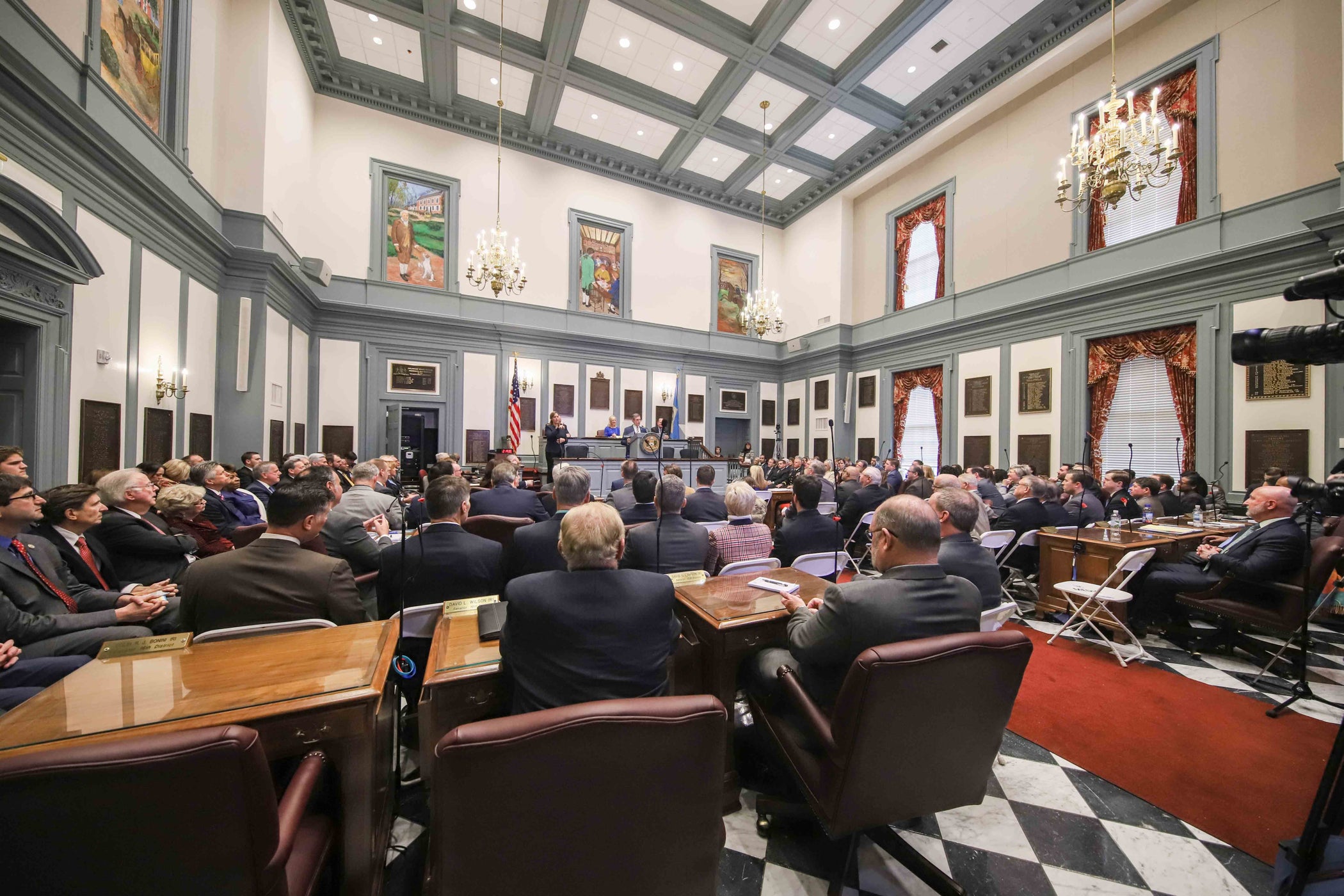 Carney's agenda includes a package of bills introduced in Dover on Wednesday that would make it easier for Delawareans to vote.
"There's nothing more fundamental to the quality of life as Americans than having access to the voting booth. Right now, Delaware lags behind in making it easy and convenient for people to exercise their right to vote," he said.
To change that, Carney wants to allow residents to start voting 10 days before Election Day. He also called for legislation to allow residents to register to vote and cast their ballots on the same day. The current cut-off date for voter registration is nearly a month before Election Day.
In an effort to improve the health of Delawareans, Carney has proposed raising age to purchase cigarettes from 18 to 21.
"Living healthy lifestyles is probably the most important thing we can do to lower health care costs in the long-run." Carney said. "We know that forming good health habits early in life increases the chances you'll be a healthy adult."
Carney praised several pieces of legislation passed by the General Assembly last year, including gun safety measures, the Equal Rights Amendment, and a bill to prevent offshore drilling.
He called for a ban on 3D-printed guns and said a bill banning assault weapons would get a full debate in the state Senate. Last year, legislation to ban assault weapons failed to be released from a Senate committee.
Democrats, including Speaker of the House Pete Schwartzkopf, D-Rehoboth, say they are pleased President Pro Tempore David McBride is bringing the debate to the floor.
"These things happen all over the country. I do worry about it," he said. "We know it happened in Florida, and we did nothing to prevent it. If it happens here what do we say? 'Well now we need to pass it now it happens here?'"
However, Republicans, including House Minority Leader Danny Short, R-Seaford, say it will cause friction. He and other Republicans said the General Assembly should focus on bipartisan efforts mentioned in the speech, such as job creation, improvements to education and supporting state workers.
"We know that's going to divide people," he said. "It's going to create a little controversy here in the hall and cause people to separate on the more important issues that were mentioned."
Funding details to come
Carney will present his budget plan detailing how he'll pay for some of these agenda items next Thursday. Other proposals in his budget include investing $10 million into a new transportation fund to support "economic development projects."
Carney said in his budget, he will propose one-time funding for one-time expenses, like infrastructure, nutrient management, water and wastewater treatment, and facilities for higher education.
"Making responsible budget decisions now will let us fund the services Delawareans rely on when money gets tight in the future, and we know it will," he said.
Senate Majority Leader Nicole Poore, D-Bear, said she was particularly pleased with Carney's commitment to state workers. The governor's previous budget included raises for state employees.
"He is definitely going to be spending some money, not just education but state employees, and kudos to him, because we do have a lot of people who are not even making enough money to feed their families so we do need to invest in our families," she said.
State Sen. Anthony Delcollo, R-Elsmere, said he was pleased with the governor's promise of sensible spending, including creating a Budget Stabilization Fund that essentially saves money when revenues are up to dig into during a deficit.
"I especially was impressed with the acknowledgement that we need to remain responsible and measured in how we deal with our fiscal situation, and we're not going to forget the challenge we faced in the last decade," Delcollo said. "We're going to be responsible, we're going to evaluate whether government is functioning to the benefit of the people who vote us in. Then we're going to deploy resources to help them."
Looking back at the State's accomplishments, Carney pointed to the economy, touting increased jobs and decreased unemployment in the state.
He praised a deal with United Arab Emirates-based Gulftainer that allows expansion of the Port of Wilmington and job creation.
"Together, we have done good work these past two years. And I'm confident to report today that the state of our state is strong, and getting stronger," Carney said.
WHYY is your source for fact-based, in-depth journalism and information. As a nonprofit organization, we rely on financial support from readers like you. Please give today.