Vaccine FAQs: The who, what, where and when of distribution
Readers and listeners reached out with questions about the COVID-19 vaccine. Our Health Desk Help Desk offers up the answers.
Listen
5:15
Ask us about COVID-19: What questions do you have about the current surge?
Updated Jan. 8, 2021
This is the first article of a series in which reporters from the WHYY News Health Desk Help Desk answer questions about vaccines and COVID-19 submitted by you, our audience.
The first doses of a vaccine for COVID-19 arrived in the three-state region in mid-December, and inoculation of health care workers in Pennsylvania, New Jersey and Delaware is ongoing. Readers and listeners asked us about logistics, effectiveness, side effects …
And here's what we found.
___
The distribution plans
When will the vaccine be available in this region? 
The first batch of vaccinations began in hospitals across the region in mid-December 2020.
Who will get the vaccine first? 
Each state has a distribution plan based on Centers for Disease Control and Prevention guidance that lays out phases for vaccinating the public. The plans outline who will receive the vaccine in each phase.
Because of an initial limited supply of the vaccine, distribution is being targeted to a small population. In Pennsylvania, New Jersey and Delaware, residents of long-term care facilities are included along with health care workers in the first phase, designated as group 1A, to receive the vaccine.
If there aren't enough doses to vaccinate all health care staff, priority will go to those most at risk, such as those caring for COVID-19 patients.
Shortly thereafter, in group 1B, first responders and critical infrastructure workers will begin receiving the vaccine. Each state has a different definition of "critical infrastructure," but examples include correctional officers, educators, food service workers, food processing workers, and public transit workers.
Who will be eligible to receive the vaccine after that?
After health care workers, residents and staff in long-term care facilities, and critical infrastructure workers are vaccinated, the phases get a little trickier, since the numbering isn't consistent across states.
In Delaware, those age 65 and older will be eligible for the vaccine alongside critical infrastructure workers. After they're vaccinated, non-critical infrastructure essential workers, people living in congregate settings like correctional facilities and homeless shelters, and people age 16 to 64 with high-risk medical conditions like COPD, diabetes, sickle cell and cancer will be next in line.
In New Jersey, the next groups to be vaccinated will include frontline essential workers and individuals over 75. Following that, other essential workers, adults 65-74, and people 16-64 with the aforementioned high-risk medical conditions will be eligible.
And in Pennsylvania, health care and critical infrastructure workers and long-term care facility residents will be followed by other essential workers, people with high-risk medical conditions, and people over age 65 who are at risk for severe disease through either regular exposure or comorbidity illnesses. After that, an additional round of critical infrastructure workers, people in congregate settings like correctional facilities and homeless shelters, and other high-risk populations such as racial and ethnic minority groups will be eligible. And finally, critical infrastructure workers working from home, other essential workers such as grocery, food service, supply chain, and community support service workers will be vaccinated.
After those priority groups, the vaccine will be made available to the general public.
Currently, children under 16 are not eligible to receive the vaccine in any phase. That's because they were not included in the clinical trials that preceded emergency use authorization for the vaccines by the Food and Drug Administration. More data has to be collected.
Which local organizations will be responsible for distributing the vaccine?
During the initial distribution, hospitals will be responsible for vaccinating their staff, and the CDC is partnering with CVS, Walgreens and Managed Health Care Associates Inc. to offer on-site COVID-19 vaccination services for residents of nursing homes and assisted living facilities.
During Phases 2 and 3, Pennsylvania officials believe, many residents will live close enough to pharmacies providing COVID-19 vaccinations. Pennsylvania, excluding Philadelphia, also has about 267 health care providers able to provide adult immunizations, as well as 82 behavioral health facilities. Health services in the state's correctional facilities also will be eligible to deliver vaccines directly to prisoners and employees.
Pennsylvania's health department plans on using its mobile vaccination units in underserved communities to ensure more people there are vaccinated.
Philadelphia health officials expect vaccines to be administered primarily through individual health systems and hospital occupational health departments, community-based clinics serving vulnerable populations and critical workforce, and registration-based mass vaccination events. It also said recruitment of private health care providers to administer the COVID-19 vaccine "will be key to integrating immunization into routine medical practice."
During Phase 2, pharmacies, medical clinics, occupational health offices, community-based clinics, and registration-based mass vaccination events will administer the vaccine.
The city predicts that vaccine supply will be sufficient for the entire population during Phase 3, and that the Philadelphia Department of Public Health will work with pharmacies, clinics and hospitals to ensure the population is vaccinated.
In Delaware, as of Oct. 13, 130 health care workers responded to a survey expressing interest in administering the COVID-19 vaccine to either patients, staff or both. The vaccine will first be administered by hospitals and health care settings. During Phase 2 in Delaware, vaccines will be allocated and distributed directly from the federal government to select pharmacy partners with a minimum of 200 stores. Primary care physicians' offices also will be able to administer the vaccine, and pharmacies will be responsible for administering vaccines in long-term care settings.
In New Jersey, the first vaccine doses will be administered by acute care hospitals and potentially selected local health department agencies. Vaccine administration will expand to those currently eligible to offer vaccinations, such as pharmacies.
How many doses of the vaccine are available in our region?
In mid-December, Delaware expected to receive an initial allotment of 8,775 doses of the Pfizer vaccine and more than 16,000 doses of the Moderna vaccine. The state expected a combined total of 56,275 doses by the end of 2020.
In mid-December, Pennsylvania expected to receive 97,500 doses of the Pfizer vaccine. Philadelphia expected 13,650 doses.
In mid-December, New Jersey initially was allocated 76,050 doses of the Pfizer vaccine, with another 86,000 doses of that vaccine expected later in the month. It was anticipated New Jersey could receive 154,000 doses of the Moderna vaccine in its first shipment, with 65,000 Moderna doses expected in the second batch.
Doses are allocated to states based on population size.
Why will distributing the vaccine take so long?
The supply is currently limited, and the vaccine must be allocated across the entire country. For that reason, prioritization is needed. As supply becomes more readily available in the coming months, more people will be able to be vaccinated more quickly and through multiple channels.
The rate at which additional vaccines will be manufactured and distributed remains an open question, so the pace at which states move from one phase to the next is a bit of a moving target.
Delaware is the only state in this region with an estimated timeline for vaccine distribution, which states that Phase 1 will be complete in early 2021, Phase 2 in March and Phase 3 in the spring or summer.
States do not need to complete all of Phase 1 to move on to Phase 2.
The logistics
Do I need to sign up for a vaccine?
During the first phase, long-term care settings and health care settings will be directly offering the vaccine to their workers and residents. More details about registration will come when the vaccine becomes more broadly available.
New Jersey released a statewide pre-registration portal in early January, but after multiple crashes and delays due to heavy site traffic, Department of Health officials recommended that registration be limited to health care workers in the state for now. In Pennsylvania, Montgomery County requires those in Phase 1A to complete a screening survey prior to requesting vaccine appointments. Chester and Delaware counties have released their own vaccine survey for people in Phase 1B, and another for health care workers who are not employed at hospitals, as they begin planning their rollout of the vaccine. And on Jan. 8, Philly Fighting COVID launched the city's first sign-up site, where Philadelphians who want to get vaccinated can sign up to get updates about vaccine rollout and be alerted when their priority group is up next. But overall, officials indicate, it's still way too soon to create a sign-up system available for the general public.
In addition, a web-based locator called Vaccine Finder will list inoculation sites as soon as they are available.
Will vaccines be mandatory?
Neither the Pennsylvania, New Jersey nor Delaware health department is mandating that anyone gets vaccinated.
Delaware's Division of Public Health says it is "strongly encouraging that people, particularly health care workers, get vaccinated once doses become available."
Will I receive a proof-of-vaccination card?
Individuals in Pennsylvania, New Jersey and Delaware will receive proof-of-vaccination cards. That will be one of the ways they will be reminded to get their second dose of the vaccine. The date of the second dose will be on the reminder card.
Delaware's Division of Public Health also plans to remind individuals to get their second doses by sending letters, and through automated phone calls and text messages.
Philadelphia also will utilize its PhilaVax system to issue reminder-recall notifications to patients who received a first dose.
Do I have to pay for the vaccine? Do I need insurance? 
Americans do not have to pay for the vaccine itself, because the U.S. government paid for doses, according to the CDC. However, the people giving you the vaccine might charge an administrative fee, which should be covered either by insurance or funding from the U.S. Department of Health and Human Services.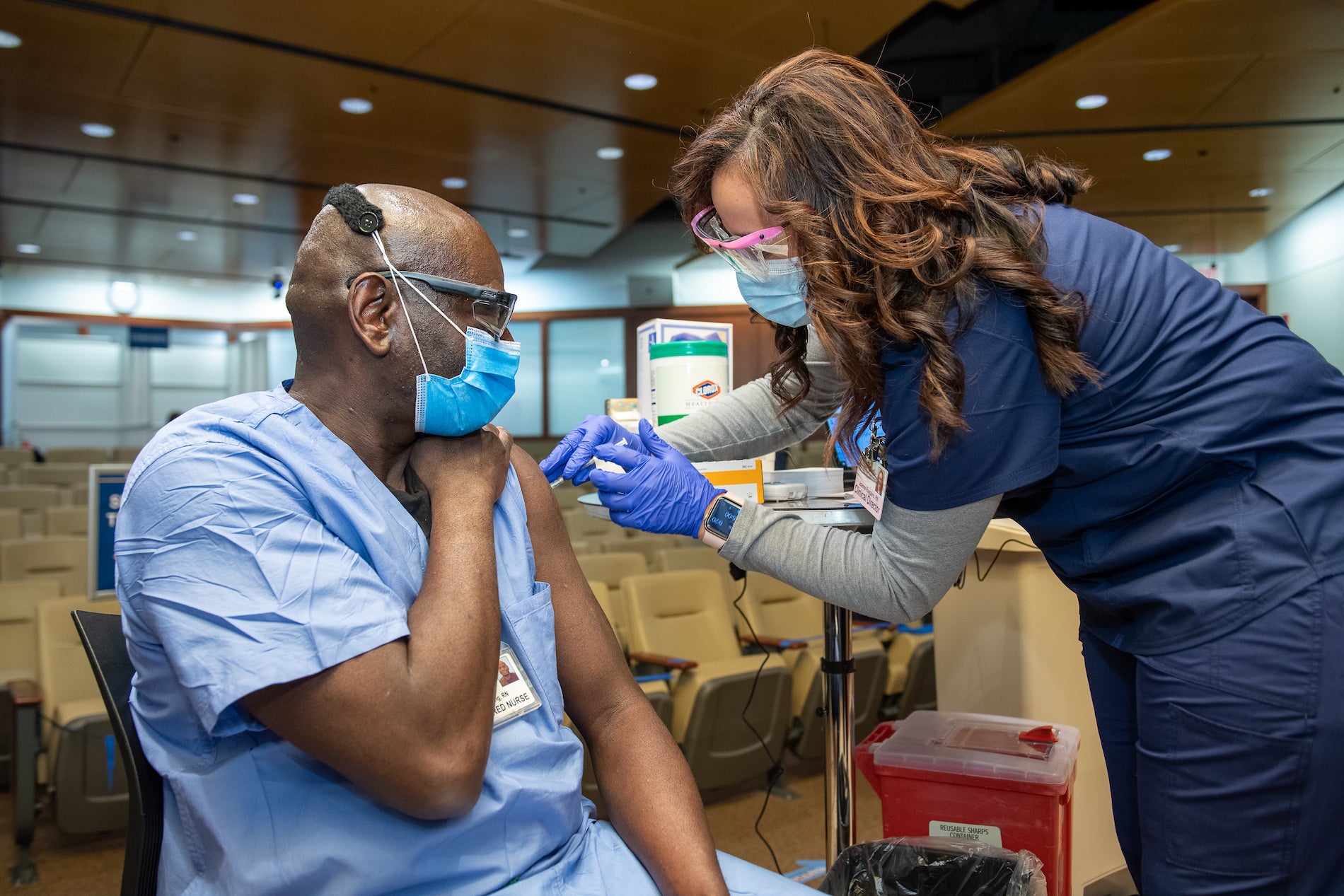 The effectiveness, and side effects
How long will it take for the vaccine to work?
The Pfizer/BioNTech vaccine starts protecting someone against the virus as soon as 12 days after the first dose, according to a Dec. 10 article published in the New England Journal of Medicine. It is 52% effective 10 days after the first dose. The often-quoted figure about the vaccine being 95% effective is for people who have received two doses, seven days after getting the second dose — or about 28 days total after the initial shot. The two doses should be three weeks apart, according to a fact sheet for vaccine providers.
The Moderna vaccine should be given 28 days apart, according to the FDA briefing document released on Dec. 15.
What are the vaccine's side effects? How should I prepare for those? Should I have any medication handy?
The most common side effects for both the Pfizer and Moderna vaccines include pain around the injection site, fatigue, headaches, chills, and fevers. Paul Offit, a pediatrician at Children's Hospital of Philadelphia and a member of the FDA committee that evaluated the vaccines, told NPR on Dec. 11 that these are to be expected.
"But that's just your immune system being vigorous and working for you," Offit told NPR. "In many ways, it's a good thing."
Drew Weissman, a professor of medicine and expert on RNA vaccines at the University of Pennsylvania, said anyone getting the vaccine who is worried about adverse reactions should discuss that with the physician and medical staff giving the vaccine.
I have a history of allergic reactions. Should I get this vaccine? 
There is not a lot of information on this, said Weissman. A very small number of people who got the Pfizer vaccine did react to it, and he said he has heard those were anaphylactoid (as the BBC has also reported), meaning the people did not have a reaction to a specific substance. That's not the same as anaphylaxis, which is triggered by a specific substance and can be life-threatening.
The CDC told Statnews that people who have experienced severe reactions to prior vaccines or injectable drugs can still get the Pfizer/BioNTech vaccine, but should discuss the risks with their doctors and be monitored for 30 minutes afterward. The CDC medical officer added that people with specific allergies to food, latex, pollen or other substances do not have to take special precautions.
The emergency use authorization document for the Pfizer vaccine from the FDA includes a full list of what is in the vaccine, and the FDA briefing document has the same details on the Moderna vaccine.
Weissman said the only part of the Pfizer vaccine that is not synthetic is the cholesterol, which often comes from lanolin, a wax made by wool-bearing animals. He said his guess is that anybody with hyperallergic symptoms or allergies that require the use of epinephrine (such as with an Epi-Pen) should be more cautious.
In the United Kingdom, the Medicines and Healthcare Products Regulatory Agency went a little further, saying in a statement on Dec. 9 that "any person with a history of anaphylaxis to a vaccine, medicine or food should not receive the Pfizer/BioNTech vaccine." The UK agency said that anaphylaxis is a known but very rare side effect with any vaccine, and that the benefits of getting protected against COVID-19 outweigh the risks.
That's something we'll learn a lot more about in the coming weeks, said David Weiner, director of the Vaccine & Immunotherapy Center at the Wistar Institute in Philadelphia. He pointed out that tens of thousands of people got the vaccine in the clinical trials, and millions will get it soon.
What does it mean for a vaccine to be 95% effective? What happens if I'm part of the 5% for whom the vaccine doesn't work?
The vaccine study defined effectiveness by gauging whether it prevented someone from getting COVID-19. During the clinical trial, some people got the vaccine and some people got a placebo, without being told which they got. Once a large enough group of people got COVID-19, the study organizers checked to see if those people received the vaccine or not.
So the "5%" means that of the people in the clinical trial who got COVID-19, a small number also got the vaccine. The vast majority of people in the trial who got COVID-19 had not gotten the vaccine.
No vaccine is 100% effective, because people can respond to vaccines differently. For instance, the flu vaccine reduces the risk of flu by 40% to 60%. As of now, the CDC says, it is not known how many people need to get vaccinated to protect everyone from COVID-19. More data is needed to fully answer that question, said Weissman, the expert on RNA vaccines at Penn.
The vaccine does not have to be 100% effective, just effective enough so that many people will develop immunity to the coronavirus, said David Weiner, director of the Vaccine & Immunotherapy Center at the Wistar Institute. That's what's called herd immunity.
"It will make human beings not really a great host for this pathogen, and the infection in the environment should start to crash and that will protect everyone," he said.
What's next?
Is this vaccine going to end the pandemic?
Definitely not. The Pennsylvania Department of Health says that even with a vaccine, people still need to follow safety guidelines like wearing masks, physical distancing, washing their hands, and avoiding large gatherings.
The vaccine is not 100% effective in preventing someone from getting COVID-19, and there's also a lot we don't know about the vaccine, as the editor in chief and a deputy editor of the New England Journal of Medicine pointed out.
Many questions still remain, they said: What happens when millions or billions of people get the vaccine? What happens once there are longer follow-up studies? What if people miss their second doses? Will the vaccine stop people from spreading the disease without showing symptoms? And what about children, those who are pregnant, and people who are immunocompromised?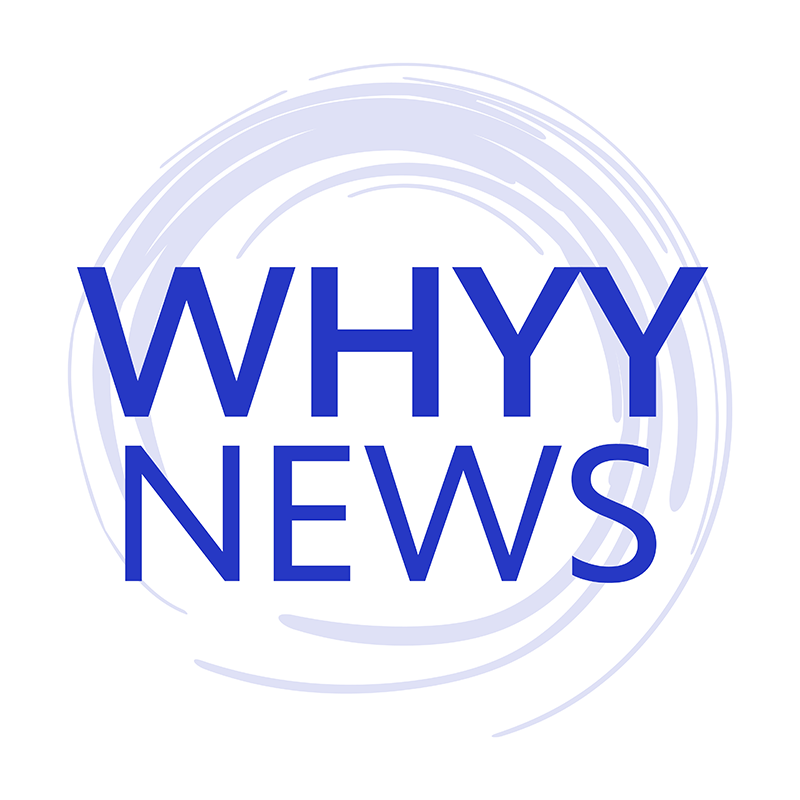 Get daily updates from WHYY News!
WHYY is your source for fact-based, in-depth journalism and information. As a nonprofit organization, we rely on financial support from readers like you. Please give today.