Using awkward silences for potentially life-saving conversation about depression
A new ad campaign from the Jed Foundation, the American Foundation for Suicide Prevention and the Ad Council encourages teens to talk to friends about depression.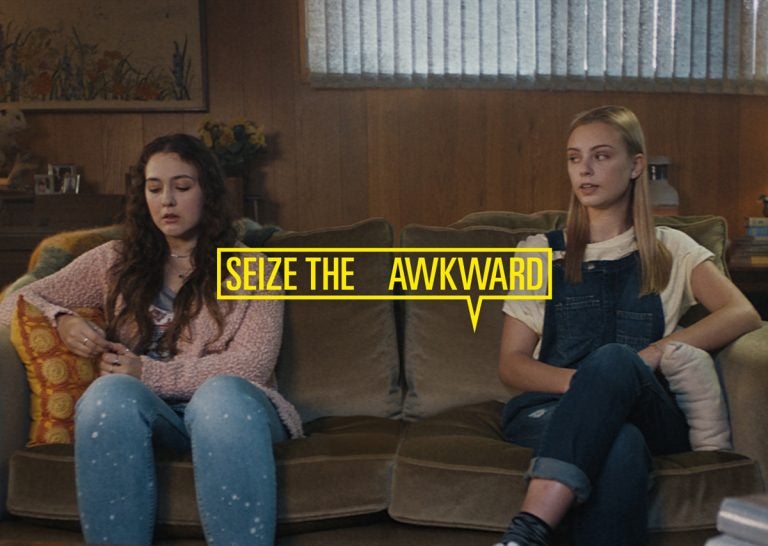 Two teens sit awkwardly together in a drab living room. They are silent, and then a man emerges from the space between them on the couch. "An awkward silence can be a great thing," he says. "Like Kelly here is about to demonstrate."
"Kelly" tells her friend that she's noticed she's been down lately and wants to see if she's OK.
It's part of a new ad campaign developed by the Jed Foundation, the American Foundation for Suicide Prevention and the Ad Council, called "Seize the Awkward." The ads encourage teens and young adults to talk to their friends about depression.
"This campaign gives young people tools to recognize the risks and warning signs and shows them how to have a conversation — and most importantly how to be there for a friend who may be struggling," said Stephanie Coggin, the vice president of communications at the American Foundation for Suicide Prevention. "With the help of this campaign, we are empowering teens to reach out and create a safe space for their friends to open up."
"You hear about heart disease, cholesterol, cancer, and all these other ailments that take people's lives" but not suicide or depression, said Eddie Tully. Tapped by the American Foundation for Suicide Prevention as "lifesaver of the year," Tully will be honored at a March 9 gala.
Tully has devoted himself to anti-bullying and suicide-awareness campaigns since the suicide of his brother Chris two years ago.
The Awkward campaign reminds Tully of his brother's legacy as a teacher.
As a popular and award-winning educator in Bucks County, Chris Tully didn't shy away from making himself look awkward to help kids understand a difficult concept. But privately, he struggled to open up.
"My brother definitely felt shame for what he was going through, especially because he was a very well-liked and respected teacher across the country, and even in other parts of the world," said Tully.
Chris Tully would have benefited from the new campaign, said his brother. And he's hopeful the campaign will help others know that they're not alone — and that good help is available.
"Seventy-six percent of young adults will turn to a peer when they are looking for support," Coggin said, noting that suicide is the second-leading cause of death among young adults.
"By trusting their gut instincts when something is off with a friend and saying something — even if it's awkward or messy or imperfect — can prevent something much worse from happening," she said.
WHYY is your source for fact-based, in-depth journalism and information. As a nonprofit organization, we rely on financial support from readers like you. Please give today.