Updated: Developer plans 40-unit apartment complex for century-old body shop in West Poplar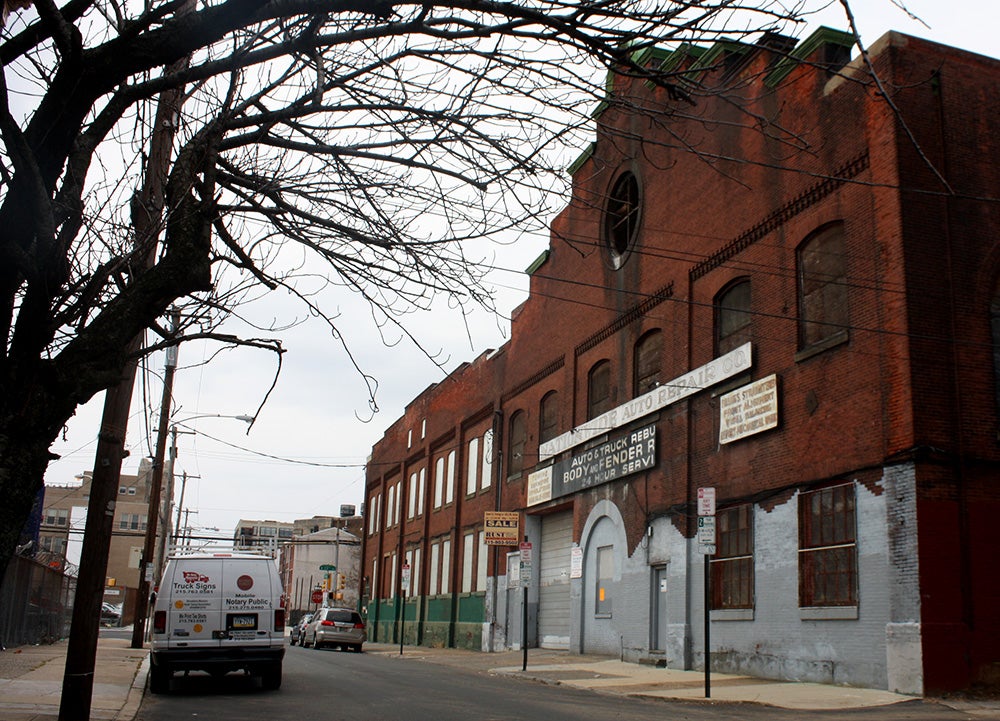 Update: The Zoning Board of Adjustment granted zoning variances on Wednesday to Advanced Real Estate Concepts LP, a developer planning a 40-unit residential complex for a century-old building at 13th and Mt. Vernon streets. The developers, who are under an agreement of sale with the building's current owner, did not disclose how much they had agreed to pay for the building. Earlier coverage of this project is below.
A developer is planning to convert a 14,000 square-foot garage in West Poplar into 40 residential units, according to an application filed with the Zoning Board of Adjustment. The application for zoning variances for the building on the 1200 block of Mt. Vernon Street was filed by Rustin Ohler of Harman Deutsch Architects.
The application calls for partial demolition of the building and the construction of second- and third-story additions. It also calls for 20 parking spaces, 10 bike parking spaces, recessed 1st-floor entrances, and the construction of a 6-foot fence.
Rust marketed the neighborhood as Spring Arts, a growing trend among real estate agents, and listed the building for $1.89 million. The building is currently owned by Nationwide Auto Repair, which paid $150,000 for the building in 1980, according to Office of Property Assessment records. The OPA's 2014 assessed value for the property under the Actual Value Initiative is only $242,100.
Rust wouldn't say whether the developer will pay the asking price, only that it is under contract pending a ZBA hearing, scheduled for April 3rd at 2 p.m.
The building was erected in 1894 and used as a powerhouse by the Union Traction Company, a consolidated railway operator group. The powerhouse was destroyed by a fire and rebuilt in 1897. During the fire, two men were killed when they were struck by fire engine horses, according to newspaper reports.
An attached building, at the corner of 13th and Mt. Vernon, is currently owned and operated by SEPTA as a powerhouse.
West Poplar Community Development Corporation, the Registered Community Organization for the area, could not be reached for comment.
Contact the reporter at jbrey@planphilly.com and follow him on Twitter @jaredbrey
php6texb5

nationwide3

nationwide