United Way's Job Opportunity Investment Network aims to be a national model for racial equity training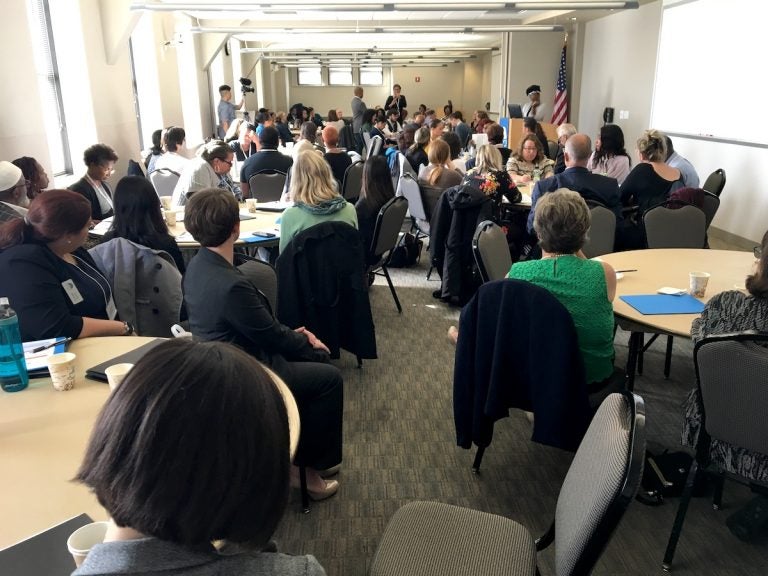 This story originally appeared on Generocity.
—
Almost 70 percent of Peirce College's students are African-American and about 60 percent are women. Many will be first-generation degree earners.
"Diversity is a part of everything we do," said Uva Coles, VP of institutional advancement and strategic partnerships at the college for working adults. But diversity must also be intentional, which is why Coles also considers her work through an equity-and-metrics-lens — supporting students with nontraditional backgrounds, and tracking its progress in doing so.
Those numbers and ethos made Peirce a fitting setting for Job Opportunity Investment Network's (JOIN) Workforce Learning Community kickoff retreat on Wednesday, which trained about 75 of United Way of Greater Philadelphia and Southern New Jersey's workforce education and training-focused grantees and partners in applying a racial equity lens to their work.
Grantees in this learning community will receive technical assistance, training and peer support over the next three years related to two focus areas: racial and social equity — Wednesday's training focus, led by racial justice nonprofit Race Forward — and workforce benchmarking — the focus of a separate training on Thursday, led by research and policy nonprofit Corporation for a Skilled Workforce (CSW).
Participants will also meet quarterly in peer forums, host site visits twice per year from United Way and national partners and receive other support.
Attendees represented local organizations such as Philadelphia Works, Philadelphia Youth Network, District 1199C Training and Upgrading Fund, Manna on Main Street of Montgomery County and Covenant House New Jersey, and held titles from executive director to case manager.
Discussion topics on Wednesday included normalizing racial equity in the workplace and best practices for communicating about race.
According to JOIN Program Manager Hoa Pham, this week's training "sets the tone and foundation for the next three years" when these grantees will receive continued assistance from both Race Forward and CSW.
"This is all born of United Way's belief that if we really want to end intergenerational poverty, and really move the needle, then we need to bring more supports to our agencies and partners," she said — both groups, because "we're all sort of in this battle together." The poverty rate of Philadelphia has hovered at or near 25.7 percent for the past several years.
JOIN's learning community is a member of CSW's Workforce Benchmarking Network, which includes job training organizations across the U.S. learning to better track their rates of placement, retention and other outcomes.
But this local group is the first to incorporate racial equity learnings by bringing Race Forward into trainings alongside CSW. Director Carniesha Kwashie, who was hired by United Way to lead JOIN in March 2017, said her goal is for the program to become a national model.
"The beauty about it," she said, "is we're the first model in the country to really be convening these national organizations' skillsets."
That model was formed after field assessments Kwashie conducted of grantees' workforce development trainings told her that while students felt prepared to get a job, they felt ill-equipped to deal with the racism they experienced once they got one.
"If we're going to talk about poverty, we have to address racial disparities," she said.

Generocity is one of 21 news organizations producing Broke in Philly, a collaborative reporting project on solutions to poverty and the city's push toward economic justice.