Art rugs put artificial intelligence underfoot in Philly exhibit
The Paradigm Gallery in Old City features rugs fabricated by Tuft the World, but designed by a robot.
The Paradigm Gallery in Old City is exhibiting rugs designed by artificial intelligence.
The rugs, presented as works of art, are attributed to the rug tufting company Tuft the World. Its co-founder, artist Tim Eads, is not entirely comfortable calling them his own.
"This is not really my work," he said. "I basically curate."
Eads and his wife Tiernan Alexander sell carpet tufting equipment and supplies out of a workshop and warehouse in Southwest Philadelphia. A carpet tufter is a hand-held power tool roughly the shape of a rifle that very rapidly pushes and trims yarn into a fabric grid, making dozens of stitches a second. It allows the user to draw free-hand directly into a rug.
Recently Eads and Alexander invested in a large CNC (computer numerical control) machine that can manifest a pattern from a computer file with extreme accuracy. It's the same technology used on routing and laser-cutting tables.
They have added another layer of computerized automation: using an AI image generator to design the pattern fed into the CNC machine.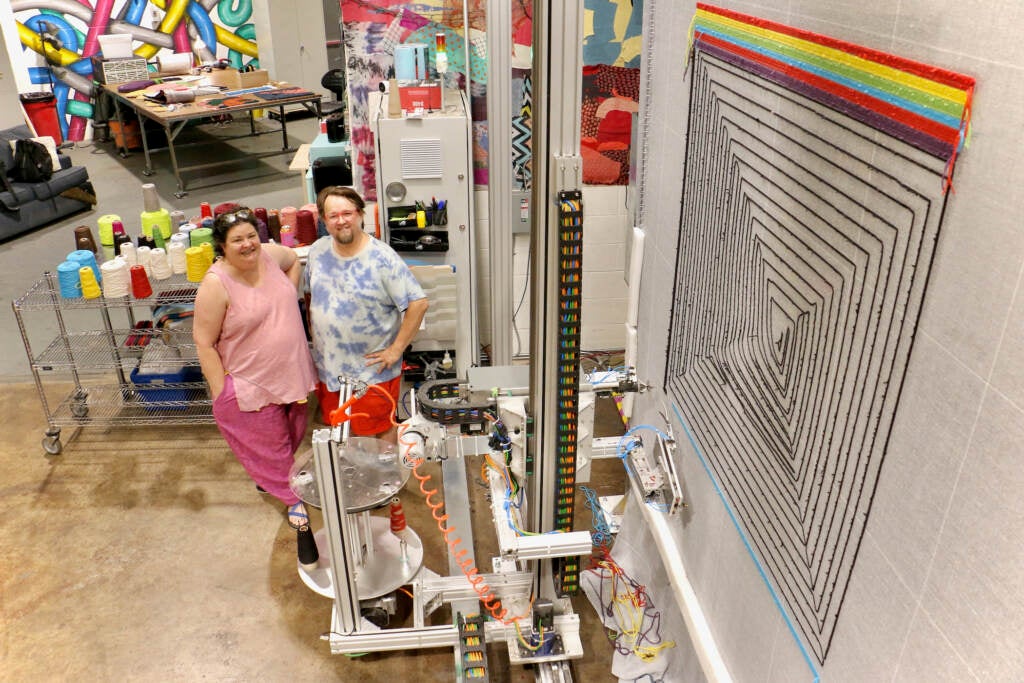 Eads uses the AI software DALL-E, similar to ChatGPT (they are made by the same company, OpenAI) to type in parameters for an image request. For example, Eads asked for a geometric pattern loosely based on paintings by Bridget Riley, the British artist known in the 1960s for creating optical effects with line patterns.
The software generates many versions of what it thinks Eads is asking for. He chose one of DALL-E's images, a squared spiral in black. Its imperfectly aligned lines create a slightly dizzying effect.
Eads puts that image into another program that breaks it down into vectors that the CNC machine can decipher. He then threads large spools of yarn into the robotic arm, and hits go.
After a few hours of automated work — stopping many times for re-loads of different colors of yarn — the rug is complete.
The final work, called "DALL-E 2023-04-23," is credited to Tuft the World. It is neither a work by Riley, nor by Eads.
"Using AI really takes that human element out of it," Eads said. "I'm really fascinated by that."
Alexander, his wife, business and artistic partner, insists Eads does indeed have a claim to the work. Although it may not have been made by his hand or originated in his mind, it came into the world through Eads' artistic decisions.
"He's the conductor," Alexander said. "There's tons of choices that went into that, but he didn't draw it. There is that element of what the AI is pulling from the world that creates part of the piece. I think it's a collaboration."
Alexander and Eads have made their CDC machine available to artists to explore what automated tufting can do. Tuft the World's collaboration with Pittsburgh-based artist Crystal Latimer is currently on display at the Paradigm Gallery in Old City.
The exhibition "Fine House" features Latimer's highly decorative and precisely rendered paintings resembling tapestries, featuring motifs of animals and flowers. Some of her paintings were translated into rugs by Tuft the World, and into patterned wallpaper by Paradigm's in-house digital printer Butterfield Editions.
The exhibition also features a series of more than a dozen rugs generated by Tuft the World's AI system.
While some have said the availability of artificial intelligence rings the death knell for art, Alexander disagrees. She says it can be a critical tool to help an artist get out of their own head.
"I'm limited by my own ideas of what art should be," she admitted. "And it really shows."
With its ability to scrape ideas from literally everything in the world and produce endless variations, an AI bot can generate a spark that leads Alexander into something new.
"I'm controlling the process, but also I'm allowing an element of surprise that has nothing to do with me to come into the work," she said. "That feels like a real breakthrough."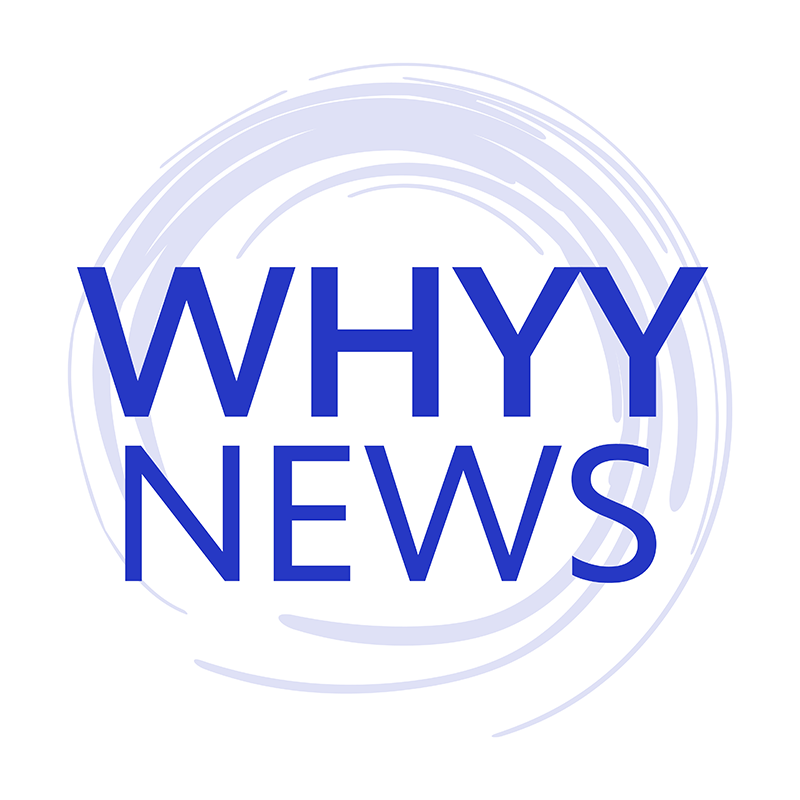 Get daily updates from WHYY News!
WHYY is your source for fact-based, in-depth journalism and information. As a nonprofit organization, we rely on financial support from readers like you. Please give today.