'Always go for gold': Trenton celebrates hometown Olympic hero
Listen
1:11
At least two dozen people gathered at the Capital Area Y on Pennington Avenue Tuesday in Trenton to watch the city's hometown hero. Athing Mu was going for gold in the women's 800-meter final in the Tokyo Olympics.
The watch party included an invocation given by Rev. John Taylor, pastor of Friendship Baptist Church, and breakfast. The race was scheduled for 8:25 a.m. Trenton time.
"I wanted to do it, but then I heard that other people want to do it," said Mercer County Commissioner Chairman Sam Frisby Sr., whose day job is CEO of the Capital Area Y. "Then the coaches called me and said 'Sam, can you do it at the Y.'"
The excitement for Mu's race was palpable in the room, especially from her high school track coach Al Jennings.
"I'm extremely overjoyed," he said. "I've had a lot of champions and I've had a lot of championships, but this one was very, very special."
The room was a mix of people from Mu's upbringing, including her former health and physical education teacher Thomas Harrington, who recalled that Mu didn't talk very much but "whenever I did anything running, she got out there."
"We had little mile competitions with my classes," he said. "As a kindergartener, she was beating my fourth, fifth, and sixth graders already."
The room cheered each time she was shown on the screen before the race, once when she was just walking through the call room at the stadium, then again when she made her entrance onto the track.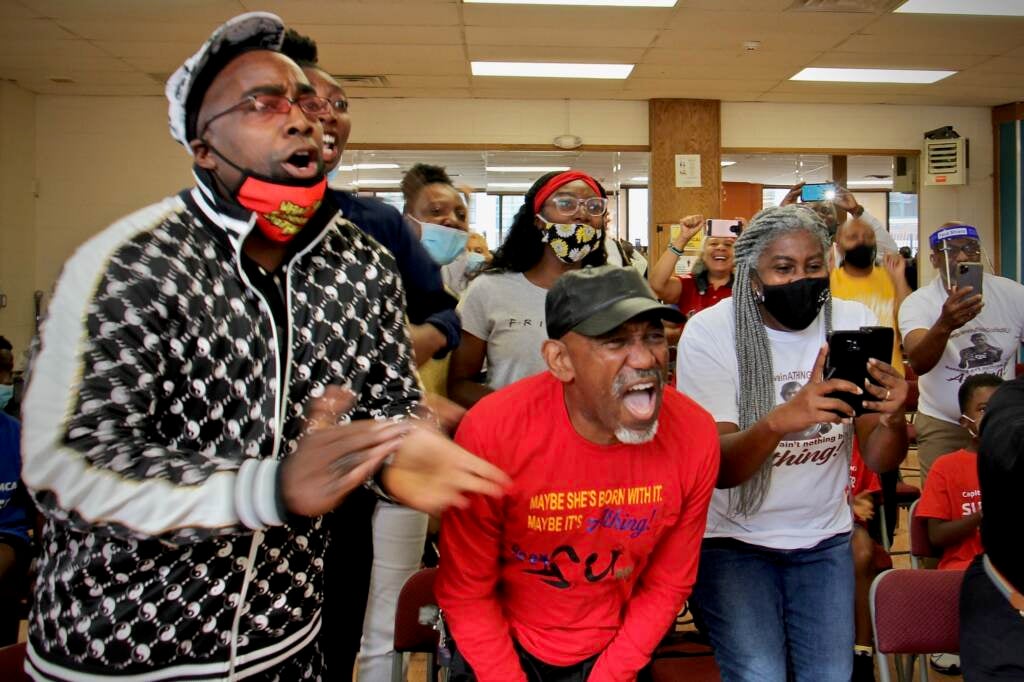 When the race began, the crowd cheered as Mu started to move ahead. After the bell rang for the final lap, the room erupted as Mu had built a solid lead. The cheering continued for the entire lap.
Mu, 19, was never seriously challenged down the home straight as she strode away to win the gold medal in 1 minute, 55.21 seconds.
Jennings, who sat in the front row to watch the race, could not contain his excitement after that first lap. He said no one was going to catch her.
"If she has the lead at that point, there's no way you're going to beat her because she's the fastest 400 [meter] girl in the world," he said.
In addition to one at The Y, a watch party was organized at Trenton Central High School, Mu's alma mater. Trenton Mayor Reed Gusciora watched the race there.
"It was just a thrill to watch it with the students who were the most enthusiastic about someone who was an alumni from there," he said. "It just reinforces the message to always go for gold, do your best."
Athing Mu, of United States wins the gold medal ahead of Keely Hodgkinson, of Britain in the final of the women's 800-meters at the 2020 Summer Olympics, Tuesday, Aug. 3, 2021, in Tokyo, Japan. (AP Photo/Martin Meissner)

A banner celebrating Olympic track star Athing Mu hands on the front of Trenton City Hall. (Emma Lee/WHYY)

Young YMCA campers attend a celebration of Olympic athlete Athing Mu at Trenton City Hall. Mu was praised as a scholar as well as an athlete and held up as an example of "what can come out of Trenton.'' (Emma Lee/WHYY)

Gym teacher Thomas Harrington, who taught Athing Mu during her elementary school years at Hedgepeth-Williams school in Trenton, says he recognized the girls extraordinary ability in kindergarten. He and his wife, Janet Harrington, wore custom T-shirts to the banner raising at Trenton. City Hall. (Emma Lee/WHYY)

A banner celebrating Olympic track star Athing Mu hands on the front of Trenton City Hall. (Emma Lee/WHYY)

Athing Mu's high school track coaches, Al Jennings and Bernice Mitchell, talk about their experiences with the young track star during a celebration at Trenton City Hall. Mu is a contender for the gold medal in the Tokyo Olympic games. (Emma Lee/WHYY)

A banner celebrating Olympic track star Athing Mu hands on the front of Trenton City Hall. (Emma Lee/WHYY)

Trenton Mayor Reed Gusciora presents an example of one of three billboards that will go up around Trenton celebrating Olympic athlete Athing Mu. The Trenton Central High School graduate is celebrated as a scholar and a role model as well as an athlete. (Emma Lee/WHYY)
The Y also had some young people in the room from their summer camp.
"I wanted them to see greatness in motion and I wanted them to see it when it actually happened, not on a replay," Frisby said, "and see the excitement of these adults that were in here and a part of her life, just like we're a part of their lives."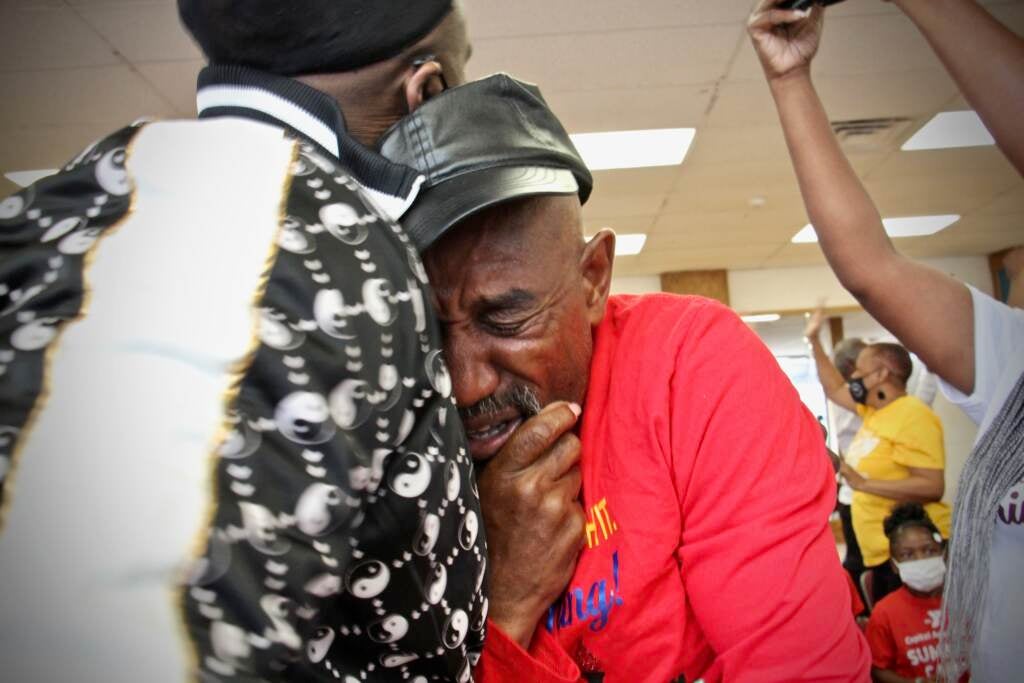 Mu has become a point of pride for the Garden State's capital city. Before the 2020 Olympics, a banner honoring Mu was strung from City Hall. Frisby called the banner "a declaration of hope" during the celebration.
Not long after the race, a digital banner at the Cure Insurance Arena off of Route 129 congratulated Mu on her victory.
Mercer County Executive Brian Hughes celebrated Mu's victory in a statement.
"The amount of work and effort to reach this moment is awe-inspiring, and we are so proud of her achievement," he said.
Frisby said there will be a celebration when she returns from Japan.
"There's no question we're going to do something," he said. "We're going to partner with the city."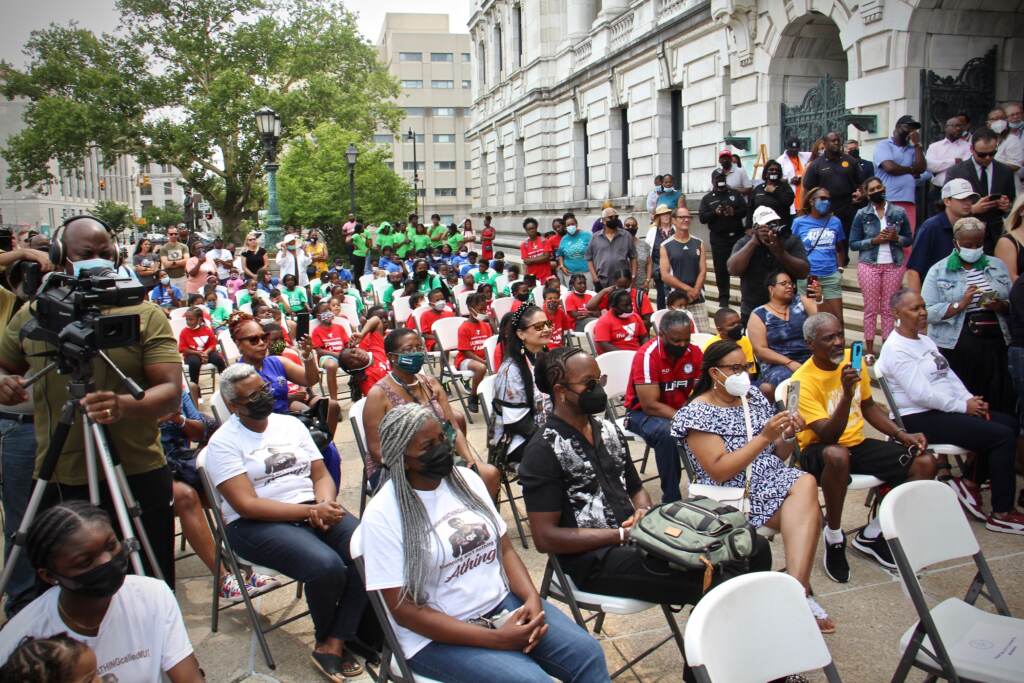 Mu's victory is also inspiring the next generation. Shamali Whittle, a rising senior at Nottingham High School, said she has been inspiring him since he began to run at 8 years old.
"Every time I've seen her run, she is always doing the best version of herself," he said.
Shamali, who watched Mu's race on his 17th birthday, hopes to follow in her footsteps and run in the Olympics. But for now, he's focusing on local races.
"I want to break the New Jersey records in every race that I run," he said. "Then, I want to go get my national title at the Nike Nationals games, that's going to be my goal for next year."
The Associated Press contributed to this report.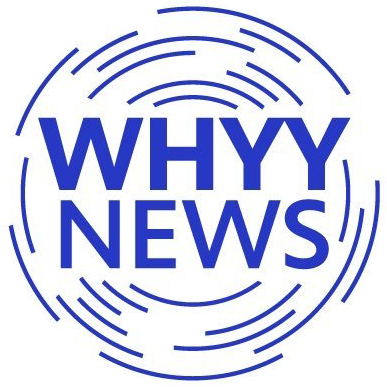 Get daily updates from WHYY News!