'I Believe in Athing called Mu': Trenton honors native daughter on her way to the Olympics
​​​​Athing Mu, of Trenton, New Jersey, is going to the Olympics as a serious contender for a gold medal, and her hometown couldn't be more thrilled.
About a hundred people gathered on the steps of City Hall as community members and elected officials – including the Mayor, city council members, and state legislators – unveiled a banner of Mu draped over the building, with plans to erect at least three billboards featuring her around town.
"It's not just a banner. This banner is a declaration of hope," said County Commissioner Sam Frisby, "It declares that good things can come from this city, that great things can come from this county."
Mu, 19, will compete in Tokyo as one of the American Olympic team's youngest runners. She is seen as the team's best chance for a gold medal in the 800 meter race, an event no American woman has won since Madeline Manning in 1968.
Mu was born in Trenton to Sudanese parents and was recognized from an early age as an exceptional track runner. She excelled as both an athlete and an honor student at Trenton Central High School, graduating in 2020. She is now a student at Texas A&M where she has broken running records, most recently at the NCAA championships in June.
"The world is finding out what we've known for years," said Thomas Harrington, an elementary and middle school gym teacher in Trenton who has followed Mu's prowess since she was in kindergarten. "That this is a phenomenal young lady, a great athlete, but an even greater person and very brilliant young lady."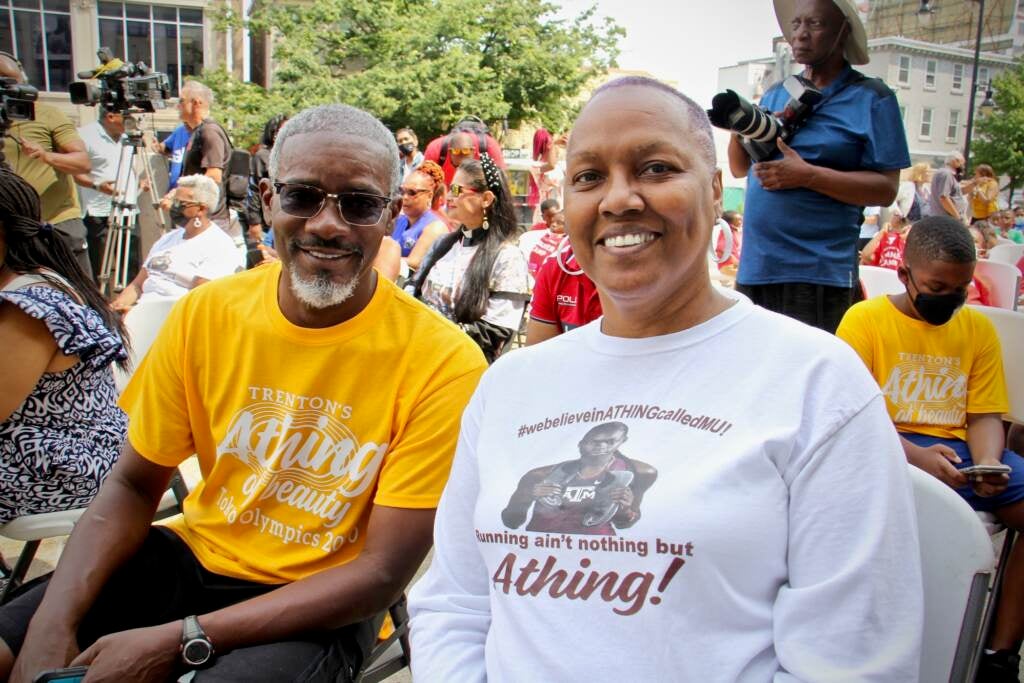 Teachers, coaches, principals, and civic leaders lined up to praise Mu and hold her up as both a role model and symbol of Trenton. Evoking the city's signature phrase, "Trenton Makes, the World Takes," Mayor Reed Gusciora said, "Trenton makes champions, and the whole world will get the chance to see her next week in Japan."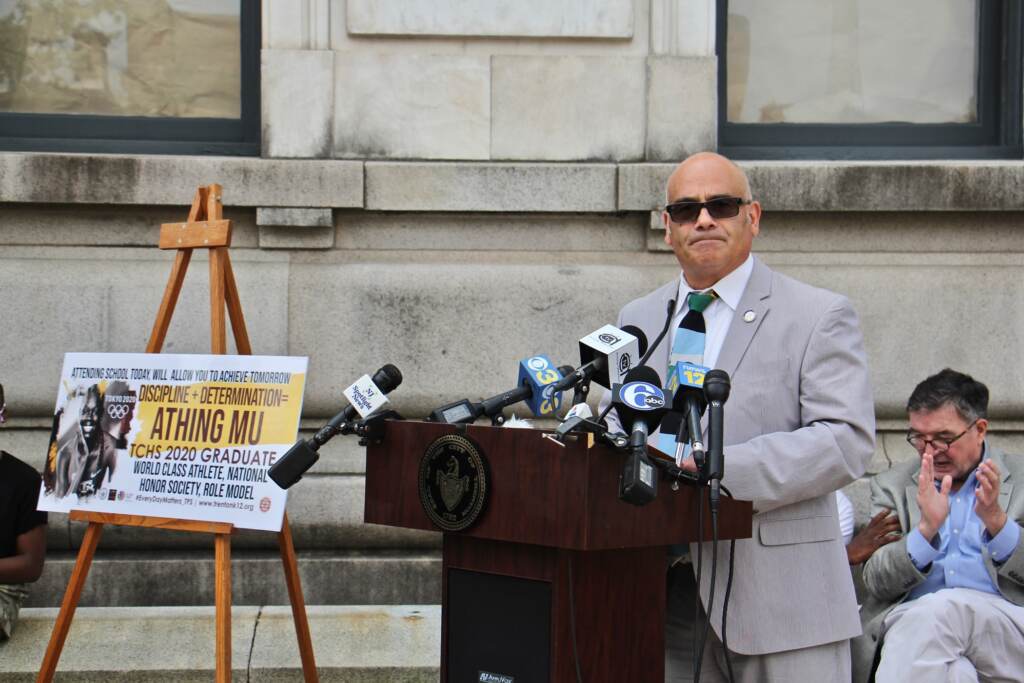 State Senator Shirley Turner delivered an official resolution from the New Jersey General Assembly, commending Mu for her "meritorious record and service and leadership commitment."
Mu was not present at the rally in front of City Hall as she is preparing with her team to travel to Tokyo. Her former coach at the Trenton Track Club, Bernice Mitchell, plans to send Mu a video of the proceedings before she leaves on Saturday. She is scheduled to compete on Friday, July 30.
"It's good to know that she can see that," said Mitchell, who has been involved with Mu's running career since she was a shy five-year-old. "We've always been with her, but now she has the city behind her. There's people from the county behind her. She can see it. She can feel it."
Mu is the 17th Trentonian to go to the Olympics since the modern competition began in 1896, according to the Trenton City Museum. Just two had won medals: Terrance Cauthen won a bronze for boxing in 1996 (Atlanta), and Lawrence Low was part of the yachting team that won a gold in 1956 (Melbourne).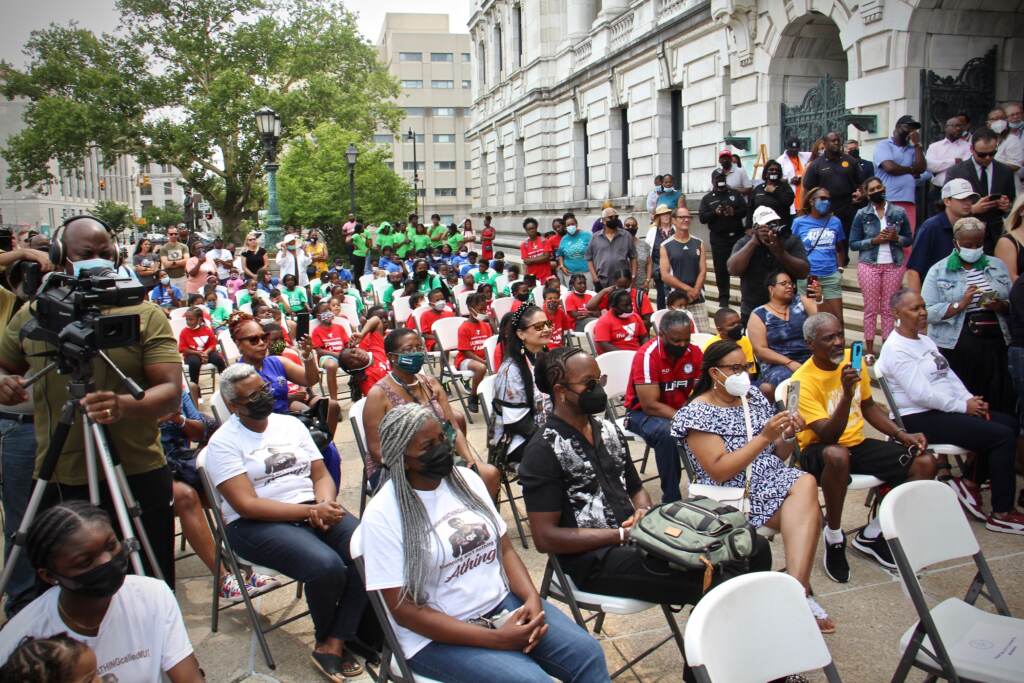 At the rally at City Hall, many wore t-shirts that read "I Believe in Athing called Mu" and "Trenton's Athing of Beauty," and sent up cheers at every mention of a gold medal. County Commissioner Frisby left little room for doubt about where the gold would go. He is already determined to officially dedicate Mu's next birthday, June 8, 2022, as Athing Mu Day in Mercer County.
"In the words of our great, great prophet, Stevie Wonder: 'Don't you worry 'bout Athing,'" said Frisby. "Because Athing Mu is going to bring back the gold."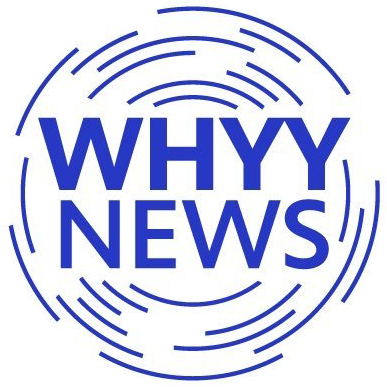 Get daily updates from WHYY News!